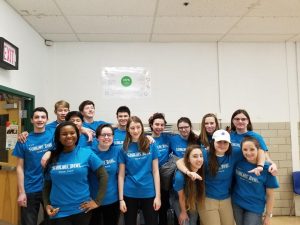 The Burlington High School Scholars' Bowl team will compete for the state championship in March after a strong showing at the qualifying playoffs in Montpelier on Saturday, January 27.
Lead by Coach Kevin Commo, the Burlington A team of Mary Markley, Teagan Hart, Delia McConnell, Audrey Nichols and Isidora Bailly-Hall faced a difficult early schedule, edging Montpelier in its first match before falling to Hanover in Round 2. But BHS bounced back with comfortable wins over BFA-Fairfax and St. Johnsbury to reach the three wins necessary to advance before defeating Montpelier again in the final round to improve its seeding.
Burlington will be one of the top four seeds in the state finals at UVM on March 24th. The team will start play in the quarterfinals as it seeks to reclaim the state championship it last won in 2016.
BHS also entered two JV teams in Saturday's playoffs and both performed well. The B team of Bella Farkas, Zoe Koeninger, Vilena Lee,Elliott Montroll and Emma True won three of five matches in the top JV bracket while the C team of Isa Bloch, Zoe Crane, Daniel Halladay, Ben Huston and Hessain Tamang went 4-1 and placed second in their bracket.
In addition to competing for the state championship, the BHS Scholars' Bowl team has also qualified to attend a national tournament being held in Atlanta in May. They hope to be able to make the trip to represent Vermont and are asking for donations through a GoFundMe campaign: https://www.gofundme.com/bhs-scholars-bowl-trip-to-nationals