Demographics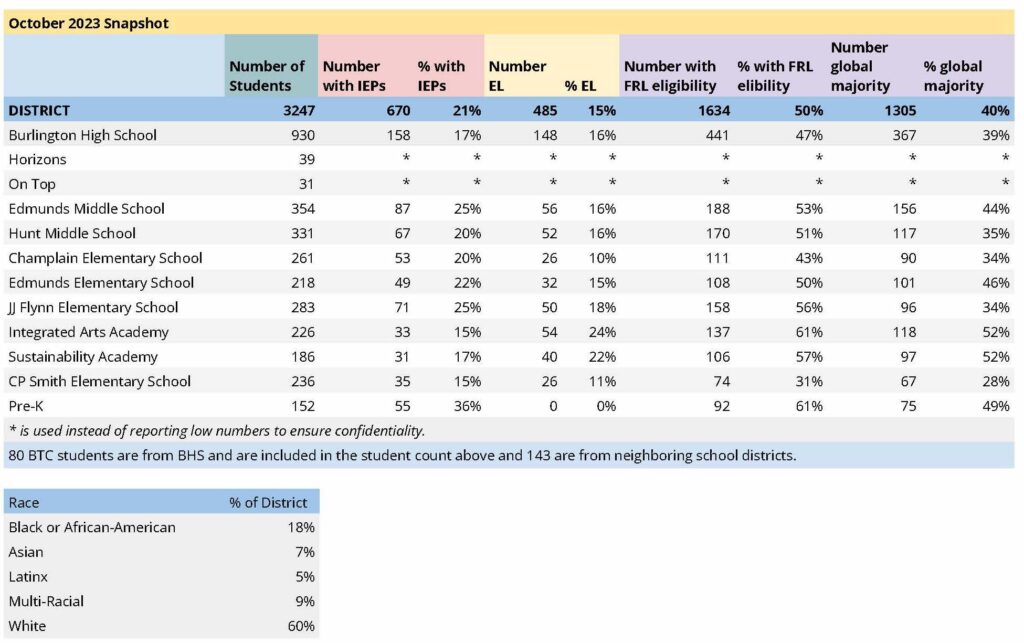 Achievements of our School District
District Highlights for 2019-2020 School Year
BTC students Tasnuva Mehreen and Abigail Pease were named Vermont Presidential Scholars in Career Technical Education. BTC students Cole Glover and Helen Worden were named Vermont Presidential Scholars for the Arts.
BHS/BTC Senior Maia Vota's "Yellow Cards for Equal Pay" documentary aired at a number of film festivals and won the Judges Choice Award at the Girls Impact the World Film Festival!
Dominik Brown, a student at BTC, was awarded the 2020 Golden Wrench Award by the Vermont Automobile Enthusiasts Classic and Antique Car Club. This award recognizes students in Vermont's automotive programs for their hard work, dedication and knowledge in the field.
96% placement rate after high school for BTC students who are going on to post-secondary education, employment or enlistment.
The Society of Health and Physical Education Teachers of Vermont (SHAPE VT) has named Ms.Chris Souliere at CP Smith Elementary Physical Education Teacher of the Year.
Burlington Technical Center teacher Ashley Stagner was recognized as VT Art Educator of the Year.
BTC's Bob Couillard was honored at the 2019 Vermont Outstanding Teacher Day. Mr. Couillard is a well-known and highly dedicated Career and Technical Ed teacher. Over the past thirty years, Bob has taught both high school and adult students in our Welding and Metal Fabrication program.
Burlington School Food Project served more than 50,000 meals to provide for the homeless COVID feeding program through a contract with the state of Vermont.
In July 2020, BSD joined the City of Burlington and other community partners in declaring racism a public health emergency. As part of the announcement, BSD committed to flying the Black Lives Matter flag at all school properties.