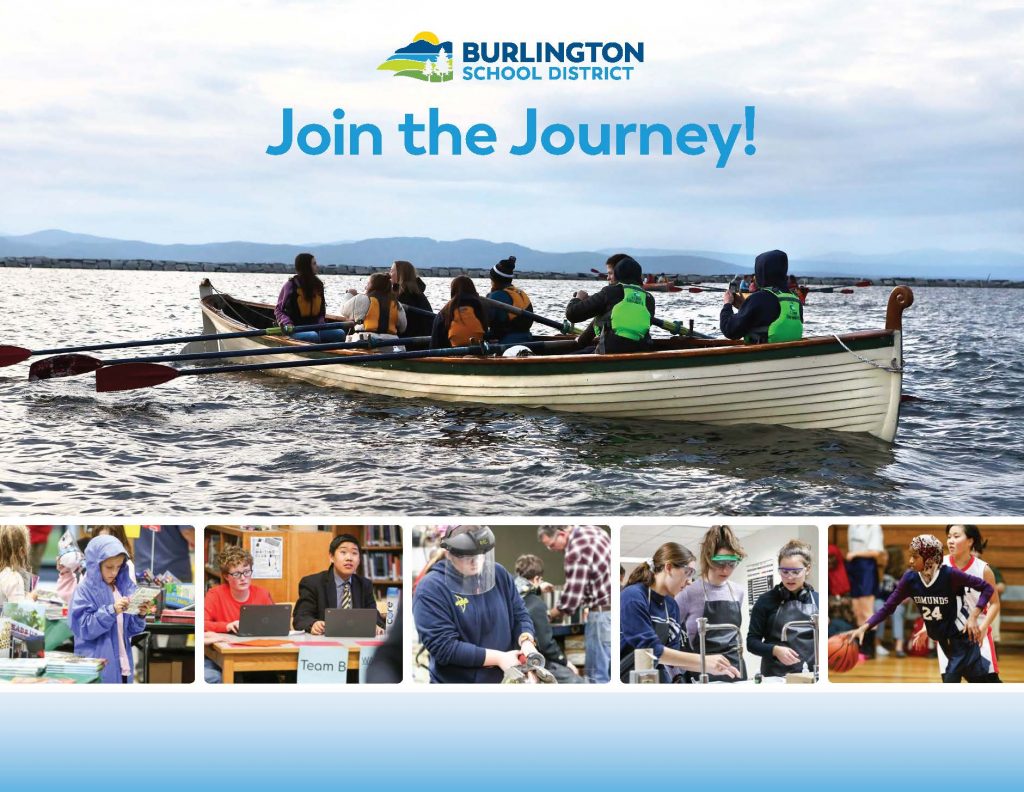 Demographics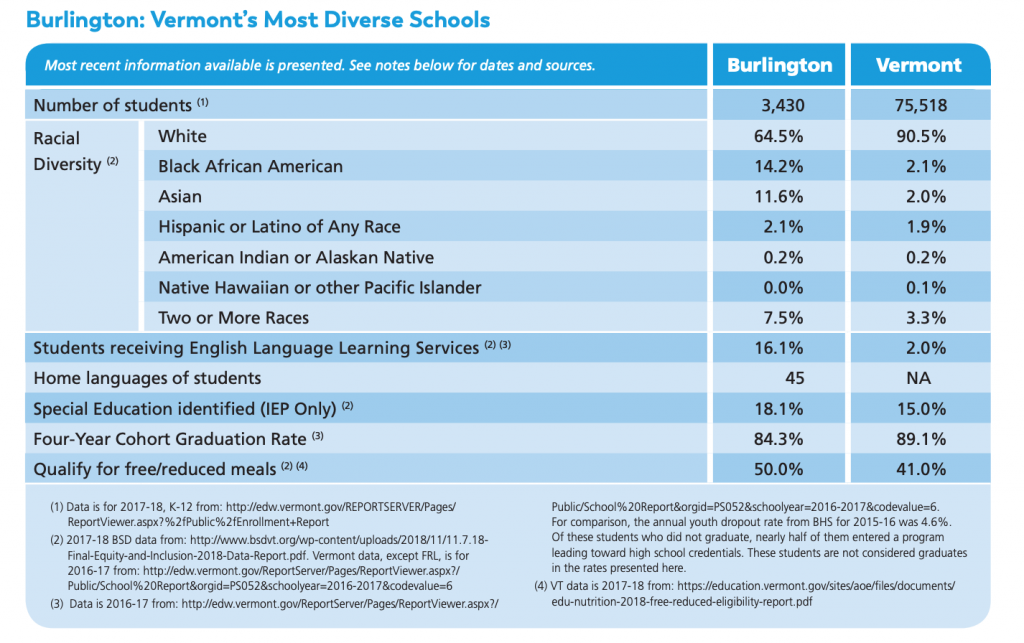 Achievements of our School District
General Accomplishments
75.98% of our students were ready for Kindergarten (2015-16 Results). Our High School Completion rate was 90.59% in 2015-16 compared to 86% in 2014-15.
Completion of our first annual Inclusive Strategies Conference in March of 2017, with over 100 present, where Burlington Teachers shared culturally responsive teaching strategies for the P-12 Classroom. Please visit our Diversity and Equity Page for more information on this work across the District.
13 Strategic Plan Priority Teams have been meeting to develop Year 1 Plans to launch this fall. Please visit our Strategic Plan Page for more information.
Recent audit revealed that the District is deficit-free for the second consecutive year. The strong financial progress signals a shift from deficit spending towards consistent budget oversight. This pattern of increased financial stability over the past two years has the District poised to make exciting new investments in its students and programs. Please visit our Budget Page for more information on our financial accomplishments.
The District's Fiscal Year '18 budget and $19 million infrastructure improvement bond ballot items both passed by significant margins on Town Meeting Day. Unofficial results released by the Burlington City Clerk's Office show that the budget was approved by 3,905 – 2,717 votes and the bond passed by a 5,047 – 1,552 margin. The approved bond will be part of a new capital improvement fund to address deferred maintenance items in schools throughout the District. Implementation planning for this capital program will begin in the coming months. Please visit our Capital Planning Page for more information.
The District has just launched a new, accessible website. 
During the break over 600 students took part in free summer school and expanded learning opportunities available. Our Burlington School Food Project offered free and healthy meals to anyone 18 years old or younger, providing lunch and dinner service throughout the City.
Our Schools
The Burlington High School ReEnvisioning Committee has begun it's work to bring a recommendation for a renovation or new high school option to the Superintendent and will soon after launch their public awareness campaign. Please visit the BHS Renovations Page to get involved in the process!
Lyman C. Hunt and Edmunds Middle Schools have been awarded grants from Verizon Innovative Learning for $20,000 each, for the creation of makerspaces at their respective schools. Schools nationwide applied for the grant, which will be used to design a space where people can go to create, invent and learn in a do-it-yourself and hands-on setting. 
J.J. Flynn second and third grade students, with the help of community partners from Dealer.com, created a weather station that is now active in the school garden. The station takes temperature, humidity, precipitation, sun exposure, wind direction and wind speed readings and uploads the data to share online. The school held a celebration to activate the weather station in May and was joined by a special guest, Meteorologist Tom Messner from NBC5.
Burlington High School Received continued NEASC Accreditation. Among the accolades BHS received were:
The faculty's commitment to align academics with the clear graduation expectations;
The wide variety of assessment strategies and measurable criteria for success in place;
The safe, positive, respectful and supportive learning environment;
The high level of acceptance of a wide range of diversity in the student body by students and faculty;
Technology use and support;
Opportunity for family involvement and the active role taken by multilingual liaisons to engage English Language Learning (ELL) parents and families as partners in their children's education.
A local artist, an art coach and 147 families from 20 countries have joined forces to create an exhibit that celebrates the diversity of Burlington's Old North End neighborhood. Please see this School News Post for more information.
Fourth and fifth graders at Champlain Elementary School in Burlington spent five months making a limited-edition record. Students worked on all aspects of the project: Promotion, graphic design, video documentation and managing donations. Please see this School News Post for more information.
Burlington High School Senior Anders Ode has been named a 2017 U.S. Presidential Scholar, one of the nation's highest honors for high school students. The White House Commission on Presidential Scholars selects students annually based on their academic success, artistic excellence, essays, school evaluations and transcripts, as well as evidence of community service, leadership, and demonstrated commitment to high ideals.

English Learning and our New American Community
A formation of a New Parent Advisory Committee, a family meeting to deliver the Family Friendly Report Card, and a Special Immigration Panel at Burlington High School brought more than 150 New American Family members to Burlington Schools for active dialogue.
In conjunction with the new electronic student registration system InfoSnap, a new intake and assessment system for English Learners with centralized assessment was instituted.
With support from the English Language Learners Department and Multilingual Liaisons, a higher percentage of New American Families completed the InfoSnap returning student registration than other families.
A new Connections program and collaboration with the Multicultural Youth Program at Spectrum resulted in increased support for struggling English Learners Students and dramatically fewer dropouts than the previous year.
A day-long professional learning experience for all elementary educators on June 21, 2017 focused on Collaborating for English Learners. 180 Participants were in attendance.
Please visit our Multicultural Supports Page for more information.
Student Supports
The District had an increase in secondary transition services.
Increased accuracy of Child Find and Child Count Data.
Completion of District-wide Trauma Informed Schools Training.
Received above average results in the Parent Involvement Survey Report from VT AOE. We received particularly high scores in respecting parent culture, use of accessible language, and inclusion of parents in IEP decision making.
Three parent forums were put on: Special Education, Mental Health, and Drug Use/Impact on Education.
District wide implementation of a Paraeducator Handbook.
Increase of social workers district-wide, placing at least .5 FTE social worker in each school.
Monthly training developed with district-wide support services staff.
Please visit our Student Support Services Department Page for more information.