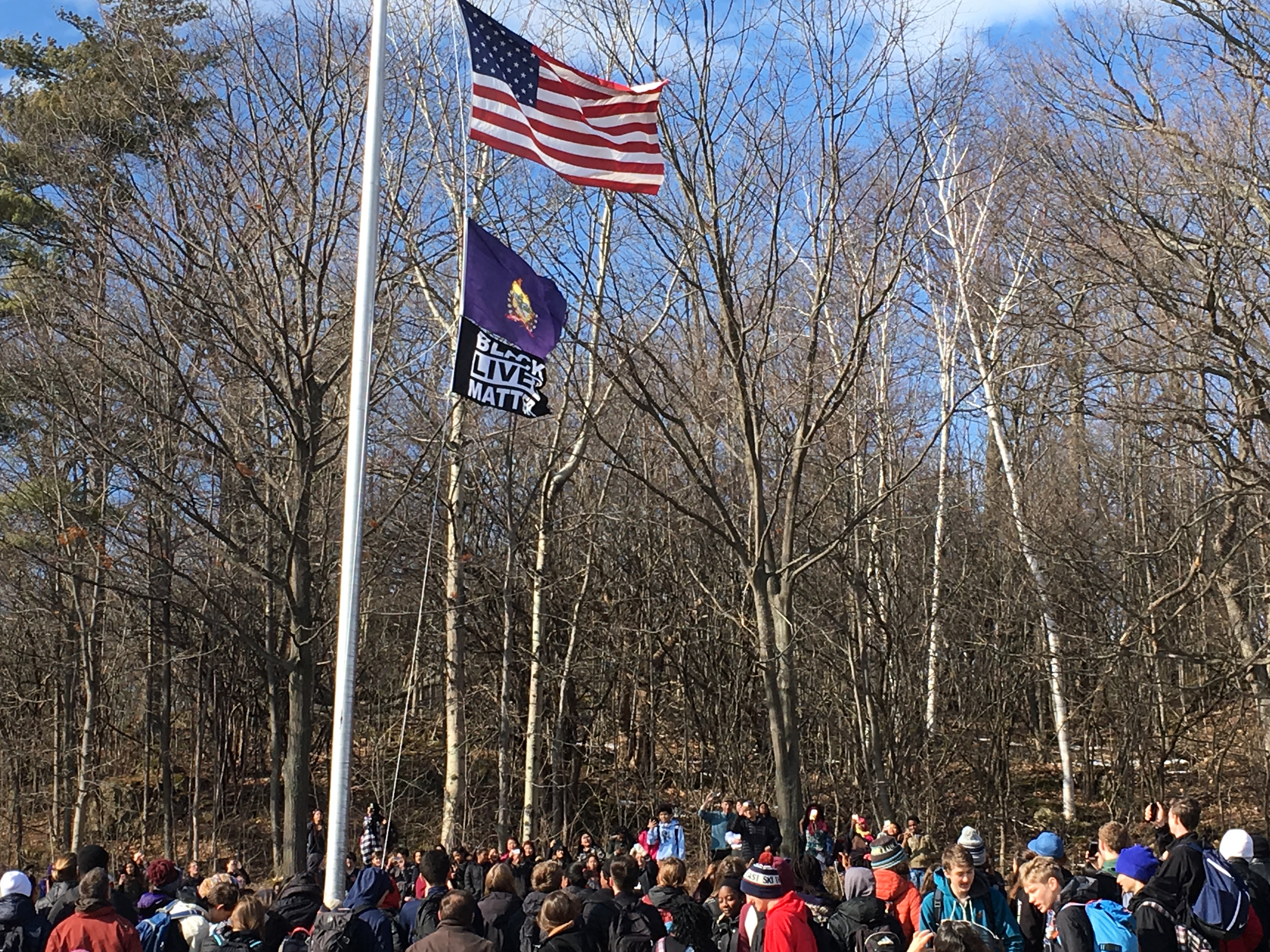 Burlington High School (BHS) has become the second high school in the country to fly the Black Lives Matter flag. Nearly 1,000 students and staff participated in a brief and optional ceremony held during noninstructional time on Monday afternoon. Flown below the American Flag and Vermont's State Flag on the school's only flagpole, the Black Lives Matter flag is flown in honor of black history month and will remain up throughout the year.
"I am incredibly proud of our students for leading this effort," said Burlington School District Superintendent Yaw Obeng. "For these students, flying the Black Lives Matter flag is not about sending a message of anti-police or anti-authority, it's a message of anti-bias. It's a call for change across our nation and in our community. The young men and women in the high school's Social Justice Union deserve a lot of credit for engaging their peers in the process, working hard and navigating the school system diligently and respectfully, in a manner better than we sometimes see from adults."
"With the overwhelming support to fly the Black Lives Matter flag, we feel that this is an important step in creating a welcoming environment for students of color and is a crucial advancement in the district-level conversation about race," said the student representatives from the SJU.
The ceremony began in the school's auditorium where several students from the high school addressed their peers, state legislators, students and staff from Montpelier and South Burlington High Schools, and local elected representatives including Mayor Miro Weinberger, members of city council, and the school board. Following the comments, Superintendent Obeng expressed his gratitude to the kids in the school who participated in the event.
Following the remarks from students and staff, the attendees flowed from the auditorium to the flagpole, where the Black Lives Matter was flown among cheers, hugs, and the chant stating "Black Lives Matter."
###
Burlington School District (BSD) is a pre-k-12 public school system of about 4,000 students in Burlington, VT. BSD's mission is to graduate students who: value different cultures, engage with the community, communicate effectively, think creatively, skillfully solve problems, and achieve at their highest academic, intellectual, and personal potential.