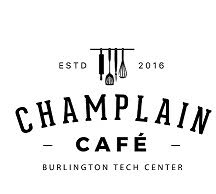 The Champlain Cafe at Burlington Technical Center will be opening Friday, October 5th! BTC Culinary Arts students are getting ready to serve you!
On Friday, October 5th, we will be starting with our takeout lunch menu.  Take out will be available between 11:50 am and 1:00 pm.
On Friday, October 26th, we are resuming our full-service lunch menu in addition to a takeout option. Regular hours will be 11:50 am until 1:00 pm. 
The cost of each meal is $7.00. Menus and reservation forms will be sent out each Monday for the following Friday. If you would like to be added to our email list or would like to inquire about special lunches for a group, please send your email to: cniedzwi@bsdvt.org.
The Champlain Cafe is located in the A Building at BHS, right next to the cafeteria.  We are open to BSD staff and outside guests. To ensure the best service, reservations are extremely encouraged. Our weekly menu will also be cross-posted on Twitter and Facebook, and on the culinary arts program page on the BTC website.
We look forward to serving you!