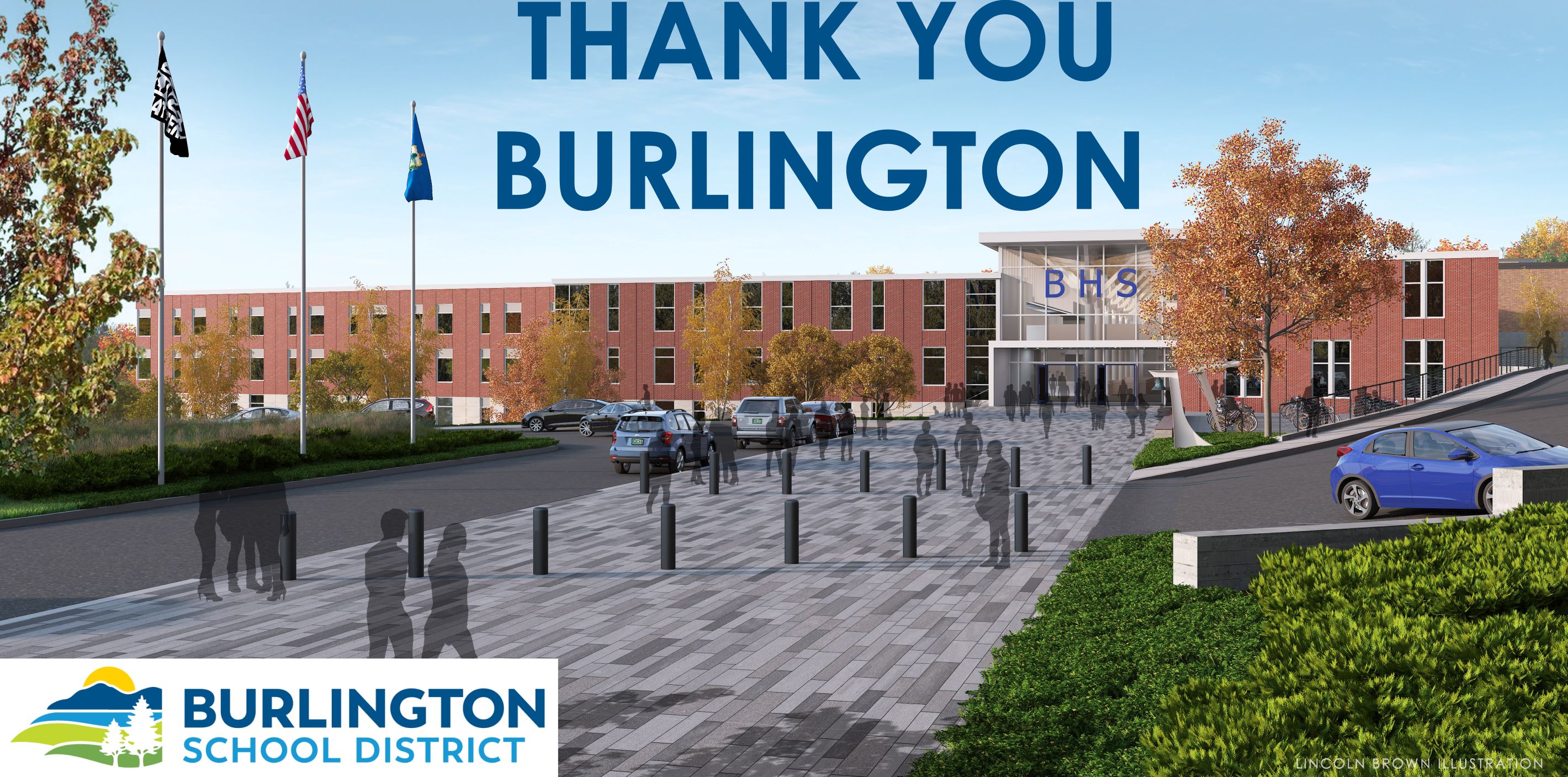 On November 6th, Burlington voters approved a $70 million bond to completely reshape the educational experience delivered at Burlington High School. The bond passed with more than 73% voting in favor of the project.
"What else is there to say but 'Thank You?'" said Superintendent Obeng. "Thank you on behalf of our students who need and deserve accessible and inclusive 21st Century Learning environments. Thank you on behalf of our teachers, paraeducators and support staff who will soon have the ability to use classrooms as a tool to deliver learning. Thank you on behalf of our parents who need the peace of mind that comes with a more safe and secure building for their children. Finally, thank you on behalf of all of our current and future students, especially those with mobility challenges and those who speak English as a second language; this is a huge step forward toward integrating and unifying the learning experiences for all of our children, so that all may have equitable access to education in BSD. Thank you, Burlington, for passing the bond to ReEnvision BHS."
"On behalf of the Burlington School Board I would like to thank all Burlington residents and voters for their generosity and for supporting our students and staff," said Board Chair Clare Wool. "This vote is a crucial and long overdue step on the road to renewing our tired and deficient high school building and is a collective affirmation of Burlington's commitment to a safe, accessible and leading-edge center for learning. Our future students and our community at large will benefit greatly from this important investment in BHS."
Burlington School District will begin work immediately on putting together a plan to start the detailed design process, as well as site, traffic, and engineering studies. Community and staff members will continue to be invited to participate in the work that will be done for the next 18 months in order to break ground in Spring of 2020.
###
Burlington School District (BSD) is a pre-k-12 public school system of about 4,000 students in Burlington, VT. BSD's mission is to graduate students who: value different cultures, engage with the community, communicate effectively, think creatively, skillfully solve problems, and achieve at their highest academic, intellectual, and personal potential.