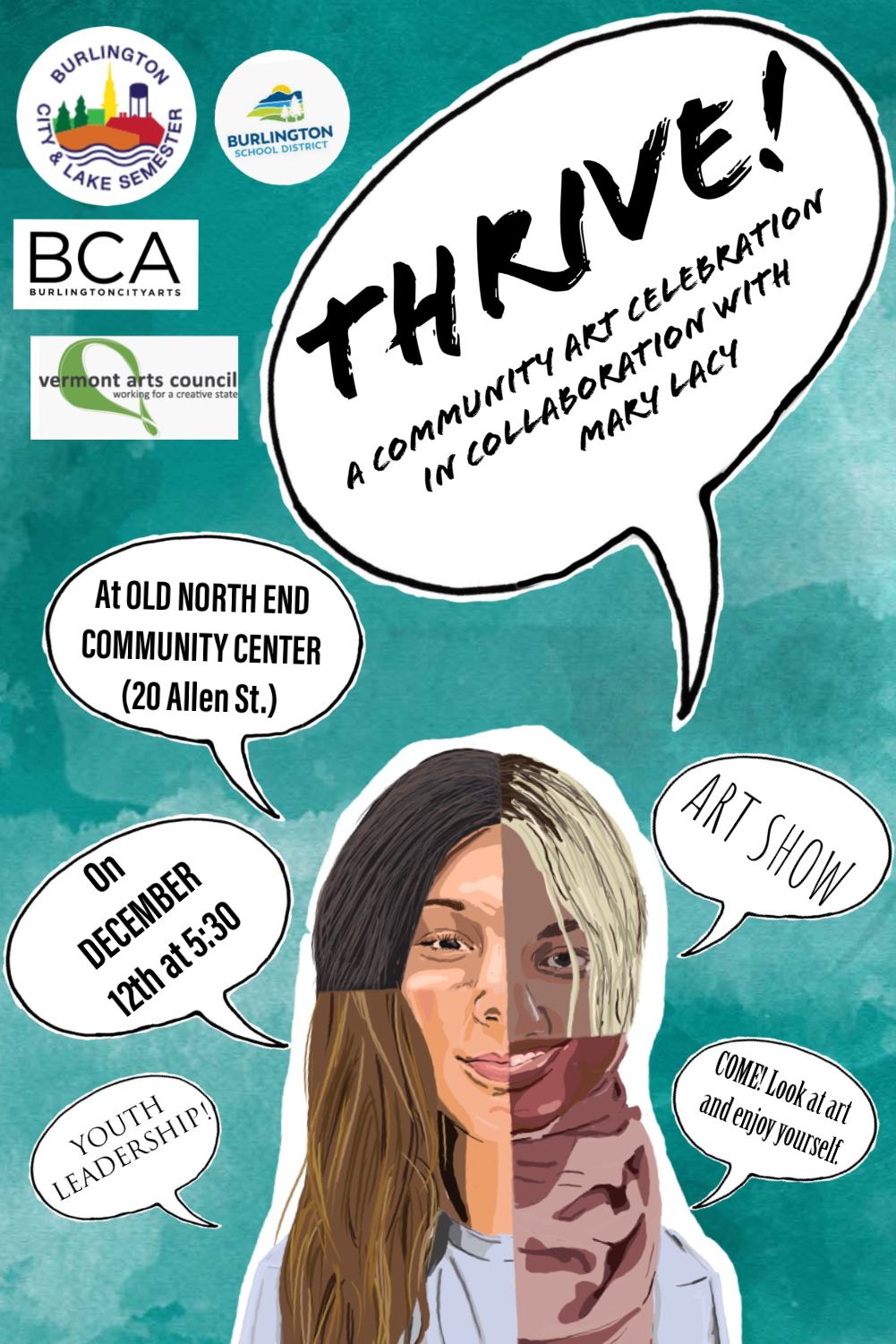 Public Invited to Attend Collaborative Art Premiere Featuring BHS Students and Mary Lacy on December 12
Burlington, VT Students in the Burlington City & Lake Semester (BCL) program at Burlington High School (BHS), in collaboration with local muralist Mary Lacy, invite community members to the premiere of an original work of outdoor projection art at the Old North End Community Center on Wednesday, December 12th from 5:30-7:00 pm. "Thrive!" is a student-led collaboration that celebrates "what it takes for a community to thrive." Featuring striking visual images from each student in the class, the project will be projected both on the North Street facade of the community center, as well as inside in the center's gymnasium.
At 6:00 pm in the gymnasium, students and Mary Lacy will say a few words about the collaboration and work that went into the project. They will offer insights about their journey through the art-making process, share ideas about how the community can more fully value all perspectives, and reflect on how art can humanize, provoke and engage people in positive ways.
'Thriving community' is a prominent theme that BCL students have been learning about and grappling with this fall. "While working on this project, doing my individual art and working with groups to advertise our event, I've learned so much about the importance of art and all of the different things that it can do, something that had never really occurred to me before. One thing especially that stood out to me and our group over this whole art process is how art can strengthen a community. I'd say that all of the collaboration on this project, starting from scratch and planning all of the details, all of us relying on each other, has really made our whole community come closer together. Our art is an opportunity to celebrate what we've done, share our experience and show the public who we are," Simran Padgett, a BCL student said. This community sentiment was echoed by another student, Emma Barker, who said, "We hope everyone will come out and engage with their community at this art showing and gathering."
Light refreshments from local businesses will be provided in the gymnasium. The Old North End Community Center is located at 20 Allen Street in Burlington, parking at the site is limited but there is on-street parking in the vicinity. This project is supported in part by the Vermont Arts Council, the National Endowment for the Arts and the Burlington City Arts Community Fund. RSVPs are appreciated but not required: https://www.eventbrite.com/e/thrive-a-community-art-celebration-registration-53251030265