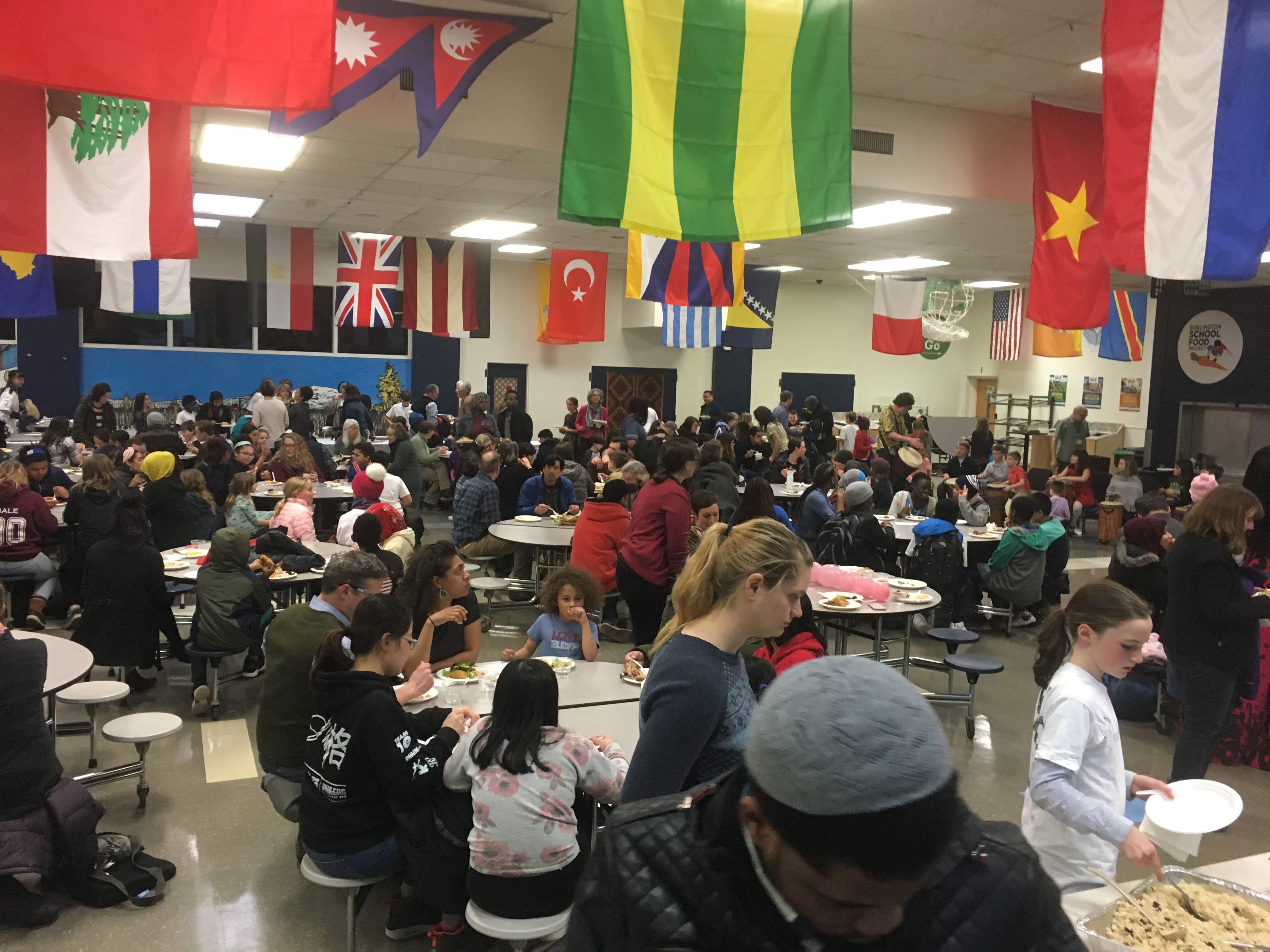 Scroll down for a few more images, or check out our Facebook page for even more photos!
Nearly 275 BSD parents, students, staff and community members gathered on Friday, March 22nd to celebrate the District's Second Annual "Beyond Black History Month" community event. The free event brought together students and staff from each school in the district to showcase how Black History, and the histories of all people, are taught throughout the school year in BSD, not just during Black History Month. The halls of Burlington High School were packed with student artwork and school projects focused on equity, inclusion, and diversity.
Attendees also enjoyed a variety of student performances. Hunt Middle School students presented an engaging and educational debate, choirs from CP Smith and Edmunds Elementary performed together, and the "IAA 5th and 1st Grade Buddies" sang in sign language to Marvin Gaye's "What's Goin' On." During dinner, guests enjoyed dance performances from Hunt Middle School and student drummers from Champlain Elementary. To round out the evening and bring the community together, local musical artists A2VT and Jeh Kulu Dance and Drum Theater invited the crowd onstage to perform and dance together.
The event was organized and hosted by BSD's District Equity and Access Leadership Team (DEALT) and was supported by the Burlington School Food Project and Burlington Technical Center's Culinary Arts Program.
"In the Burlington School District, we are an equity-focused, restorative district," said Superintendent Obeng. "We believe equity, diversity, and inclusion promote strong schools and strong communities. We are a District that honors and celebrates our diversity but recognizes there is still work we need to do. And as a District, we are striving to provide an inclusive curriculum which recognizes and celebrates people of all races, genders, abilities, religion, orientations, country of origin, and beliefs."
Obeng noted that Friday's event was a great example of the serious work happening in the District to bring to light and address issues of inequality and injustice, and to celebrate the efforts underway to have a fully integrated and inclusive curriculum. "When I asked our team in 2017 to create an event using Black History Month as a springboard for these conversations, this is what I hoped we could accomplish. I am thankful for the people who worked so hard to make the event happen, and to everyone who attended and participated in the evening."