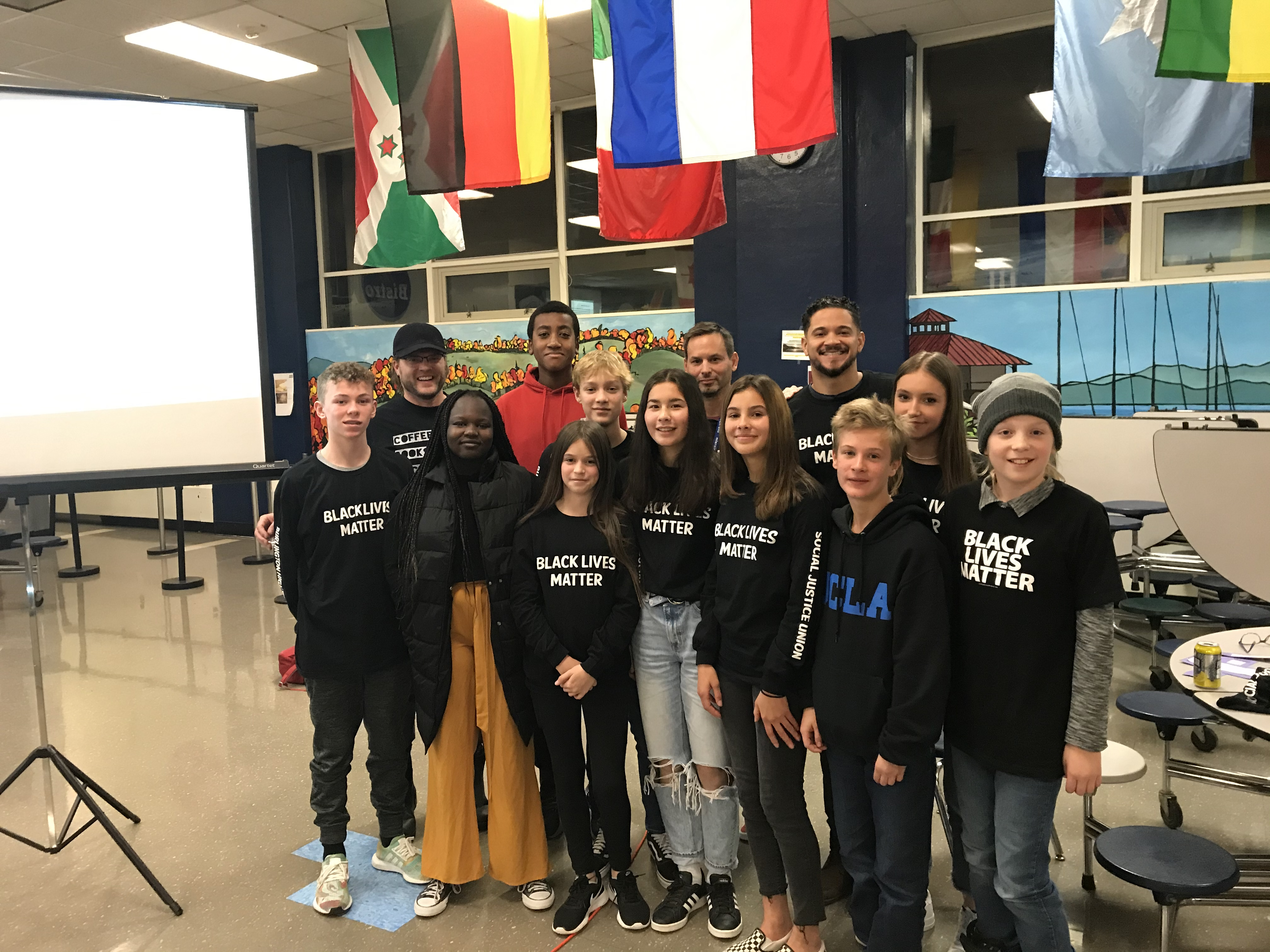 School Board Approves Second BSD School to Fly Flag
Burlington, VT Edmunds Middle School (EMS) will soon become the second school in Burlington School District (BSD to fly a Black Lives Matter flag. On November 12, students from the middle school's Youth Participatory Action Research (YPAR) Collective presented a proposal to the school board, requesting they be allowed to fly the Black Lives Matter flag at the school.
"The YPAR Collective feels strongly that Edmunds Middle School should stand in solidarity with Burlington High School, South Burlington High School, Montpelier High School, and other schools committed to raising the Black Lives Matter flag," said Edmunds student Anyier Manyok.
"Students of color make up 28% of the Edmunds Middle School community," added Henry Tornwini. "Flying the BLM flag not only recognizes students of color but also creates opportunities for the community to engage in important discussions about why it is important to publicly recognize that black lives matter."
The proposal asked that beginning in Spring 2020 the EMS BLM flag be raised each year during Black History Month and that it remains flown until summer vacation, and that the "EMS community continue this practice until the day that marginalized students and their allies agree that there is no longer a need to bring attention to systemic issues that disproportionately harm students of color."
The proposal passed unanimously.
During the proposal, students also presented data collected with the support of the University of Vermont Researchers. They noted:
   

36% of students agree that EMS students engage in racial discrimination. White and Black students equally agreed on this question.

   

47% of Black students agree that students are discriminating against other students based on race.

   

Roughly 1/3 of White students and 1/3 of Black students agree that EMS teachers engage in racial discrimination.
"These data present a serious need for actions around making sure that students of color can feel welcome, safe, and valued within the EMS community," said Tornwini.
"Tonight's approval by the board is evidence of the incredible work the YPAR Collective has done towards racial equity in our school and community," said EMS Principal Megan McDonough. "I am so happy to see that the board has listened to our students and is responsive to our school community's needs, and I am grateful to our student leaders for representing themselves and our school community so positively."
"This was a completely student-led, student-organized initiative that had them look at both quantitative and qualitative data, and I am just happy to be part of the team," noted Jeremy DeMink, EMS teacher and YPAR advisor.  
"I find myself once again extremely proud of Burlington School District students," said Superintendent Obeng. "It takes selfless courage to advocate for an inclusive space that will primarily be to the benefit of our future students. Thank you to these students for stepping up and being heard, and for leading the way. And thank you to our staff at Edmunds as well as our board and our partners at UVM for supporting our students in this endeavor. These students are making their school and our community a better place."
The YPAR Collective will plan to hold a flag-raising ceremony this February.