On December 17th, Vermont Governor Phil Scott stopped by Burlington Technical Center's Aviation & Aerospace Technology Program at Burlington International Airport. The Governor was in Chittenden county as part of his "Capitol for a Day" initiative and was joined by VT AOE Secretary French and State Representative Bob Hooper.
The Aviation & Aerospace Technology Program is a two-year half-day program for juniors and seniors at BTC with a third postsecondary year at the airport hangar. Students have the opportunity to earn an A&P, or Airframe and Powerplant certification, an FAA regulated process to become an airplane mechanic.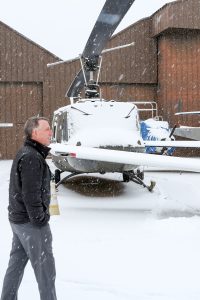 BTC's program is the only one in the state to offer the A&P certification and currently boasts a 100% job placement rate for students who complete their certification and want to start their careers. Starting salaries for high school graduates with their A&P certification range between $45,000 and $58,000.
Governor Scott praised the program in a WCAX interview, noting, "I would say anyone who graduates from this program would have a job waiting for them when they got out."
Interim Director Kris Breen said she hopes Governor see how the program ties into junior and senior students' education and supports student pathways.  The Postsecondary program has been in operation since 1999/2000. It was started by Rick Sylvester with the help of Ray Piche, Continental Express Airlines and the airport.