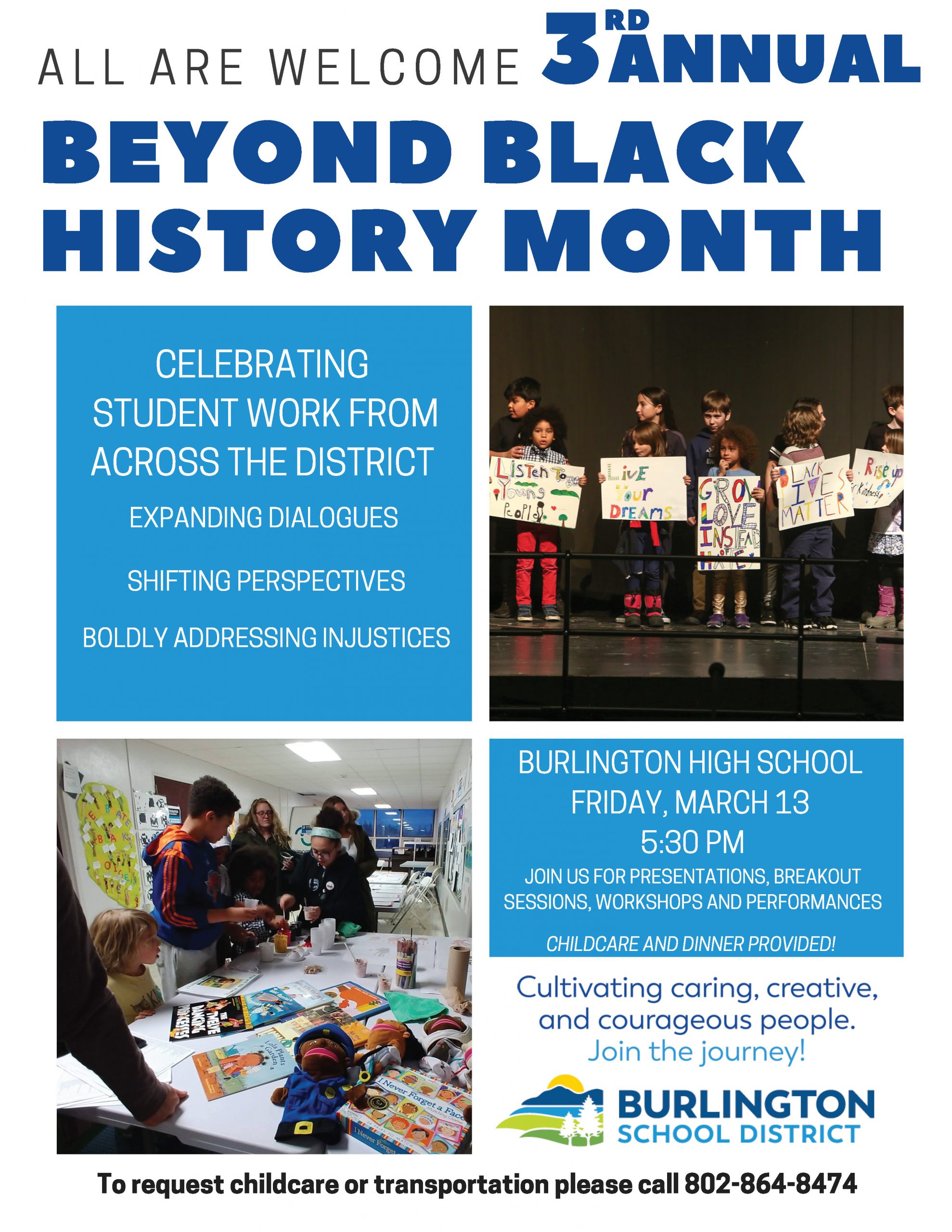 Black History does not end when March begins! Please join Superintendent Obeng and our District Equity and Access Leadership Team on Friday, March 13th for our 3rd Annual Beyond Black History Month Celebration. This free, community event will run from 5:30 to 8 PM and we have a great evening of celebration and education lined up!
This inclusive, District-wide event aims to continue – not conclude – the community's momentum in expanding dialogues, shifting perspectives, and boldly addressing present-day injustices.
As always, dinner and childcare are provided FREE.
Check out this year's Program:
5:30 PM Welcome -Superintendent Obeng
Special Presentations by:
-Flynn Student Council
-My Brother's Keeper/My Sister's Keeper
-Muslim Girls Making Change
6:15 – 8:00 PM Beyond Black History Month Programming
Visit with our community partner tables in the lobby
Enjoy dinner in the cafeteria
Attend a Breakout Workshop
6:45-7:30 Breakout Sessions
"Radical Empathy" explores racial issues and racial disparities in Vermont traffic policing through photographs by former BSD School Board Chair and UVM Economics Professor Stephanie Seguino
Location: Library
"BSD Youth Panel on Race" features BSD students of color sharing experiences and stories in a discussion facilitated by Vince Mitchell
Location: Auditorium
"Restorative Circle on Race in America" Participants will engage in a circle conversation to discuss the impact of race in our society facilitated by BSD RP/PBIS Coach Josh Meyer
Location: Multilingual Liaison Office
"Storytelling with Ferene Paris Meyer" Join Ferene for an interactive workshop on the power of storytelling as an effective tool to create space for voices to be heard and feel a sense of belonging. Come ready to share and be vulnerable! This heart-centered session aims to provide a space to learn and affirm one another while minimizing the impact of microaggressions and harm. (Led by Ferene Paris Meyer, Director of New Student Programs at the University of Vermont & FlynnArts Faculty at the Flynn Theater for Performing Arts)
Location: Champlain Cafe
Looking to sign up for childcare or request transportation help? Please send us an email or call Russ at  (802) 864-8474