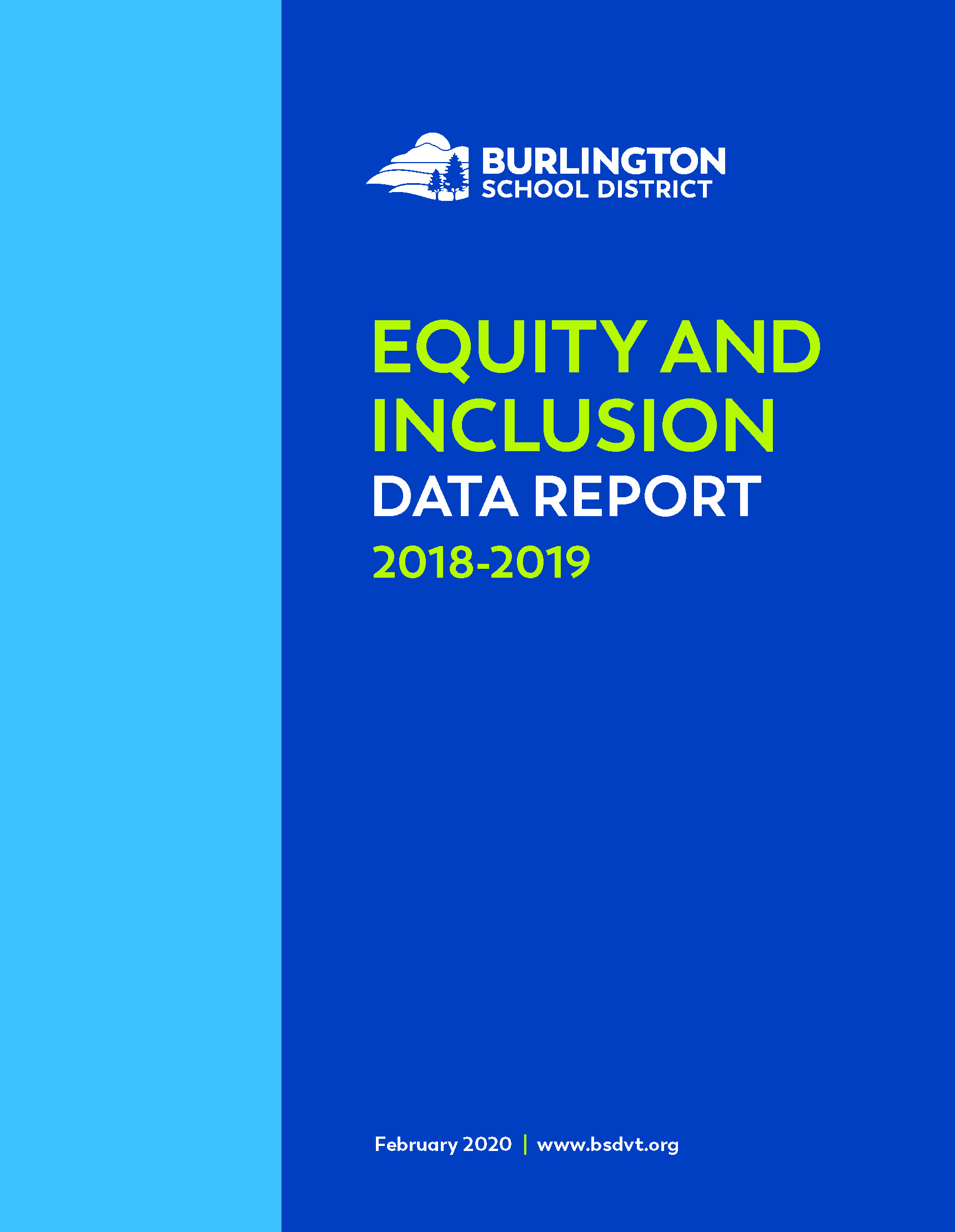 2018-2019 Report Seeks to Set Benchmarks
Burlington School District's (BSD) 2018-2019 Equity and Inclusion Data Report has a new look and a new vision. This year's report is being presented in a new format with the goals of reaching a wider audience, highlighting a smaller number of data points with the most relevance (in both bright spots and areas in need of improvement), and setting baseline data.
"This year's report is unique in that even though we have published an equity report for the past five years, this year's report is more of a formative research collection," said Superintendent Obeng. "In previous iterations, we measured a lot of different targets and included dense verbiage without any clear suggestions for improvement. For this year's report, our team reset the focus and began using new data metrics we which we know can be replicated and reliable for future years. The result is a report that clearly articulates what the District should commit to focusing on, and how we can grow."
The report draws from equity and inclusion data from the past school year (2018-19), focused on six broad domains: Student Characteristics, Teacher Characteristics, Student Perspectives on Equity, Access, Opportunity to Learn, and School Climate. Two of those domains, Student perspectives and Teacher demographics, are new to the report, and this year's Opportunity to Learn section includes achievement data for the District's "Former EL" population for the first time. (Students who have moved from being an English Learner to being proficient in English).
Obeng noted that the added areas of focus will help the District measure equitable practices. "Research shows that it is important to have teacher demographics which mimic the student population," he said. "While we have had success in hiring more people of color in our District, this report shows the demographics of our licensed teaching faculty do not match the racial demographics of the student body. Almost 40% of our students are students of color, but less than 4% of our licensed teachers are teachers of color. We still have work to do."
Obeng noted that looking into the District's "Former EL" population for the first time with different metrics also showed growth opportunities. "We need to make sure we know how long it takes to achieve proficiency in English, but our work cannot stop there. We also need to make sure that these student populations are having as much success as native-English-speaking individuals."
In addition to the quantitative data, student perspectives help ground the report by shining a light on day-to-day experiences with equity and inclusion. "As we work towards becoming a restorative practices District, it is important that we view equity and inclusion through a student lens," Obeng added. "For the first time, the team brought that student voice into the report and moving forward, we are hoping to engage students who can tell us how they want to have their input collected and what they want their input to be."
Obeng said he hopes the report can serve as a vehicle for District leadership to hold each other accountable moving forward.
"If equity is a priority, we have to be able to measure it and transparently share it if we are going to be able to make equitable change, but that cannot be the end of it," Obeng added. "I hope the board and staff will use this report as a way to set and achieve equity goals in the District."
The full report is available to read online and is included on the District's Annual Report and Data webpage.