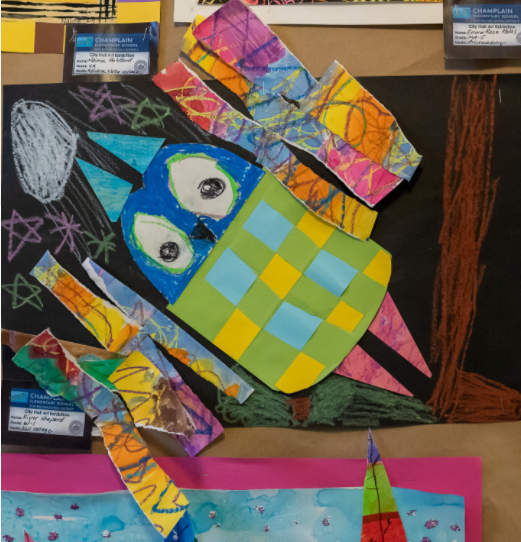 While COVID-19 interfered the 33rd Annual Children's Art Exhibition Ceremony scheduled at City Hall on Thursday, March 19, Burlington City Arts launched an online platform to host this longstanding community tradition and display over 189 young Burlington artists' artwork.
(Photo right from River Shepard at Champlain!)
Started in 1987, the Children's Art Exhibition displays the artworks of local elementary school children at City Hall each year. While the 2020 exhibition was installed in February of this year, the annual ceremony, where children meet the Mayor, was moved online due to the coronavirus.
This year, the exhibition features the work of the following elementary schools: Champlain Elementary; C.P. Smith Elementary; Edmunds Elementary; Integrated Arts Academy; J.J. Flynn Elementary; and Sustainability Academy.
This exhibition recognizes the incredible diversity and creativity of Burlington's children.
Each year, one or two students from each school are awarded special honors with the Bentley Davis Seifer Award, sponsored by the Charles P. Ferro Foundation, which includes a special certificate (and $20 cash award). This year, the winners include Joe LaMonde and Emma-Rose Holas (Champlain Elementary); Carris Gaito and Adler Kuntz (C.P. Smith Elementary); William Cunningham and Jaylynn Jimenez (Edmunds Elementary); Enoch Ahmed and Rachel Cunningham (Integrated Arts Academy); Adrianna Greene and Bryson Gokey (J.J. Flynn Elementary); and Deeya Gurung and Maddy McHale (Sustainability Academy).
This annual event is one of many arts opportunities BCA provides for parents and children throughout the year. In addition to the Children's Art Exhibition, BCA works with the middle school on after-school programs in its studios, hosts popular summer arts programming for children, and the BCA Studios at 405 Pine Street offer opportunities for children in our communities to access the arts.
Burlington City Arts would like to thank all of the young artists, their teachers and schools, as well as Burlington Mayor Miro Weinberger for providing an introduction to the online exhibition.