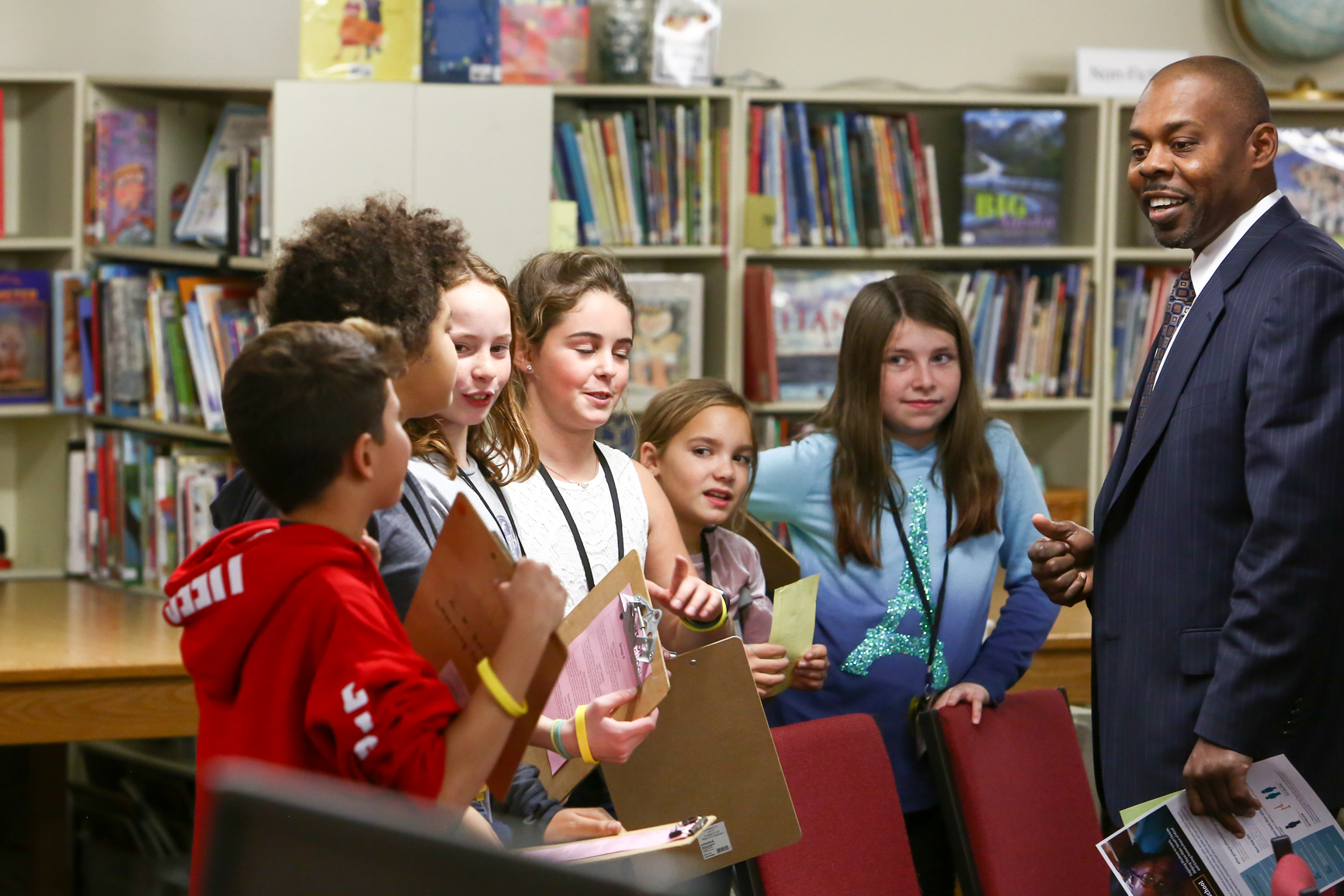 Greetings Burlington, 
The great poet Geoffrey Chaucer once wrote, "all good things must come to an end." I'm not sure how true this is however—I have been eating ice cream since I was two and still think it is pretty good. Nevertheless, as the year draws to a close, it looks like this may be my penultimate, if not last, message to you. 
The privilege of being Superintendent of Burlington Schools has been one of the greatest professional experiences of my career. As I begin to transition out of BSD, I have been taking the opportunity to reflect on the great memories and people I have been able to meet. 
I have always been a "glass-half-full" person. You may remember, the beginning of my tenure started with challenges crossing the border with a VISA. However, my fondest memory of that time is getting the call that my VISA was approved on my birthday while enjoying a favorite meal with my family. Now we do an annual pilgrimage to that spot to celebrate.
Yes, I arrived and immediately had to address challenges, but I am proud of what our team was able to accomplish; from creating a new, community-led Mission, Vision, Beliefs, and Strategic Plan Goals to creating a 10-Year Capital Plan for deferred maintenance, accessibility, and space constraints. We also passed the largest bond in Vermont history for a school rebuild project. We implemented Restorative Practices at every level, including Central Office, and restructured our business office and human resource departments to provide better, more efficient service. For the last four years, we operated with a surplus, which we used to both reinvest into our students and buy down the tax rate (and despite COVID-19, things are looking good for us this year as well). 
While those accomplishments are big, Educational Equity has always driven the work for me. I am most proud of the things we have done together, big and small, to advance principles of equity in BSD. 
In 2019, we began a tradition celebrating the legacy of Dr. Martin Luther King by holding a half-day of school to focus on his life's work and mission. (That legacy will continue next year and it brings me great joy to know that people will be gathered to discuss themes of love, sacrifice, and equity; I believe these ideals are much needed in these times.)

We identified, for the first time, Burlington's achievement and opportunity gap and began implementing strategies to close the gap. (And yes, using these terms is a profound statement in how we view the world and care for our most vulnerable students.) 

We hired our first Equity Instructional Leader to support teachers with high-yield inclusive strategies. 

In the business office, we developed and began using an equity-based funding formula to assist in resource allocations to schools. 

We established a District Equity and Access Leadership Team and put practices in place to enable students to honor faith traditions without being penalized. 

Both our EL and Afterschool programs received national media attention for their work around equity and inclusion for our New American Families. 

And, in honoring every contribution as a stepping stone in American history towards an intellectually positive future, we developed an annual "Beyond Black History Month" celebration to focus on and implement inclusive curriculum practices.
Most of all I have many fond memories of students and student voices. I had the privilege of watching the BHS basketball team win the state championship, as well as witnessing two Black Lives Matter flag raisings. The pursuit of excellence was evident when presenting to the many Presidential Scholars each year. And who can forget our girls' soccer team that captured the attention of the nation with their Equal Pay campaign? Media have consistently traveled from across the country to witness the perseverance and greatness of BSD students. Kudos to all our students. 
The sum of these experiences illustrates that being a BSD student means something, and being a BSD graduate means something plus courage. This year our graduates ended their high school careers through an unprecedented pandemic. As a way to show my appreciation and empathy to our graduating students and all they have overcome, I will donate and establish the Superintendent's Resiliency Scholarship which will honor the resiliency demonstrated in the face of adversity as seen in this unfortunate time. 
Many people do not know this, but my family and I visited Burlington as tourists in the 2000s, and I remember telling my wife that if we were ever to leave Canada, Burlington would be a good spot to land. I am happy to say that that intuition was correct. As my first US home, Burlington will certainly always have a place in my heart for the people and sense of community. 
Over the last several months, many people have asked what is next for me. I started out believing it was time for an international experience and had an opportunity to go work in China. After experiencing many parts of North America, however, I feel compelled to stay in the United States and see more of this great country. So with that, "I'm going to Kansas City." (Do you know the song?) I have accepted an offer for Superintendency in the Kansas City area. I have never been in the southern midwest, so this will be a great new adventure for my family and me. My new district is a little larger than Burlington and will offer another intellectual challenge to motivate me on my journey. Thank you, Burlington, for letting me join YOUR journey and that of the Burlington School District.
"Join the Journey!" 
Superintendent Obeng
"The function of education is to teach one to think intensively and to think critically. Intelligence plus character – that is the goal of true education." -Martin Luther King, Jr.