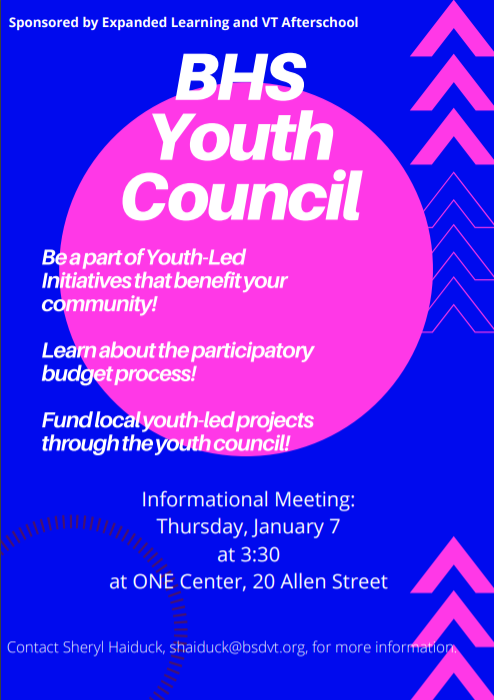 The Burlington School District's Expanded Learning Program is pleased to announce that they have been awarded a grant through the Youth Council Grant program to support the formation and/or expansion of a local youth council.
Funded by the Northfield Savings Bank Foundation, the Expanded Learning Program is one of four projects across Vermont to be selected to receive funding for starting a youth council, workshops and training for staff, stipends for youth council members, and a budget for youth-led initiatives.
The Burlington High School Youth Council will be youth-led. Students will work together to amplify youth voice and engage in authentic solutions to real world challenges facing the BHS community.
"The Youth Council provides the Expanded Learning Program and its students the opportunity to further its mission by bringing new, student-led solutions to the table," said Sheryl Haiduck, Site Director for the BHS Expanded Learning Program. "It will help us further our mission by empowering students to find and use their voices, and work together to solve problems faced by our school community."
A project of Vermont Afterschool, the statewide Youth Council Grants are designed to inspire youth leadership, connection, and engagement in the third space when youth aren't at home or school. The youth councils will be charged with soliciting and funding youth-led ideas for how to make their communities better for young people. The initiative aims to help our communities see youth as a resource; increase opportunities for innovation and inclusion; support economic vitality; and build a stronger democracy.
All projects funded will be operating in the third space and serve middle and high school youth. Each grant includes up to $5,000 towards a participatory budget process that will fund local youth-led projects through the youth council. Per grant requirements, the councils must be based in Chittenden, Washington, and Orange Counties where the Northfield Savings Bank has branch locations.
"We are so grateful to the NSB Foundation for supporting this project," stated Vermont Afterschool Executive Director Holly Morehouse. "Especially with the current challenges under COVID-19 around isolation and disconnection, we are excited to give young people opportunities to be part of Vermont's path forward, to build agency, and to find creative ways to make their communities stronger."
The Youth Council will primarily be supported by the Expanded Learning Program at BHS. Interested students can contact Sheryl Haiduck, Site Director for Expanded Learning at BHS, shaiduck@bsdvt.org. The first meeting will be Wednesday, January 13, 2021. The Youth Council will meet twice a month for the remainder of the school year.