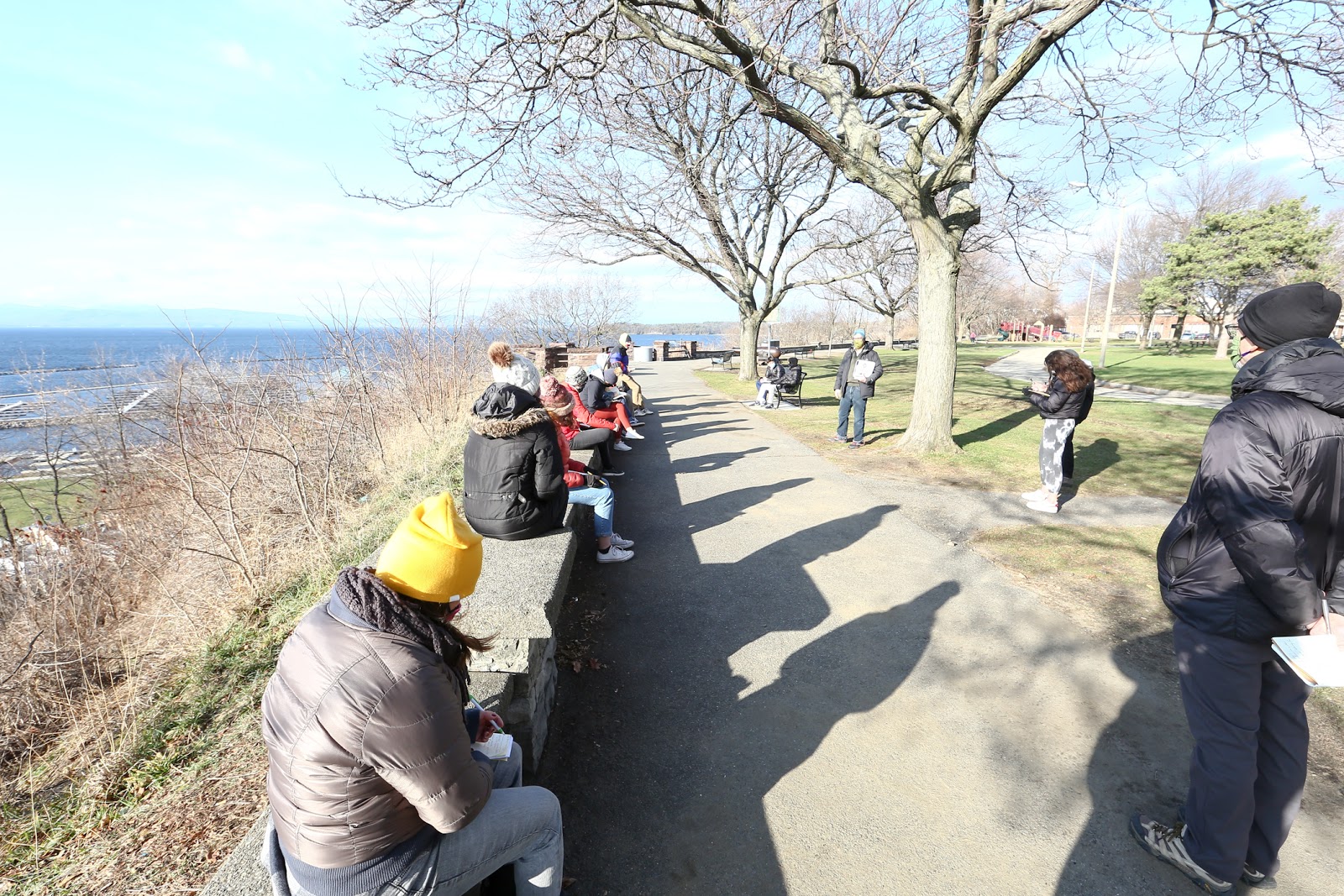 Burlington City & Lake Semester (BCL) has been recognized as an Outstanding Flagship Project in Education for Sustainable Development by the Global RCE Centre, a program of United Nations University. RCE Awards celebrate local projects all around the world that are helping to achieve the United Nations' Sustainable Development Goals.
Students enrolled in BCL gather in downtown Burlington, outside of the walls of the school, where they learn about core themes of Social Justice, Sustainability, Civic Engagement, Community, and Place through a variety of real-world projects. By partnering with organizations and individuals across the city, BCL students have completed research on microplastic pollution, participated in planting native tree species for forest restoration and climate resilience, consulted on the City of Burlington's Equity Report, created a video about racial justice, and collaborated with local artists on public art projects designed to strengthen the community. More than 100 BHS students have now participated in the program, in five different cohorts.
"I am proud of the vision and hard work of our BHS teachers and the many project partners who have poured their energy into creating this leading-edge program," said Burlington School District (BSD) Superintendent Tom Flanagan. "I am excited to build on the success of BCL to create more opportunities for all BSD students to pursue deep learning in the years ahead."
BCL's Project Director Andy Barker said, "We are delighted to receive this recognition. Young people thrive when they can work together, and in partnership with adults, to address the real challenges of building a just and sustainable community. And the community is stronger when we invite young people into this work."
The award was presented to the Greater Burlington Regional Center of Expertise (RCE) in Education for Sustainable Development. This network of educators, researchers, students, non-profits, government leaders, businesses, and sustainability practitioners supported the creation of BCL in 2018 and continue to support its success today. The lead partners of the Greater Burlington RCE are Shelburne Farms and the University of Vermont. 
Shelburne Farms, a global leader in the field of Education for Sustainability, is BCL's Lead Community Partner, providing staff and expertise. Megan Camp, Executive Vice President and Program Director of Shelburne Farms said, "BCL exemplifies the type of education that the world needs and that we have long supported. It is learning that is meaningful and relevant to students, empowering them to build better communities and a better world. Our hope is that models like BCL will inspire other schools to offer similar experiences within their own communities."
The University of Vermont is a national leader in cultivating place-based education theory and practice. The University's new place-based education certificate program will formalize opportunities for UVM students from a diversity of majors to collaborate with BCL and other innovative Vermont programs that foster student learning outside the traditional classroom. Dr. Walter Poleman, senior lecturer in the Rubenstein School of Environment and Natural Resources, said, "We have grown a tremendous network of people in Burlington who are thinking about sustainability in all parts of life and cultivating innovative educational opportunities that benefit the whole community. This award is a manifestation of how that network has supported this project from concept all the way through to fruition."
Congratulations to BCL students & staff on this global recognition!