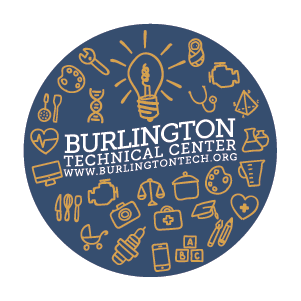 Our BTC hiring committee has been working hard to identify the next leader for the technical center. We are happy to report have two strong candidates who are interested in working in Burlington School District! Please join us for a virtual Community Forum on June 13, from 6-7 PM via Zoom and YouTube to learn more about our candidates. Staff will also have a chance to meet the candidates in person at a Staff Forum at Noon on the 13th. Please find full candidate bios below and don't forget to provide feedback during the feedback form!
Feedback Form
After meeting the candidates, please take our feedback survey!
Meet the Candidates
Pete Symula
My name is Pete Symula, currently I am in my 23rd year teaching 9th-12th grade Design Technology Education at Bellows Free Academy in St. Albans. Prior to working at BFA, I worked for two years at Odyssey Middle/High School in Rochester, NY, teaching grades 6-12 Design Technology Education. During my tenure at BFA I have continually focused on program development, increasing opportunities and rigor for students while focusing on creating access to high end technologies and 21st century skills to all students. I owned Kartula's Cafe & Bagel Company for 5 years in St. Albans with my wife, creating delicious options for our local patrons, as well as the Precise Renovation company which I have run for 20 years. I have worked as a consultant in designing curriculum for K-12 STEM high schools in Virginia as well as creating comprehensive curriculum and content that centered around the integration of 21st century skills, namely: application using CAD, 3D printers, CNC machines, lasers and plasma cutters. I serve as the President of the Vermont State Technology Education Association and have coached hockey at many levels, including BHS Boys varsity hockey and the Comet Girls hockey program at BFA, as well as the Alpine Ski and FIRST Robotics team at BFA.
I have been a consummate forward thinking progressive teacher during my career. I am always determined to push the envelope of what type of high-end technology we could bring into the classroom for students to access. The programs I teach focus on Design thinking, while applying problem solving strategies to solve any problems students are offered, all while using 21st century skills and technologies to solve them. This includes, additive and subtractive manufacturing, Laser, CNC, Plasma, 3D printers, Solidworks and Mastercam design software. I teach multiple levels of furniture making, Design, Electricity & Electronics, Robotics and STEAM. I have served as Department leader for 20+ years developing instructional strategies for students in the labs and maintaining safe operation of the furniture making lab, Engineering lab and Graphic Arts lab. Leading the innovative department Design Team, I was responsible for all managerial duties, reorganizing the department curriculum, content, scoring and reporting to support proficiency based instruction. I have served on the leadership team at BFA for 20 years leading colleagues in professional development, curriculum development, safety plan development and data based school improvement, just to name a few.
Working with young people, watching them grow and find themselves, whether a success or an obstacle they did not anticipate, is more rewarding than I can put into words. Whether it is in the classroom or on the ice or a snowy hill, it has taught me to be flexible, considerate of others' voices, when to sit back and listen and when to step in and lead. I believe in consensus building with the team and forming relationships with my colleagues that are based on trust, understanding and respect.
When I am not working, I spend my time with my wife and two daughters following them around the state to their many sporting events, skiing, hiking, fishing, or boating. Anything to get us outside with our two dogs, being active and appreciating spending time together and enjoying this world, is what we look forward to any chance we have.
Jason Reed
I have been working in the Burlington School District since the fall of 2005, and this school year will conclude well over two decades in education. My time in the BSD has been teaching at Horizons alternative high school program where I have shared students with at least 7 of Burlington Technical Center's programs. Additional roles at Horizons include academic advisor and lead teacher for the program. I have also had the good fortune to contribute to district-wide initiatives serving on several committees including the Equity Counsel and Restorative Practices Strategy Team.
Prior to the BSD, I worked in 2 vocational education environments. I worked as the Academic and Career Preparation Supervisor at a federally funded Job Corps center, overseeing GED and diploma completion for students co-enrolled in vocational training. Before Job Corps, I worked in several capacities at the New England Culinary Institute. My positions at NECI ranged from front-of-house restaurant operations and management, to administrative roles across 2 campuses. Throughout my time at NECI, I was always teaching. My faculty roles included industry specific learning labs, and more traditional college course work in the classroom.
Through my decades in education, I have developed several core values that guide my work and continued development. Here are a few:
Educators should place equal value on students' learning and their personal growth as individuals.
A sense of belonging is essential in student and educator growth. Essential to this is an environment that values inclusivity and gains toward equity.
Public schools have an obligation to create generalist–learners who will leave our care with the skill sets to tackle a variety of learning and/or workforce environments.
Value the learning that comes from colleagues.
I am a first generation college graduate and earned both of my degrees from Saint Michael's College. Beyond my master's degree, I have done course work and training at a variety of colleges and universities including Howard University and Landmark College. I have also trained with local organizations, such as Outright Vermont and the Howard Center on improving student supports.
In my personal life, I love time with my spouse. We are both volunteers with Therapy Dogs of Vermont. I also volunteer for the CHILL Foundation instructing snowboarding to youth who may otherwise not have access to the sport. Mountain biking is my primary means of fitness and exhilaration. When it's time to relax, I am fortunate to have wonderful friends to spend time with.
Thank you for your time and your investment in Burlington's schools.
Sincerely,
J Reed