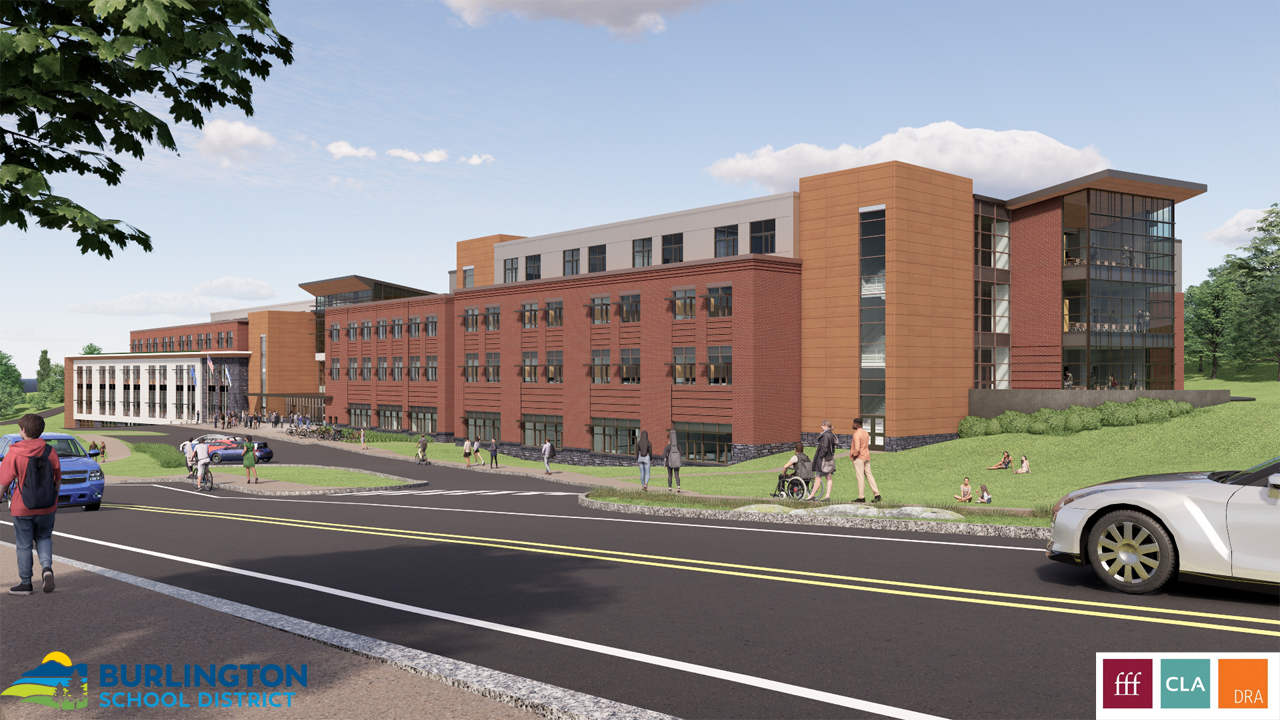 Burlington School District ("Owner") hereby requests proposals for a Clerk of the Works ("Clerk") to provide construction oversight services for a new high school and technical center to be constructed on the site of the former high school/tech center campus at 52 Institute Road, Burlington, Vermont.
The BHS/BTC project will consist of two (2) primary overlapping phases. Phase 1 will involve remediation and demolition of buildings A through G of the existing campus. The northerly most building, the former wood chip plant, will remain and be repurposed. Phase 2 will involve construction of a new high school/technical center building, a greenhouse and related site improvements.
Construction oversight services to be provided by the Clerk will be for Phase 2 only.

The proposed BHS/BTC will total approximately 260,465 square feet which includes a new
256,600 square foot high school/tech center building, a 600 square foot greenhouse and the
existing 3,265 square foot former wood chip plant. Approximately 218 new surface parking
spaces will be constructed. The building's heating, cooling, and domestic hot water will be
provided by electric heat pumps connected via heat exchanger to an open-loop ground source (i.e., geothermal) heat pump loop. A new stormwater management system will be constructed on the south side of Institute Road and will use a Regenerative Conveyance System (RCS) to provide centralized stormwater treatment and detention for the new school facilities. The Owner will be seeking LEED certification for the project.
Program highlights include:
• Two-level Student Commons for dining, gathering, collaboration.
• Three Small Learning Communities for BHS each with a variety of classroom sizes,
science labs, extended learning areas, teacher planning, and student support spaces.
• Significant Student Support resources including Counseling & Special Needs.
• Five Tech Center Program spaces with dedicated BTC entrance.
• Large Group Multi-Purpose Presentation space.
• 750 seat Auditorium with robust lighting, rigging, & sound systems.
• 12,000 sf Gym plus 5,500 sf Community Gym with dedicated after-hours entrance.
• Strong connection to the outdoors including two (2) outdoor learning areas, a secure
courtyard, and enhanced connections to the Arms Forest.
The complete RFP is available to view online or download. Please note:
Proposals will be received by Burlington School District until 3:00 PM on January 30, 2023, via electronic transmittal to jweith@whiteandburke.com. Large attachments (over 10 MB total) should be hosted on a file-sharing service and link transmitted as part of the e-mail.
The deadline will be strictly observed. Proposals delivered after 3 PM on January 30, 2023,
or to any other email address will be rejected as non-responsive.