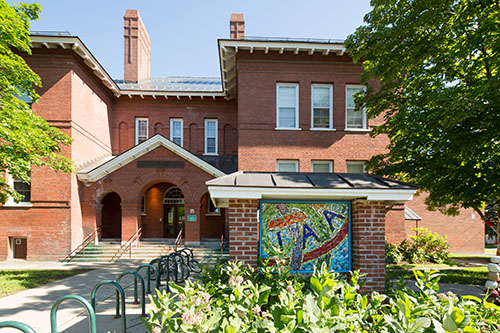 Dear IAA Families and Staff,
I'm writing today with an exciting update about a plan to renovate IAA. As some of you know, BSD has been talking about conducting a major renovation of the school since at least 2008. Over the course of the past year, conversations around ESSER funding allowed us a path to make this project a reality in the near future!
While there are still a number of details to finalize, we believe we will be ready to begin a large-scale renovation project for the school beginning this Spring. The overview of the project is below. One of the reasons we can make this project happen is that we believe we have identified swing space for part of the school during the time the work is happening. This has been a big obstacle that we haven't been able to solve until now. This plan does mean that we will need to relocate some or all of the IAA community from the beginning of the 2024/25 school year until possibly March of 2025, and we will still need to determine exactly what the relocation will look like.
On September 19, the board will be discussing, and hopefully voting to give permission to District leaders to officially begin to put the project in motion. We are moving quickly because ESSER funds must be spent by the end of September 2024, so if we are going to do this, the time is now.
In preparation for this, our partners in this proposed project from Colin Lindberg Architects will be attending IAA's PTO meeting on September 13th. They will give a presentation of the major scope and goals of the project, provide some opportunity for input on some elements that are not finalized (cabinetry, shelving, fixtures, site features for planters/landscape, play structure relocations, etc.), and answer some general questions about the project. As you read through the project highlights below, please keep in mind that there are a number of things that have yet to be finalized.
Specifics that Still Need to Be Decided
1) Total Scope of the Project: We have identified about $11,750,000 of available funds for this project; $250,000 from the HVAC Assistance Program, $10m in American Rescue Plan (ARP) ESSER grant funds, and approximately $1,495,000 in local capital funds. Of this, $10m in ESSER must be spent on upgrading ventilation systems. With that in mind, we are thinking of this project in two phases. Phase 1 would need to be done as soon as possible and everything would be ventilation-related; these are the changes we are working to commit to. Phase 2 consists of additional building priorities (see below) that we would like to pursue if funding allows. Our plan is to put all of Phase 2 out to bid at the same time we bid Phase 1 and determine what we can afford and in what order.
2) Relocation Site: Colin Linberg Architects has been reviewing the St. Mark's location on North Avenue as a swing space to determine how many classrooms could be added to that facility. Under one scenario, we may be able to move K-5 (but not preschool or STEP), though there would be no cafeteria because the current cafeteria would need to be converted to classroom space to fit everyone. Going this route would mean some classrooms would not have full floor-to-ceiling walls (similar to DtBHS). A second scenario is that only part of the school would move to St. Marks at any one time. We also recognize that as part of relocation, we'll need to work with our partners to determine the best way to offer afterschool programming.
3) Transportation: When we did similar projects in the past at Smith and Flynn, we were able to provide bussing from the school to the temporary locations. We are committed to doing that here as well but will not have detailed plans until we are much farther along in the process.
Project Highlights
Phase 1 (ESSER Funded) – HVAC and Electrical Upgrade of Entire building
Potential Phase 1 Timeline (subject to change): April 2024 (with no student displacement until fall) – Dec. 31, 2024
Potential Cost: Unknown; in the bidding phase
Highlights:
High performance, heat recovery ventilation, and dehumidification (the same system that is now in place at Smith and Flynn)
Geothermal under the playground
Asbestos and lead abatement
New windows in K-2 Wing
New insulation, including the attic
ADA upgrades
Electrical infrastructure upgrades
High-performance LED lighting
Asbestos removal from the walls of all learning space
Kitchen Hood Exhaust
New Roof Top Structure & Required Screening to structurally support new HVAC Equipment
Phase 2 (General Bonding) – Complete Architectural and Thermal Upgrade to Building Envelope
Potential Phase 2 Timeline (subject to change): June 2024 – March 2025
Projected Cost: Unknown; in the bidding stage
Highlights:
Replace the building envelope in the K-2 wing and cafeteria,
Creation of ADA-accessible bathrooms
Additional kitchen upgrades
Adjustment of kindergarten classrooms to have the same square footage
Sprinkler systems upgrade in the 1893 building (including attic)
Divert roof rainwater from city combined storm/sewer to on-site underground treatment system
Site stormwater control improvements and grading
Safety fencing around the 1893 sloped roof zones
New gym flooring, ceiling, and lighting (after completing HVAC work above the ceiling in P1)
Wall framing, building envelope finishes, and other related work throughout the building
I know this is a lot to digest, but I hope you are as excited about the possibility of this project as I am. While we still have a lot to decide here, this is an incredible opportunity to merge local, state, and federal funding sources to help our wonderful community.
Please join us on Wednesday.
In Partnership,
Tom