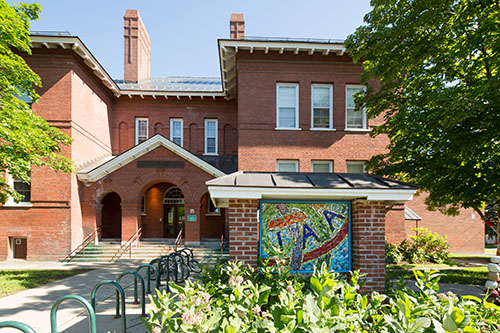 October 10, 2023
Dear IAA Community,
Last month, the Board approved our plan to use $10m in American Rescue Plan/ESSER funds to support a major renovation at IAA. We are grateful that representation from the IAA PTO came out to the Board meeting to support this decision, which has allowed our architects to issue bid packages. As I noted in my last update, we have identified about $11,750,000 of available funds for this project and this process of receiving real price estimates from contractors will give us the information we need to finalize the complete scope, cost, and timeline for the project.
While we do not expect final bids for the two phases of the project to come back for another few weeks, based on preliminary conversations and our experience with the BHS/BTC project, we are preparing for costs to come in higher than we initially expected. We have been committed to this project and we are still committed, as this is an area of need in our District that has been clear for many years and has been weighing on me since I got here. That said, our next step is to review the bids that we receive in the next few weeks and then solidify the scope of the project. This will likely include a process of determining the project priorities when we better understand the cost and the available funding.
In the meantime, there are a number of pieces of the project that we are working on, from location and spaces for learning, transportation, timeline, and more. We will be working to communicate with you throughout and collaborate in decision-making at the right moments in the project.
Finally, we are in the process of identifying a lead for the project who will help us keep everything organized, and we will update the communication process and project team structure when that is finalized. (For now, you can see the current project team members below.) As we go through this, I will be working closely with Principal Scheidt and our District leadership team to ensure we are providing timely and relevant updates, even if we do not have a lot to share. For now, please see below for a few more details we've been working on.
In partnership,
Tom
Project Team and Questions – There are a number of Central Office team members and consultants involved in this project and it is going to take all of us working together in our areas of specialty to make the project a success. Our goal is to identify a project lead over the next few weeks.
Lyall Smith, our Director of Property Services, is currently handling the major aspects of the building project, though we are actively working to hire the services of an outside project management firm.
Victor Prussack is our Coordinator of the Office of Engagement and is helping determine logistical needs and our school and community engagement strategies.
Randy Burnett works with Colin Lindberg Architects and he has been working on this project for a long time.
Eric Lafayette works for EEI, and he will be working with us to complete the HVAC work.
Russ Elek, our Communication Specialist, will be helping answer questions and provide proactive messaging.
With so many involved, I know it can be hard to know who exactly to send questions to; for now, please send them to superintendent@bsdvt.org and we'll do our best to pull these multiple parties together to provide an answer to you within 48 business hours. We'll also take some of these questions and responses to create an FAQ document that will help answer other questions you may have as the project ramps up.
PTO Presentation and Responses – Thank you to everyone who attended last month's PTO meeting where Randy Burnett presented a progress plan outlining many of the proposed changes. Following feedback from that meeting, Randy and the team at Colin Lindberg Architects created an updated plan that reflects refinements to the Kindergarten and Pre-K rooms addressing the need for accessing the dedicated playground areas intended for their age group use. You can view both sets of plans via our Google Drive.
Location and Spaces – One of the big challenges with the project over the last five years has been access to swing space for us to provide our full program off site while the work happens on site. We are planning to move our Horizons program out of St. Marks Church and into Rock Point before the next school year, which opens the real possibility of using St. Marks as swing space. In preparation for this, we have been evaluating program spaces, including unified arts, outdoor spaces, spaces that can be used for assemblies, and classroom spaces to ensure we can offer great learning opportunities in this temporary location. More to come!
Transportation – Once we finalize our alternative location, we will send a transportation survey which will help us determine the best way to get students to our alternative location.
Tentative Timeline (subject to change) –
Bids Returned – We expect ESSER-related project bids to come back in the next two weeks, and the non-ESSER-funded portion to come back to us in the next three to four weeks.
Scope Finalized – Mid-November, 2023
Alternate Location for Learning Finalized – Mid-November
Transportation Questionnaire Out – Mid-November
Renovation Design of New Spaces – March/April 2024
Non-displacing Work at IAA Begins – April 2024
Renovations of Alternative Learning Spaces – June 2024
Phase One Completion – December 31, 2024
Phase Two Completion – December 31, 2024 – March 2025 (depending on finalized scope)
—