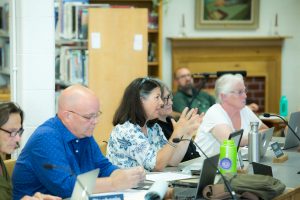 Decision Goes to Voters March 6!
Burlington residents will have a school budget to approve on March 6th. At a special board meeting on Tuesday, January 23rd, the Burlington School Board passed a budget recommendation. The recommended budget will increase education spending to $15,111.81 per equalized pupil, an increase of less than one percent (0.8%) over the last fiscal year. While the increase per child is very small, the State's education funding formula means that the proposed budget could raise property taxes by 7.99%.
"The District would like to thank the Burlington School Board for their hard work over the past several months and for passing this budget," said Superintendent Yaw Obeng. "Each one of our board members asked engaged, thoughtful, and at times, difficult questions. They challenged us to put forth the best scenarios that will allow us to grow the district, reduce inefficiencies, close the achievement gap and raise the bar."
According to the District, the proposed budget will impact taxes on a $250,000 home by $358 per year. The increase in spending per pupil is well below the threshold of 2.5% that was recently recommended by the State. However, because of a deficit in the State education fund, and a decrease in the City's level of appraisal, even this modest spending growth results in a higher tax impact.
"We tried to provide some balance to this year's budget," Obeng added. "It doesn't give us everything the community and staff have asked for, but it allows us to stay true to our strategic goals while remaining aware of the pressures and challenges rising taxes can put on our community."
Obeng says the approved budget investments include maintaining multilingual liaison staff, restorative practices work, increasing social/emotional supports, and targeted achievement gap investments. Reductions include cuts to the district's administrative offices for the fourth straight year, as well as cuts to property services and the restructuring of some high school courses.
Burlington residents will have their voice heard at the polls on March 6th. Obeng said a line-item budget and a list of resident polling places will be available online in the coming weeks.