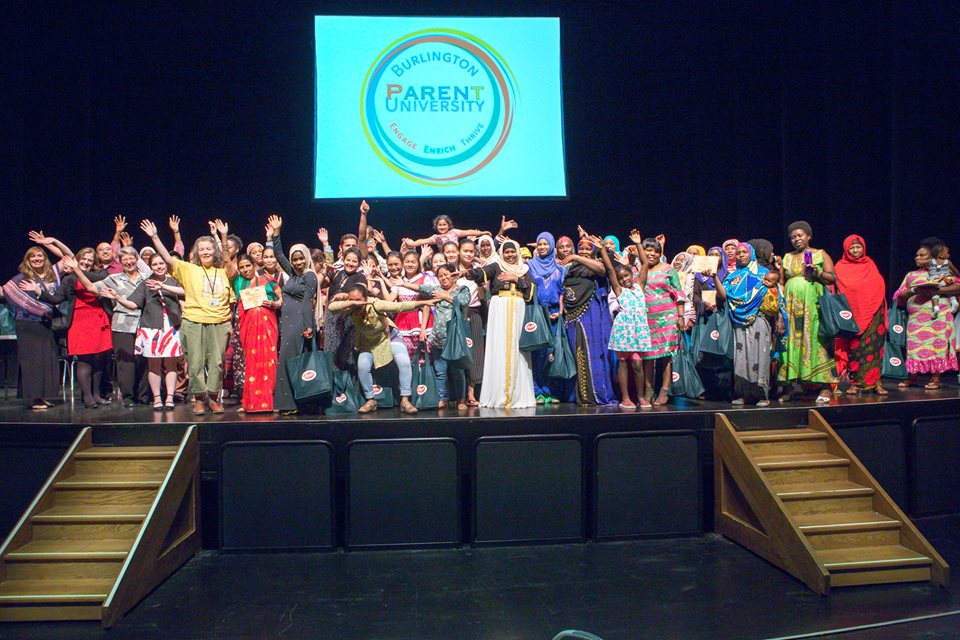 Unique Program of Burlington School District Creates Partners in Education
Burlington, VT- On June 19th, at 3:30 PM, 22 graduates will cross the stage at the Flynn Center for the Performing Arts and shake hands with Burlington School District (BSD) Superintendent Yaw Obeng and other dignitaries. But these graduates are not the typical students you're used to hearing about. These are graduates of Parent University, a BSD program designed to help parents be partners in the education of their children.
The Parent University Graduation is a free, public celebration open to all. During the ceremony, attendees will hear from Keynote speakers including:
Vermont Senate Pro Tem Tim Ashe
Lydia Clemmons, PhD, MPH:

Director of the Clemmons Family Farm/Executive Director of the "A Sense of Place" project

Anna Marie Gewirtz:

Executive Director of the Flynn Center (will welcome graduates, their families and our partners to the Flynn)

Miriam Ehtesham-Cating

: BSD Director of EL (will speak on behalf of our partners)

Isnino Mohamed and Boih No

: (will speak on behalf of our graduates)
"Congratulations to this year's graduates!" said Superintendent Obeng. "I am happy to see this program continue to thrive. We know from research that when parents are engaged in their own learning, their students also produce higher achievement scores. This program embodies our efforts to close the achievement gap and raise the bar for all in Burlington School District."
Now in its sixth year, program manager Ali Dieng is also happy the program is going strong. "The strength of this program lies in our content and the support of our greater community. We have over 60 program partners and sponsors working with us to create a successful program each year. We are particularly excited about the accomplishment of this cohort as they all have delved into complicated and hard content materials specific to the opioid crisis affecting our city and communities all across the country and the world," said Dieng.
Dieng noted that in addition to this year's special curriculum focus, Parent U teaches valuable skills and knowledge that benefit both families and children. Students explore parenting skills, Technology, Budgeting, Nutrition, child development and more. "We also strive to promote an inclusive school culture, helping participants become partners in their student's education with their schools, which we know is key to success."
Dieng said he hopes many community members will join in the celebration on June 19th. Attendees of the ceremony will enjoy performances by Jeh Kulu and The Bhutanese Nepalese Cultural Heritage Dance Troupe. Following the ceremony, guests can mingle with community partners and exhibitors, and enjoy music and refreshments including momos, samosas, and ice cream donated by Ben & Jerry's. For more information about the graduation, visit our Facebook page. Or visit our Parent University website to learn more about this important program.