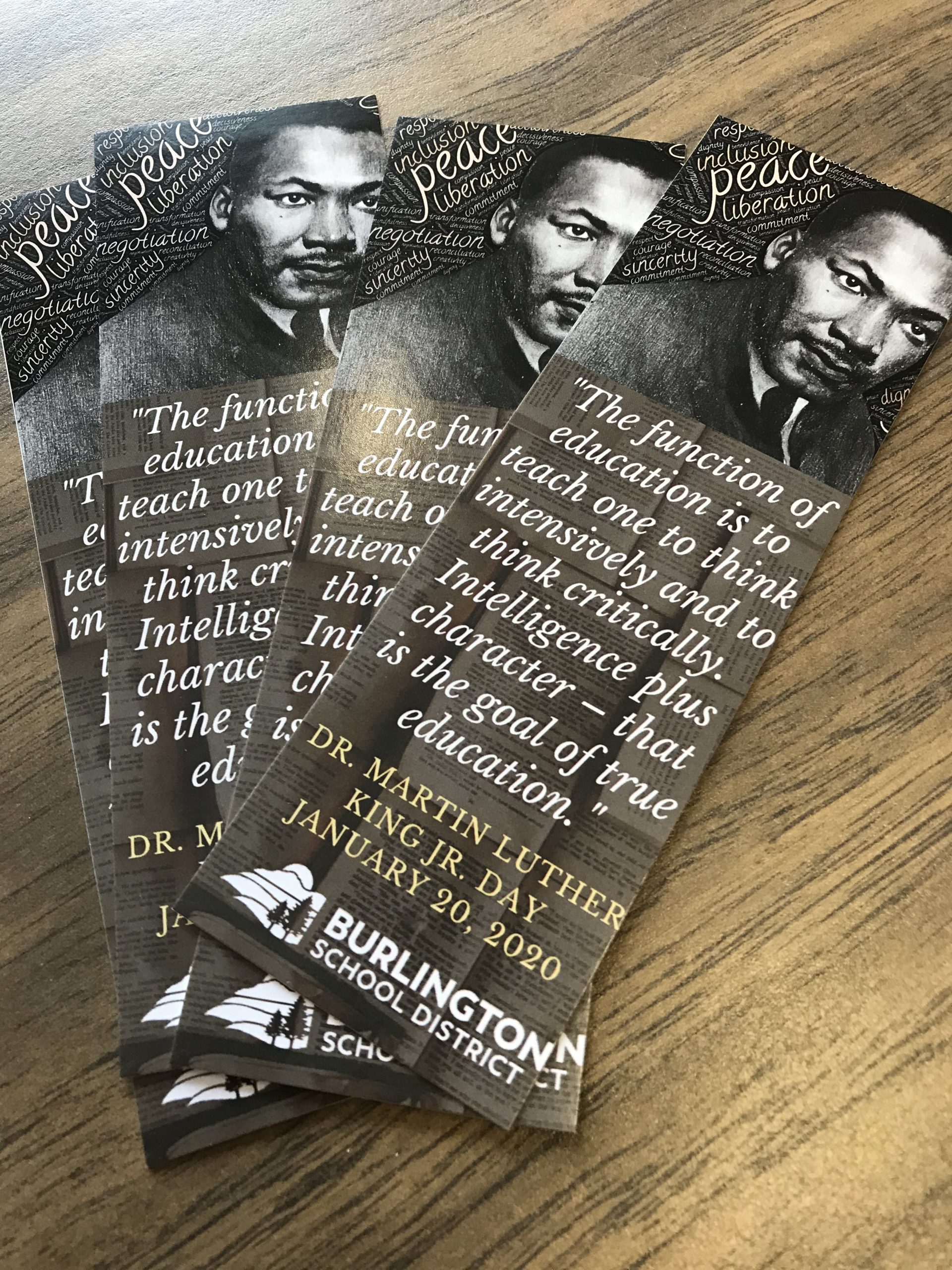 Greetings BSD Community, 
"Make it a day on, not a day off." In big, bold letters, this is one of the first things you see when you visit www.nationalservice.gov. Right now across the country, millions of people are gearing up to recognize and participate in the 25th MLK Day of Service taking place this Monday, January 20. I am proud to say that Burlington School District is part of that effort. 
Last year, we decided that for the first time in many years the District would be in school for a half-day on MLK Day. We received a lot of positive feedback from our staff and community, and many plans were in place! Unfortunately, Mother Nature had other plans and I needed to make the difficult decision to call a snow day. Despite the weather, several students and staff still engaged in activities at ECHO and throughout the City, and many schools spent time recognizing Dr. King on Tuesday.
I believed then and I still believe that recognizing the day in this fashion reflects the BSD Vision: "Cultivating caring, creative and courageous people. Join the journey!"
As the snow falls again this year, we are gearing up to try again! I am excited that we will be in school for a half-day on Martin Luther King Jr. Day and I want to thank our Equity Instructional Coach Autumn Bangora, DEALT, and the many teachers, principals, paras, coaches, and staff who have been working so hard to ensure that every student can be brought together to intentionally focus on the importance of Dr. King"s message of, racial equality and community service. 
As in last year, it is my hope that after spending this time together, our students and staff will go into the community and implement the day's teachings. Please consider serving, learning more, or celebrating. Below you'll find a few resources to help you find a way to connect. And of course, you are welcome to join our students and staff again this year at the CEDO-led Dr. Martin Luther King Jr. Day Celebration at ECHO.  
Finally, I am also aware that some parents may choose not to send their student to school on Monday, but to have their child engaged in community activities for the full day, outside of BSD offerings. In such cases and in the spirit of the day, we are happy to consider those absences excused. 
Thank you for listening and for being engaged.
– Superintendent Obeng
P.S. To honor and commemorate the day, we have created special bookmarks for all students again this year. Check out the photo above. I hope they will come in handy as you and your student(s) discuss Dr. King and his legacy this week. 
Volunteer Opportunities:
United Way
Corporation for National and Community Service
Local Events:
January 19, 3 PM Greater Burlington Multicultural Resource Center Annual MLK Address, UU Church 
January, 20 GBMRC Civil Rights Panel, 3PM, ECHO
January 20-24, 2020 Champlain's College Week of Learning and Engagement 
January 22, 10 AM We Shall Overcome: A Celebration of Martin Luther King Jr. 
Student Matinee, Flynn Theater
January 22, 4 PM Teacher Workshop with Damian Sneed, Flynn Theater
January 28, 4 PM Dr. Ibram X Kendi Keynote Speaker, Ira Allen Chapel *free event, see link for tickets