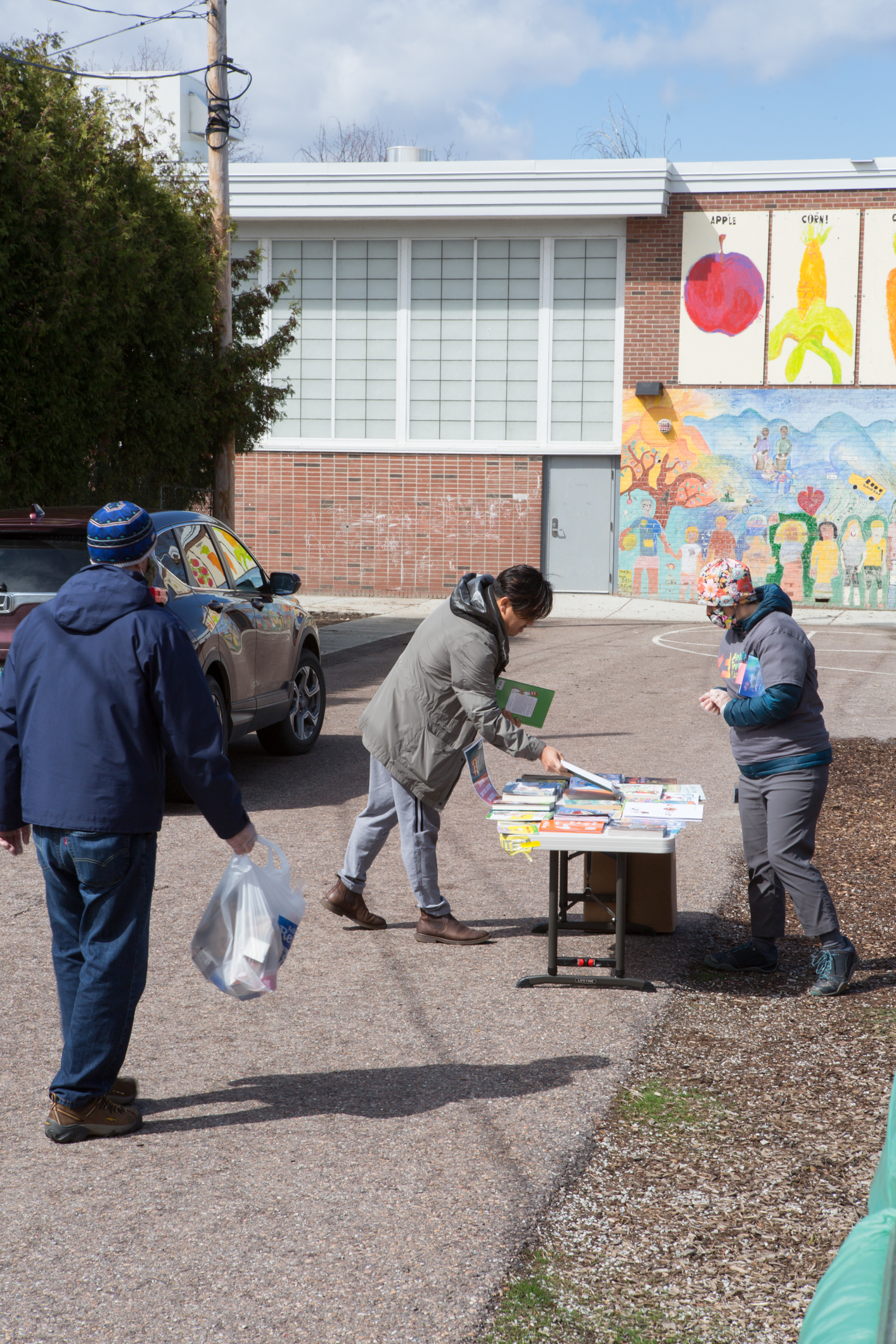 Free Books Now Available at Food Pick-up Sites 
Extra, extra, read all about it! Burlington School District and Fletcher Free Library have teamed up to offer free books to children during the coronavirus pandemic. Books can be picked up by parents at BSD food pick-up sites around Burlington. The books appeal to a variety of ages of students and are being provided free by Fletcher Free library.
"This is a great partnership and we are grateful for Fletcher Free Library for stepping up and providing books to the children in Burlington," said BSD Superintendent Yaw Obeng. "It really shows that the Library and the City are committed to connecting with and supporting children and families through the pandemic. We're thrilled that our meal sites can serve more than one purpose for families during these uncertain times."
"Connecting with readers and children is at the core of who we are," said Mary Danko, Director of the Fletcher Free Library.
"Our staff really wanted to do something impactful for families during this time and when we realized that there was an opportunity to reach young readers throughout the city, we jumped at the chance."
Obeng noted that BSD's meal sites have been providing free meals to students under 19 years old since the first day of school closure. Danko said library staff began coordinating with the BSD team to give away books beginning last Wednesday, April 15th. "It was a thrill to watch the faces of parents and students light up on that first day when they showed up to get food and then also got to choose books to keep. We knew were doing the right thing."
Fletcher Free Library will be providing a book for every child at each BSD food pick-up location once per week, weather permitting. BSD and Fletcher Free staff are going to great lengths to ensure book distribution is safe and complies with physical distancing guidelines. Staff members wear gloves and masks when handling books, and tables for the books are set up at least six feet away from where the food is handed out. Only one family at a time may choose books and families must take home any book that is touched.
Book Distribution Schedule at Food Sites (All days are weather dependent.)
Mondays
Riverside Apartments
9:30-10:30 AM
Franklin Square
9:30-10:30 AM
Tuesdays 
North Avenue Alliance Church Parking Lot
9:00-10:00 AM
Sustainability Academy Parking Lot
10:30-11:30 AM
Wednesdays
Bobbin Mill
9:30-10:30 AM
South Meadow
9:30-10:30 AM
Northgate
9:30-10:30 AM
Thursdays
Edmunds (Main St. entrance)
9:00-10:00 AM
Champlain Elementary Parking Lot
10:30-11:30 AM
Fridays 
Salmon Run
9:30-10:30 AM
Boys & Girls Club
9:30-11:00 AM
###
Burlington School District (BSD) is a pre-k-12 public school system of about 4,000 students in Burlington, VT. BSD's mission is to graduate students who: value different cultures, engage with the community, communicate effectively, think creatively, skillfully solve problems, and achieve at their highest academic, intellectual, and personal potential.  Join the Journey! www.bsdvt.org
The Fletcher Free Library's mission is to inform, enrich and nurture a community of lifelong learners. The Fletcher Free Library is the largest public library in Vermont and is an essential partner in Burlington's economic, social, and cultural growth. Learn more at fletcherfree.org