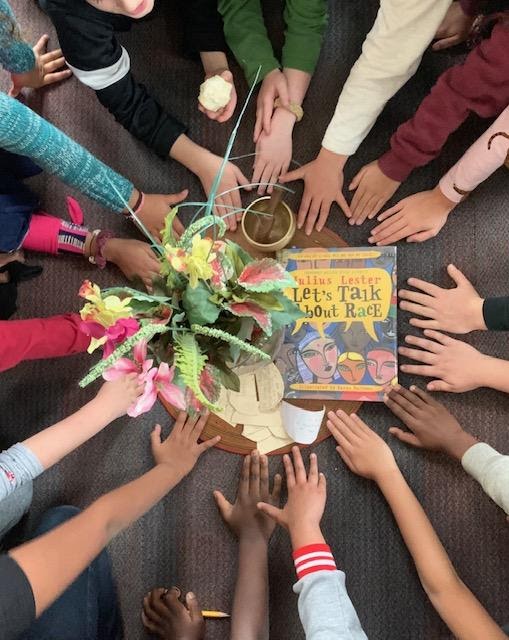 BSD Office of Equity Announces New Equity Webinar Series – Public Invited to Explore Burlington School District's Diversity and Equity Work.
Click here to view details about the 2020-21 Equity Webinar Series
New this school year, Burlington School District's (BSD) Office of Equity is excited to sponsor a series of free, participatory Equity Webinars open to the greater BSD community. The goals of the series are to engage students, families, staff, and community members in courageous conversations on topics of equity and Social Justice. Designed to be more interactive than traditional webinars, the series will allow space for attendee participation and small-group break-out conversations and will feature a unique panel of facilitators including BSD staff, youth panels, and community partners. 
"I'm thrilled to see the Office of Equity stepping up to offer this series," said Superintendent Flanagan. "Equity, Engagement, and Deep Learning are three core values I believe will help us move our District forward. This series is a great way to combine those focus areas and allow us to work together for a common good."
BSD Director of Equity, Sparks, who also leads the BSD Office of Equity, agrees. "As we look at ways to become a more equitable District, we must involve the community," he said. "This an opportunity for us to not only show the work happening inside our buildings but to invite the community to be a part of that work and help make improvements."
By inviting the broader community to this series of Equity webinars, the Office of Equity hopes to highlight the importance of community members as school partners and provide opportunities for adults and students to participate in critical conversations around topics such as identity, race, mental health, ableism, heterosexism, and more.
All webinars will be offered via Zoom and will be recorded and shared on the District's YouTube page. See the full list below and be sure to join us on December 17th for "An Introduction to Restorative Practices."
2021 BSD EQUITY WEBINAR SERIES:
December 17, 7:00 – 8:00 pm
An Introduction to Restorative Practices What are Restorative Practices? How are Restorative Practices being used at BSD? Participants practiced a virtual Restorative circle led by BSD student circle facilitators. Watch the webinar below.
February 3, 2021 6:00 – 7:30 pm
Racialized Trauma Explore the Intersectionality of Racism and Mental Health and participate in a conversation with a multigenerational panel from the BSD community. Cosponsored by the Howard Center. Facilitated by Courtney Casper and Zachary Key. https://www.wcax.com/2021/02/03/burlington-school-district-to-host-racial-trauma-webinar/
March 12, 2021 5:00 – 6:30 pm Beyond Black History Month Recognizing that Black history doesn't end when March begins is an annual BSD tradition. Sit back and watch the Black Lives Matter flag raising mini documentary "We Choose Love and Hope" with family followed by breakout room discussions and activities on Anti-Racism
Combating Ableism – April 8, 2021 6-7 pm What is ableism and how does it show up in schools?
A moderated conversation about disability advocacy facilitated by BSD Student Alumni Zaley Deleonardis-Page and Eva Edwards-Stoll followed by Restorative Circle discussions in breakout rooms.
AAPI Affinity Spaces May 7, 2021 5:00-6:00 PM This virtual event is hosted by the BSD Office of Equity and is open to all Asian, Asian-American, Pacific Islanders and non-Asian parents of Asian children in the greater Burlington community. Come learn about what BSD is doing to address Anti-Asian racism and participate in breakout rooms to share your concerns and make recommendations to the school district. Vietnamese, Karen, Burmese and Nepali translation is available.

Supporting LGBTQ+ Youth May 12, 6:00 – 7:00 pm Come learn more about how to support LGBTQ+ youth in schools and at home in partnership with Mara Iverson from Outright VT and a BSD multigenerational panel.