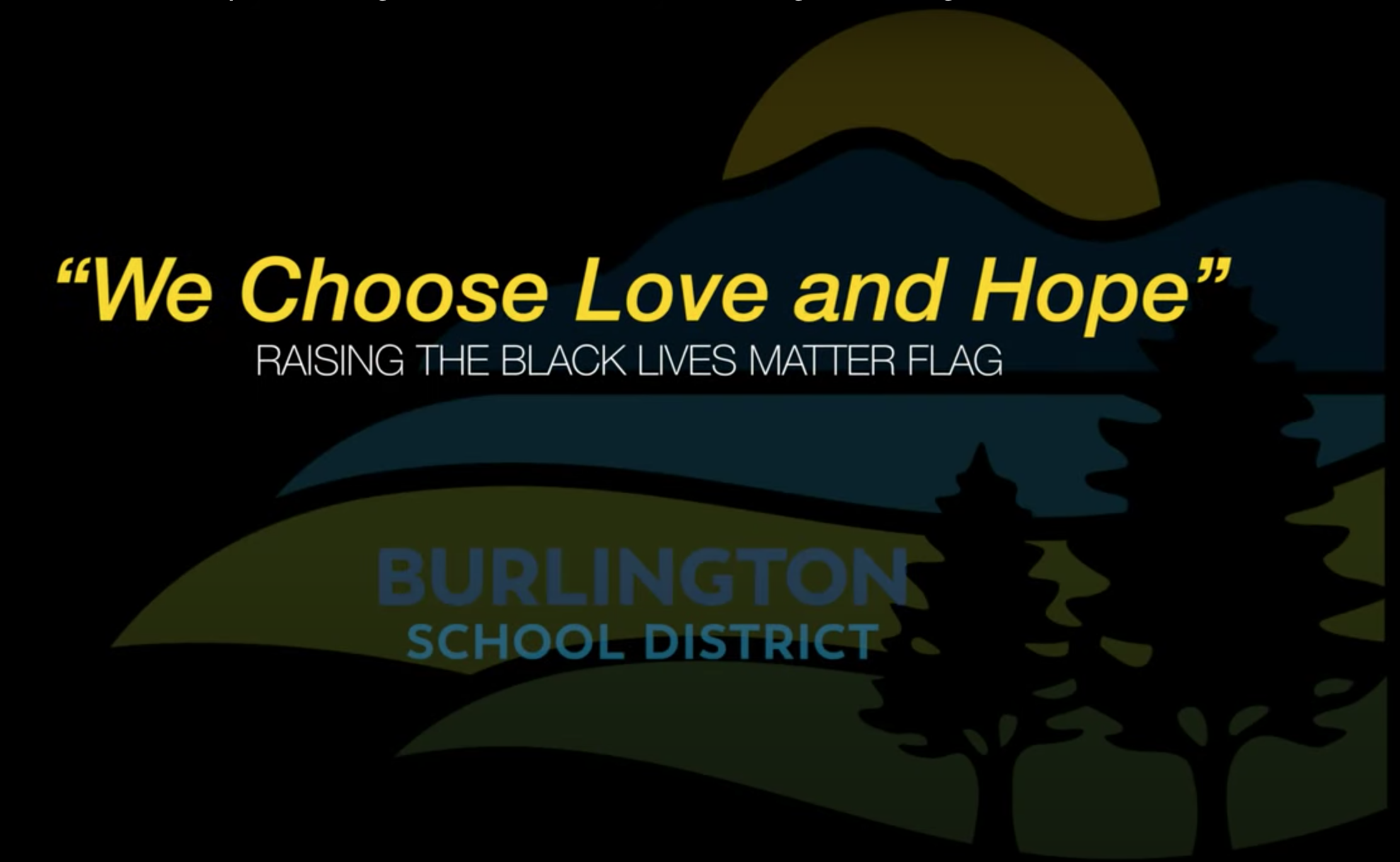 Burlington, VT Burlington School District (BSD) is proud to announce the release of its mini-documentary, "We Choose Love and Hope: Raising the Black Lives Matter Flag in Burlington School District". Check it out below!
Produced in partnership with Burlington's Media Factory, it is an inspiring look at BSD students and staff as they raise the Black Lives Matter flag at each school and articulate their commitment to diversity and equity.
"It's so inspiring to see our students really leaning into the issue of equity as they raise the Black Lives Matter flag as a symbol of hope for full equity at each of Burlington's schools," said Superintendent Tom Flanagan. "It is also a reminder that while this is an important step, this is only one of the goals in the District's equity mission, and we need to continue our focus each day until everyone in our community feels seen, heard, and valued completely."
"It will not be simple to dismantle hundreds of years of systemic racism in our District, city, or country, but Burlington School District is committed to doing our part," said BSD's Director of Equity, Sparks. "This documentary acts as a record of our students' commitment to diversity and equity and can be used as a tool to teach these practices further. It is so gratifying to see a generation of young people embrace the ideals of anti-racism. BSD's Office of Equity will continue to stand and fight against white supremacy and racism throughout our District and community. As we think about students of the Global Majority, we must design new ways with them for their voices to always be included in all conversations about them."
In 2020, Burlington School District joined the City of Burlington in declaring racism as a public health emergency, outlining steps it would take to work toward the eradication of systemic racism from its schools. Raising the Black Lives Matter flag at each school was one of these commitments.
In 2018, Burlington High School became the second school in the nation to fly the Black Lives Matter Flag after students in the school's Social Justice Union successfully petitioned the School Board for permission. The following year, students involved in Edmunds Middle School's Youth Participatory Action Research collective also successfully petitioned the Board to fly the flag. We are now in a place where school leaders are initiating the changes that student activists have previously petitioned for to support Black lives.
The mini-documentary premiered on March 12 on Media Factory's LEARN television station and at BSD's 3rd Annual Beyond Black History Month event, presented virtually this year as part of an ongoing Equity Webinar Series organized by the District's Office of Equity.