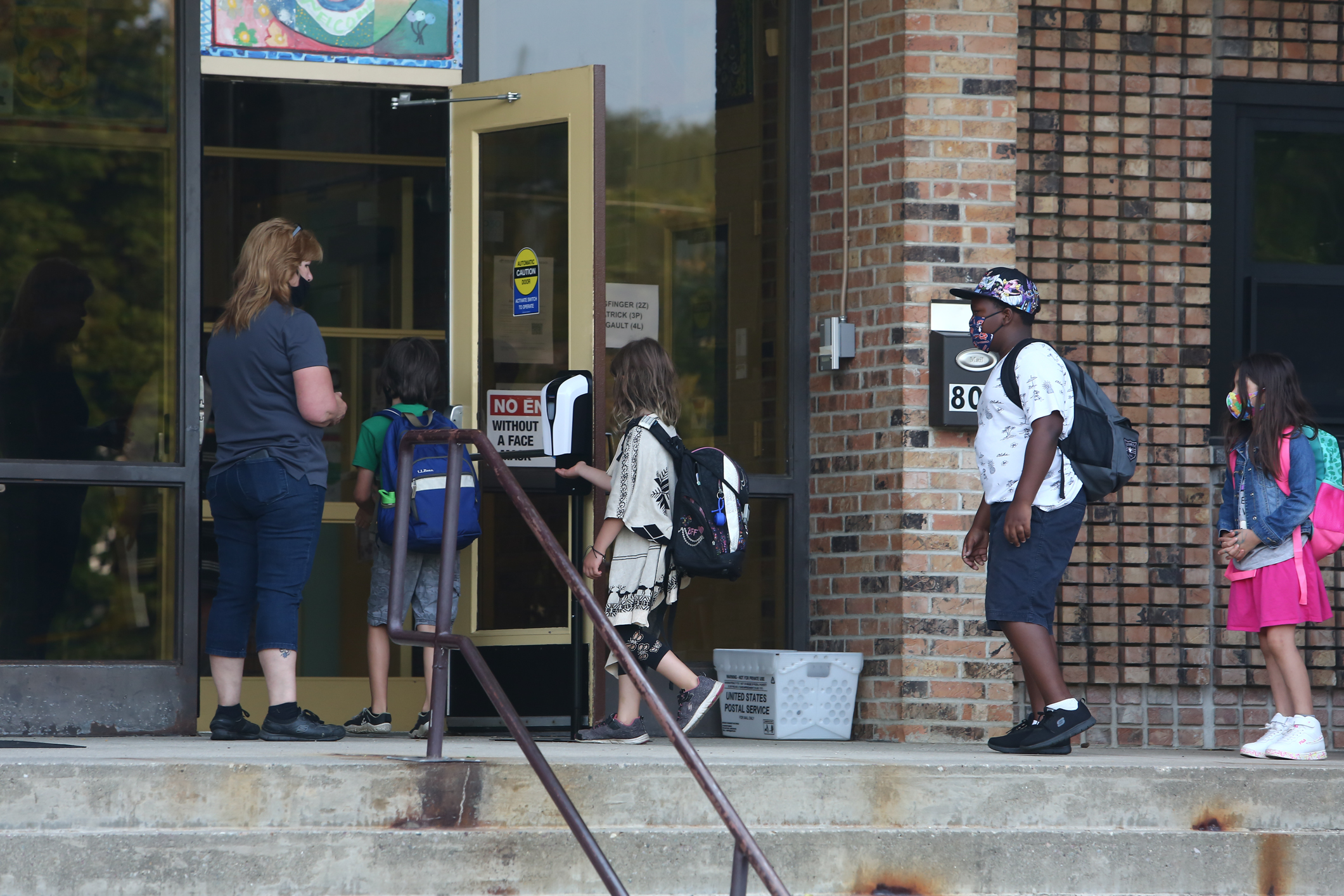 Updated September 1 – Updates at the Bottom
We are ready for a joyous reopening of schools! In less than 24 hours our doors will open and we will welcome students with open arms and smiles wide (under our masks of course) for five days a week of in-person instruction at all grade levels! I am looking forward to seeing you all as I do my rounds.
As we enter this year, health and safety are a top priority for students. We will continue to implement many of the strategies used last year to keep our buildings safe. The vast majority of what we have planned is in alignment with the 16 other districts in the Champlain Valley. Our key strategies to begin the year will be masking, staying home when sick, vaccinations, and testing. In addition to these strategies, we will implement many other safety precautions that are detailed below. We know mask-wearing is a very effective strategy so we will follow state and CDC guidance on masking, and we will be very cautious before removing the masking requirement.
We also know a combination of strategies is effective. One other key strategy is staying home when sick or if directed to quarantine. We are asking that families screen their children for COVID-19 symptoms before school daily. If you notice a new symptom, even just one, please do not send your student to school, but have them tested at the VDH testing site or call your pediatrician's office. If we notice any new COVID symptom, we will quickly move the symptomatic person to the school's isolation space and notify families to pick the student up immediately and take them to get tested. For clarity and review, COVID symptoms include: Fever, cough, shortness of breath, sore throat, runny nose, lack of smell/taste, nausea, vomiting, diarrhea, fatigue, muscle aches, and headache.
The best way to slow this virus and keep our school and larger community safe is to get vaccinated. Registration is open for our two remaining Vaccine Clinics at EMS on Monday, September 6th, and Monday, September 27th. The clinics will each run from 9:00 a.m. to 5:00 p.m. and are free and open to anyone eligible. We know we already have a very high rate of vaccination among our 12 and up population, which is reassuring as we enter the school year.
Last year, we worked together to keep ourselves and our community safe and I know we can do this again this year. Please see specific information regarding reopening below. If you have questions about District-wide decision-making, please reach out and I will reply as soon as I can. For school or classroom-specific information, I would ask that you contact your principal or teacher.
In partnership,
Tom
Masking Indoors – We will follow the guidance of the Agency of Education (AOE) which states "schools should require universal masking for all students and staff when indoors for the first 10 instructional days of the school year." Following those first 10 days, schools can drop mask mandates for students 12 and over in any school where the student vaccination rate is equal to or greater than 80% of the school's eligible population. It is important to know that we will not immediately drop our masking policies once we hit the 80% threshold; our leadership team will review our local conditions, and check for additional CDC and AOE guidance before making the decision. Please note that our middle schools contain an entire grade level that cannot be vaccinated, so it is unlikely at this time that any of our middle schools will hit the 80% threshold before the vaccine becomes available for students under 12 years old. At this time, masks are required and considered a condition of enrollment; please join us in this important mitigation strategy by ensuring masks are properly fitting, covering the nose, mouth, and chin.
Masking Outdoors – We will not require masks outdoors at this time. However, if you would like your student to wear a mask outdoors, please let your school know. We will do our best to remind students in these situations.
Masking on Buses – The federal government is requiring masks on all forms of public transportation to and from school, which includes District and GMT buses and other modes of student transportation. BSD buses will have windows down and physical distancing as much as possible.
Distancing – Presently, there are no recommendations from CDC or VT AOE regarding social distancing. However, when not in circles, small groups, or other instructional models requiring collaboration, we will do our best to configure classroom seating with the maximum allowable space between students. This may mean some classrooms will have more space than others depending on enrollment levels.
Cleaning and Handwashing – Daily custodial cleaning will continue at all schools and handwashing and sanitation will be encouraged throughout the day with sanitation stations present throughout schools.
Meals – Schools will handle meal times differently at different grade levels. Our cafeterias will be open and students may eat breakfast and lunch in the cafeteria, keeping masks on except while eating. Seating charts will be maintained at the elementary level and schools will use strategies to increase physical distance, such as eating outside or in classrooms. Salad bars will reopen based on building staffing and service plans. Foodservice will not be limited to the use of single-use items and packaged meals, given the low risk of transmission from surfaces and shared objects. (The Burlington School Food Project has asked us to remind you that due to national shortages, menus may change very little notice, but they will always seek to substitute similar and nutritious foods.)
Water – Water fountains will again only be available for bottle filling this year. PLEASE bring a water bottle.
Outdoor Learning – Teachers are encouraged to teach outside again this year when appropriate. Unfortunately, the region is experiencing a tent shortage but we will continue to pursue tenting options.
In-person Assemblies – In-person, indoor assemblies are on hold until further notice at the Elementary level. At the middle and high school level, our leadership teams will reassess once buildings reach 80% student vaccination status. We recommend virtual student assemblies. Outdoor assemblies or group meetings can be on a case-by-case basis and must comply with State guidance (if any).
Sharing of Materials – Sharing of materials is allowable, however, we recommend limiting the sharing of materials when possible. Materials that might be close to a student's face, especially if unmasked, should be cleaned with an alcohol swab. (This should be standard practice outside of COVID.)
Music – We will follow the International Coalition Performing Arts Aerosol Study Updated Guidelines, which recommends that indoor classes sing with masks on, use bell covers for instruments, and limit rehearsal times to 50 minutes.
Physical Education – Gymnasiums are open for use without restriction, however, we will continue to be outside as often as possible, weather permitting.
Hallways, Lockers/Cubbies, Congregate Spaces – Students can use locker rooms, lockers/cubbies as normal. We will not have hallway single-direction restrictions. Playgrounds, libraries, gyms, and cafeterias are open for normal use.
Visitors and Building Use – Guests and visitors will be limited to those deemed necessary for operations as authorized by the school or district for at least the first two weeks of the school year. Visitors, including those who are spectators for sporting events, are highly encouraged to be vaccinated and all must wear masks. Aside from vaccinations and voting, in-door building usage will not be available for public uses that are not connected to the operations of the District. The public may use exterior school grounds including outdoor recess space/playgrounds (when not in use during the school day or during Afterschool programming).
Field Trips – Field trips will be considered on a case-by-case basis and will require approval by the Principal. Overnight trips or out-of-state trips will require Superintendent approval.
Contact Tracing and Pods – BSD will participate in contact tracing directed by VTDOH. We will maintain seating charts and classroom sign-in sheets to assist in this process and will create line lists and conduct initial outreach. While pods will not be required, at the elementary level, classrooms tend to naturally form groups that remain mostly self-contained with the exception of small group work and outdoor recess.
Remote Learning – If an individual student needs to quarantine, families can access the missed learning using our normal absence procedures. If an entire class is instructed to go into quarantine, teachers will deliver instruction remotely. This may be a combination of in-person virtual group work and self-directed work, depending on grade level and class responsibilities. If this happens, we will work to ensure students have access to technology to access coursework.
Employee Meetings and Staff Rooms – Staff must wear masks while attending indoor meetings unless it is a meeting of 10 or fewer staff who are all vaccinated and agree to be without masks. Staff must wear masks at all-faculty indoor meetings. Staff rooms are open and will follow the same guidelines as above.
Surveillance Testing – This fall, the Vermont Department of Health is offering no-cost, voluntary COVID-19 surveillance testing to unvaccinated students and staff in Vermont schools. BSD will participate in this testing to support in-person learning and co-curricular activities and monitor for the presence of COVID-19 among the largest unvaccinated population in our state.
September 1st Updates and Additions
Ventilation – Our school and facility heating and ventilation systems are in proper working order and meet all required operating standards per manufacturer. All HVAC filters are routinely replaced on a regular schedule and systems are operating with an increased circulation of outdoor air. 
Masking – As with last year, gaiters and bandanas are not allowed. (Athletic gaiters issued by BSD are allowed for after-school athletic use only, not during the school day.) Masks with one-way valves or vents do not prevent the person wearing the mask from transmitting COVID-19 to others; these are not allowed and should not be worn by students or staff. When you blow air (like blowing out a candle) with your hand in front of your mask, you should not be able to feel any wind on your hand. If you do, your mask is too thin, not effective, and should not be worn.
Outdoor Community Events – At this time, PTO and community events can happen at BSD schools. Attendees need to be masked and events must comply with State guidance regarding attendee limits (if any).