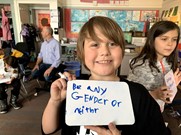 Burlington School District (BSD) invites students, staff, family members, and members of the greater Burlington community to apply to be a member of BSD's LGBTQ+ Task Force. The group will meet biweekly beginning in January 2022 to better understand the District's strengths and areas for improvement in supporting the LGBTQ+ community, and create and implement a set of recommendations that will inform actions in the District's new strategic plan. Applications to join the Task Force are being accepted now.
"I am grateful to the Office of Equity for moving quickly to get this process in place," said Superintendent Flanagan who directed the Office of Equity to commission the formation of the Task Force this past October. "Equity is a core value of education, and supporting the LGBTQ+ community is a critically important piece of that work. I'm also excited to see this process continuing our recent efforts to prioritize student leadership and community engagement, which we know leads to better partnerships, buy-in, and outcomes."
The charge of the LGBTQ+ Task Force is to present a plan that accomplishes the following objectives as part of the District's priorities of equitable and safe, inclusive schools:
Identify and document what is already being accomplished in BSD schools that builds awareness and advocacy for the LGBTQ+ community
Ensure the safety of Burlington's students during and outside of school hours as related to teasing, taunting, and harassment due to gender identity, gender expression, and sexual orientation
Create a list of recommendations that will inform the BSD Strategic Plan
Present recommendations and Task Force final report to the Superintendent
"This is vital work and will go a long way in improving our practices so that all members of the LGTBQ+ community feel safe and valued in our District," said Sparks, Director of BSD's Office of Equity. "I firmly believe that having students help lead this work is the best way to hear what we are doing right and what we can be doing better, and get the support to make changes for equity and inclusion."

Applications can be completed online and are due by December 15th; members will be notified by December 22nd. After the selection process is completed, the LGBTQ+ Task Force will be co-chaired by a student representative with lived experience in the LGBTQ+ community. The Task Force will meet biweekly after school hours starting in January 2022 and produce a report of recommendations by April 30, 2022. BSD is offering financial compensation for participating in the work group, and applicants will need to be available to attend all meetings, both in-person and remotely. Those interested shold complete the LGBTQ+ Task Force Application today. Questions can be directed Autumn Bangora, BSD Equity Instructional Coach, at abangour@bsdvt.org.
###
Burlington School District (BSD) is a pre-k-12 public school system of more than 3,200 students in Burlington, VT. BSD's mission is to graduate students who: value different cultures, engage with the community, communicate effectively, think creatively, skillfully solve problems, and achieve at their highest academic, intellectual, and personal potential. Join the Journey! www.bsdvt.org