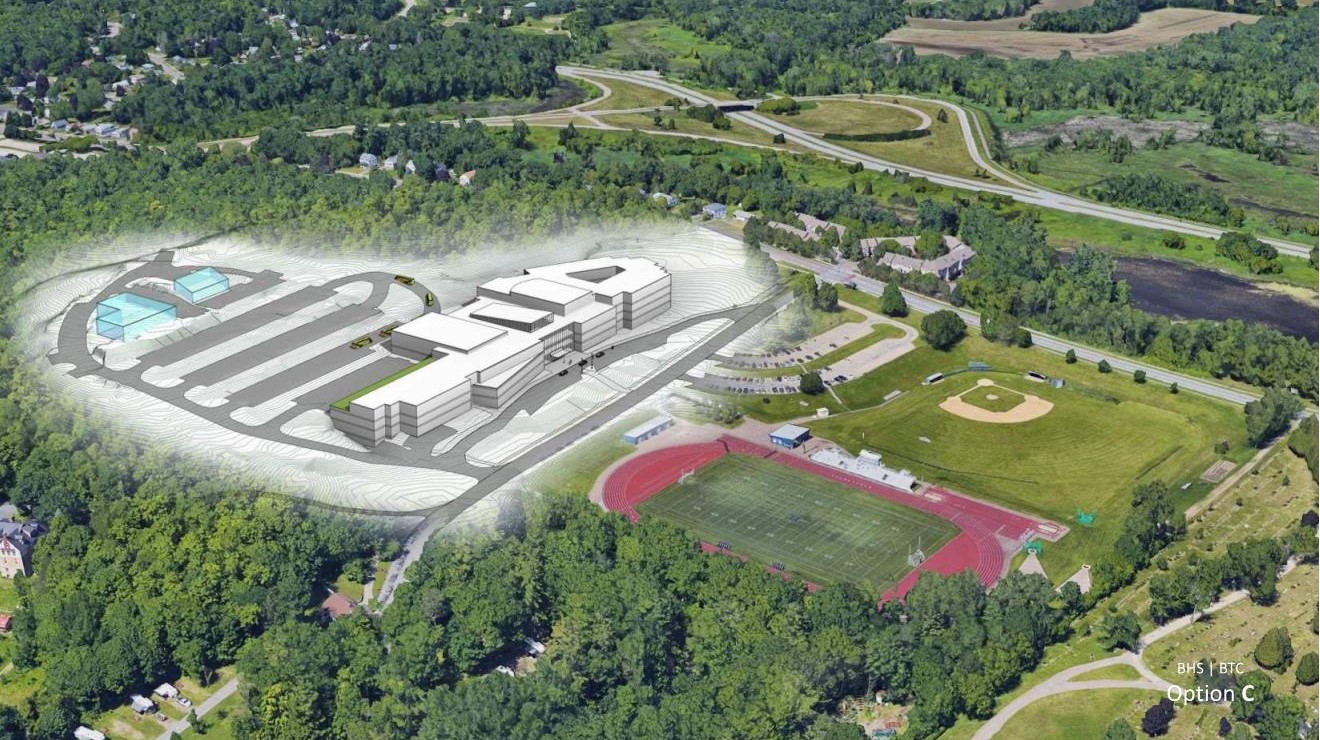 Burlington School Board Selects Conceptual Design for New High School and Technical Center
Burlington, VT The Burlington Board of School Commissioners has selected a conceptual design for a new high school and technical center in Burlington School District. The board voted unanimously to support what had been known as "Option C", a building that would run parallel to Institute Road with Burlington High School (BHS) located in the eastern portion of the building and Burlington Technical Center (BTC) located in the western portion of the building. This option was recommended by both Superintendent Flanagan and the BHS/BTC 2025 Design Team, and it was the option most supported by the more than 400 individuals who completed a feedback survey regarding five conceptual designs. A high-level cost estimate based on the square footage and location of the building has projected the building to cost $181.3 million; the school board and District leaders have committed to securing funding to support the cost of the project and have already earmarked $11.5 million in funds for the project.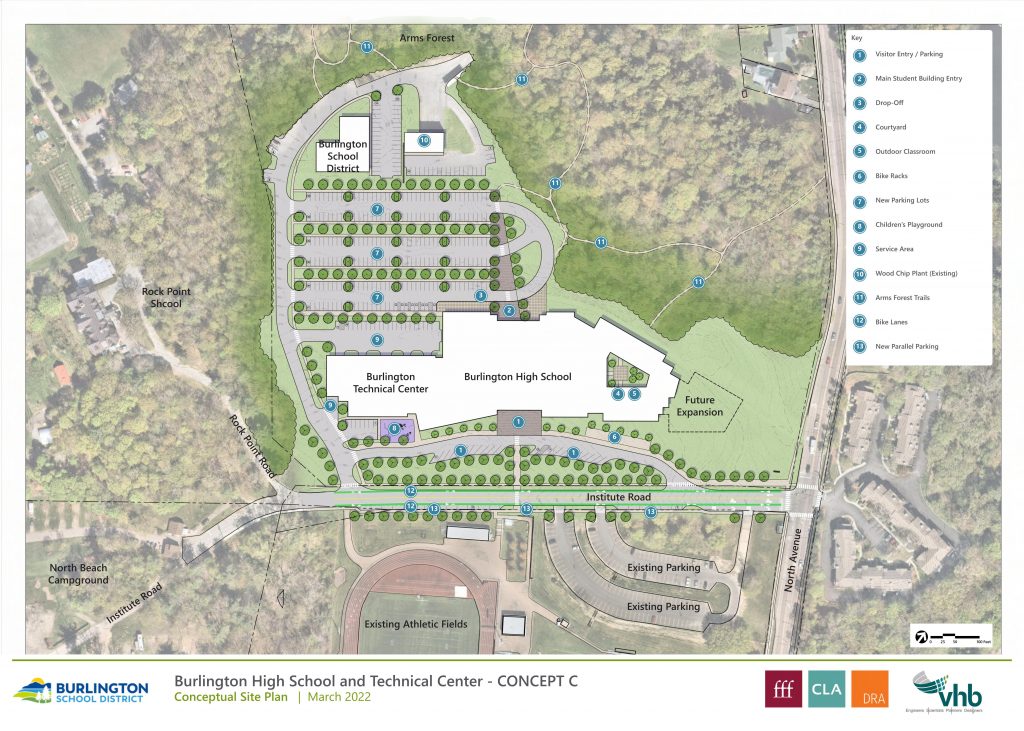 "I want to thank the Burlington Board of School Commissioners for selecting a path forward for BHS/BTC 2025 and I want to thank all of our staff, students, families, and community members for being engaged in this process," said Superintendent Flanagan. "I cannot wait to begin the next phase of this project where we will watch our new building take shape and dig into planning to support deeper learning for every student."
"On behalf of the Burlington Board of School Commissioners, we are so excited for the future of BHS and BTC," said BSD Board Chair Clare Wool. "We wish to thank the public for engaging in this process, for attending board meetings, public forums, and our information sessions at the library, and for reaching out to board members and completing our feedback survey. Our vote to support a conceptual design is one more step in the right direction for BHS/BTC 2025 and there is still much work to be done. The board remains committed to staying open to feedback and engaging with stakeholders as we move into the schematic design phase and prepare to bring a bond vote to voters this November."
In a memo to the Board, Superintendent Flanagan noted "Option C provides the BSD with a state of the art high school and tech center that is energy efficient and accessible, provides flexibility in space, incorporates light and the surrounding natural environment, includes ease of traffic flow, and all of the spaces we will need to operate a high-quality program that focuses on deep learning. Option C is also the lowest cost, which is an important consideration, as we have committed to being conscious of tax rate implications." BSD has set aside $11.5 million dollars for the project, has reached out to State leaders to request support, and will be meeting with the federal delegation to do the same.
The project now moves into the schematic design and cost estimating phase, where architects will begin the detailed room-by-room planning design to support the programming needs of students and staff. This work will allow cost estimators to provide a more accurate estimate of the final cost of the building and the District will use that information, along with knowledge of future financial support, to bring forward an ask to support a bond for the new school this November.
###
Burlington School District (BSD) is a pre-k-12 public school system of about 4,000 students in Burlington, VT. BSD's mission is to graduate students who: value different cultures, engage with the community, communicate effectively, think creatively, skillfully solve problems, and achieve at their highest academic, intellectual, and personal potential.  Join the Journey!www.bsdvt.org