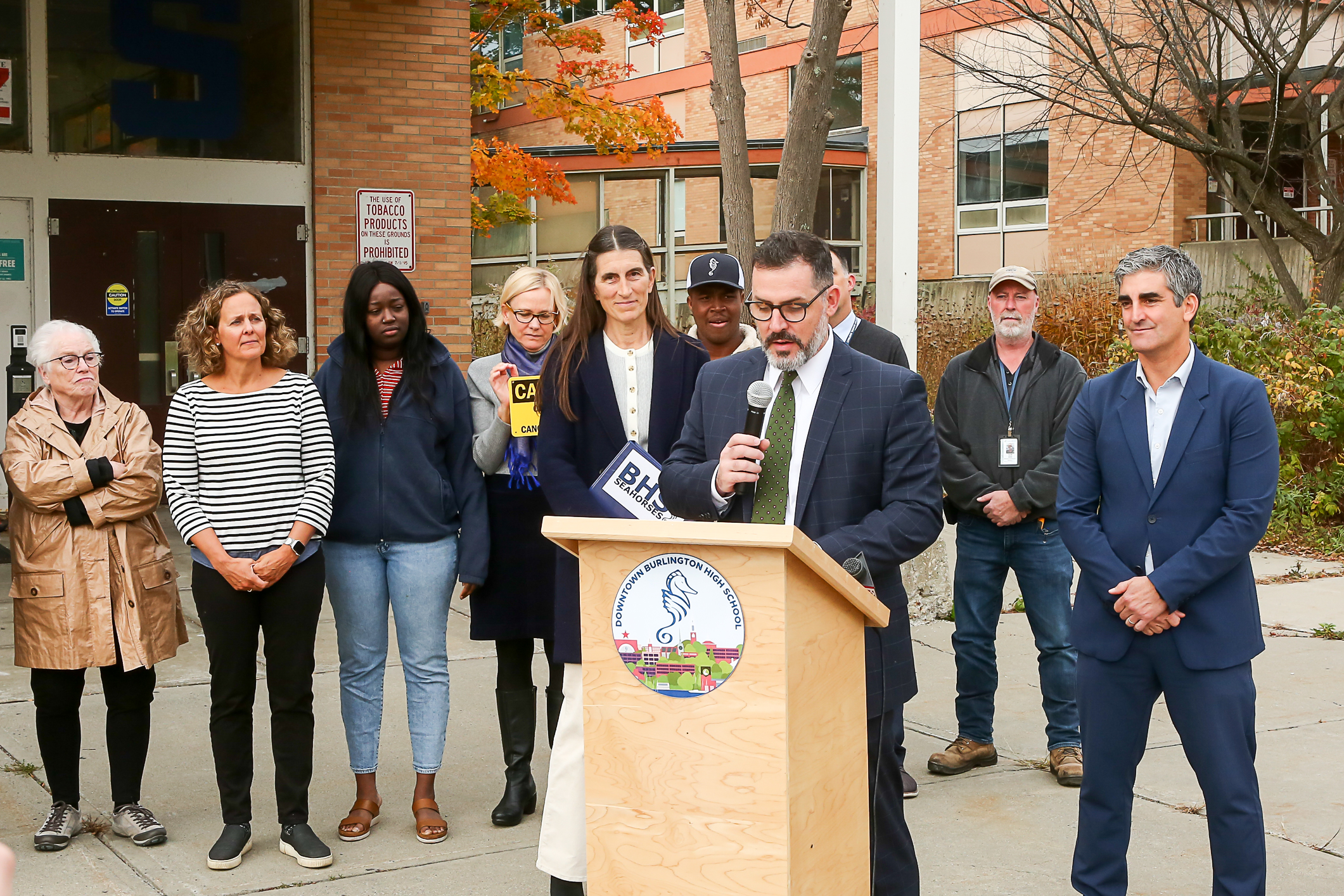 Legal Team Preparing to File Suit Soon
October 13, 2022
Burlington, VT Burlington School District (BSD) announced today an intent to sue Monsanto for its role in manufacturing Polychlorinated biphenyls (PCBs), which ultimately led to the need to close Burlington High School (BHS) and Burlington Technical Center (BTC). Standing outside the now vacant campus, Superintendent Tom Flanagan was joined by Burlington School Board Chair Clare Wool as well as Burlington's Mayor Miro Weinberger to make the announcement, which officials noted will not cost the District any upfront costs.
"I am pleased to announce that the District will be partnering with Vermont's Langrock Sperry & Wool and national law firms Seeger Weiss LLP and Grant & Eisenhofer to represent our interests in a lawsuit against Monsanto," said BSD Superintendent Flanagan. "As we look to build a new high school and technical center because of the PCB contamination found in our former high school, we promise taxpayers that we will aggressively seek compensation from the corporation that caused this problem. Today's announcement to make the producer of toxic chemicals pay for the harm it has inflicted on our community is consistent with our other efforts to minimize the impacts on taxpayers for costs they should not have to bear. We will continue to make good on our promise to taxpayers to support all avenues of funding for a new school. Taxpayers should also know that our legal teams have agreed to accept this assignment on a contingency fee basis, which means that the District will have no financial obligation for the cost of any litigation unless we prevail and receive monetary damages. If that happens, and we think it will, our legal team would recover their expenses and earn a contingency fee based on a percentage of the recovery."
Burlington Board Chair Clare Wool clarified that the lawsuit could mean long-term financial compensation for the damages caused by PCBs, but that support was still needed for a November bond vote. "As we move forward, I want to be clear to our community that we do not expect this to be an uncontested or quickly resolved matter. Even though we plan to pursue this course of environmental lawsuit zealously and aggressively, we are viewing this as a long-term strategy and are anticipating that this work could consume a number of years. I would ask voters to take our word that we will continue to explore every opportunity for funding but that we need you to please Vote Yes in the meantime so that we can move forward with building our new campus." Wool also noted that in order for the new campus to be built by 2025, demolition of the existing campus needs to begin in January 2023; however, the District will not have the ability to pay for that work without a successful vote.
Burlington Mayor Miro Weinberger was also on hand to support the announcement and communicate the importance of moving forward with both the lawsuit and the bond vote. "I support the District in pursuing monetary damages to compensate for the harm done by the manufacturer and marketer of the PCBs. This action is a now visible example of the many ways in which the District and this Administration are aggressively pursuing resources to ensure that Burlington residents do not have to pay for project costs that should be the
responsibility of others, and intend to do so through the project's completion in 2025. Burlington's students need and deserve a new, safe high school building now and they cannot wait for these legal actions and other efforts to conclude. I hope voters will consider joining me in supporting our District leadership and voting to pass this bond on Election Day."
Flanagan noted that the legal team intends to file suit soon, seeking recovery for the expenses related to the forced closing of BHS and BTC, its temporary relocation to the former Macy's department store, and the cost of having to replace the existing campus with a new high school and technical center. Any money recovered from litigation would be used to pay down the bond in future years and reduce the amount taxpayers would be required to pay on the debt. Chair Wool noted that because the District plans to borrow the bond over three years, "any money recovered in the lawsuit prior to the third year of bond borrowing would reduce the amount BSD would need to borrow through the bond process."
The school board had spent the last few months working with their general counsel to select a team who are experienced in complex environmental litigation both in Vermont and on a national basis. Seeger Weiss and Grant & Eisenhofer represent cities and states nationwide in PCB litigation against Monsanto, the corporation that manufactured PCBs from the 1930s through the 1970s, as well as corporations that have since been spun off from Monsanto.
A number of school board members and supports also attended in support of the announcement, including: 
Joe McNeil, Lead BSD Counsel; McNeil Leddy Sheehan
Emily J. Joselson, Additional District Counsel; Langrock Sperry & Wool
Matt Pawa, Additional District Counsel; Seeger Weiss LLP
Beth Fialko Casey; President, Burlington Education Association
Jocelyn Cronin; Vice President, Burlington Education Association
Lauren McBride; BHS Principal
Jason Reed; BTC Director
Lyall Smith; BSD Director of Facilities
###
Burlington School District (BSD) is a pre-k-12 public school system of about 4,000 students in Burlington, VT. BSD's mission is to graduate students who: value different cultures, engage with the community, communicate effectively, think creatively, skillfully solve problems, and achieve at their highest academic, intellectual, and personal potential. Join the Journey! www.bsdvt.org