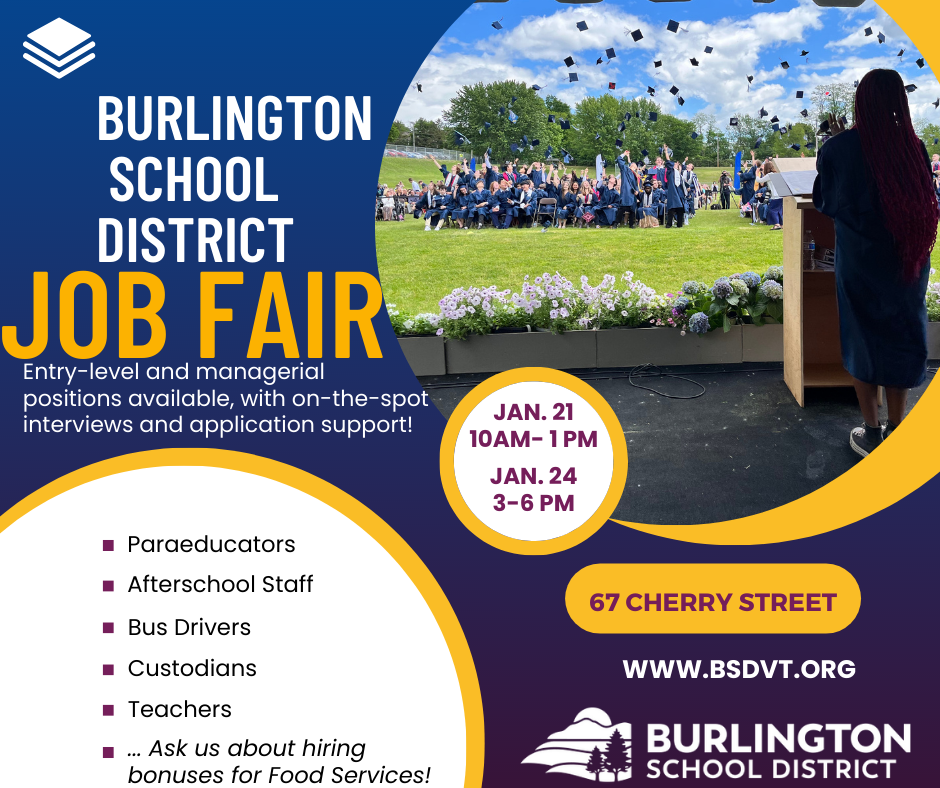 Looking to jumpstart, change, or advance in your career? Burlington School District (BSD) has a large variety of open positions ranging from entry level to managerial. Anyone looking for work is encouraged to join BSD leaders and members of the Human Resources team at a Job Fair on Saturday, January 21 (10 AM- 1 PM), and Tuesday, January 24 (3-6 PM) in the Cafeteria at Downtown BHS (67 Cherry Street).
The team will be available each day to offer on-the-spot interviews for some positions, application support, and multilingual interpretation. BSD is also pleased to announce two NEW hiring and retention bonuses for those interested in working in Food Services. School-based food services employees who are in good standing as of February 10th will receive a $500 appreciation payment in their February 17th paycheck! School-based food services employees who are in good standing as of the last day of school, and who complete 12 hours of independent professional development will receive a $500 appreciation payment in the June 23rd paycheck!
Some Available positions include:
Paraeducators ($17.16-$19.75 per hour)
Afterschool Support Staff ($15-$18 per hour)
Bus Drivers ($22-$23 per hour)
Day and Evening Custodians ($16.50 – $18.50 per hour, plus additional wages for night shifts)
HVAC Technicians ($26-$30 per hour)
Special Educators (From $46,529-$64,433 per year and up)
Food Services ($15.63-$21 per hour, plus hiring and retention bonuses)
All open positions can be found on the BSD website. BSD positions offer a competitive salary and benefits package, mentoring and Professional Development, teacher tuition reimbursement, and Health and Wellness Programs. We are proud to be an Equal Employment Opportunity and Affirmative Action employer. We seek to recruit, develop, and retain the most talented people from a diverse candidate pool and we do not discriminate based on race, color, marital status, national origin, religion, sex (including pregnancy), age, sexual orientation, gender identity, disability, veteran and military status, or any other category protected by law. Hiring is contingent upon successful reference checks.
###
Burlington School District (BSD) is a pre-k-12 public school system of about 4,000 students in Burlington, VT. BSD's mission is to graduate students who: value different cultures, engage with the community, communicate effectively, think creatively, skillfully solve problems, and achieve at their highest academic, intellectual, and personal potential. Join the Journey! www.bsdvt.org