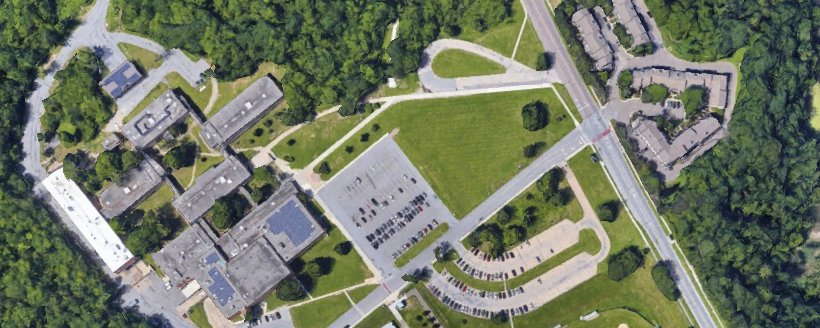 In November 2022, Burlington residents will vote on a bond to support the construction of a new high school and technical center in the Queen City. The new campus will be located on Institute Road and will be designed to be a flexible, accessible, and sustainable school for 21st Century learning. Learn more about this project below, or see the menu to access current project documents and past project archives.
Why do we need a new high school and technical center?
In August of 2020, while planning for a major renovation project, BSD discovered extensive PCB contamination in the air throughout the high school and technical center campus, forcing the District to close the entire campus to in-person learning. The renovation project, known as ReEnvisioning BHS and BTC, had been supported through a $70 million bond overwhelmingly approved by voters in 2018. Voters based their vote based on three key areas which remain relevant today:
1) Aging and outdated learning spaces.
• Does not meet "Collaborative High-Performance School Standards"
• 1960's classrooms
• Science labs insufficient for larger class sizes
• STEM equipment in need of replacement
2) $30+ million already needed for deferred maintenance.
• Crumbling infrastructure
• Outdated plumbing, electrical, heating, and ventilation systems
• Insufficient insulation and windows
• Outdated tech infrastructure
3) Does not meet current accessibility standards.
• Comprised of six academic buildings with unheated, outdoor walkways
• Seven stories from top to bottom
• Outdated elevators located in undesirable locations
Check out this video made during the ReEnvisioning Process
Where are we in the process?
On December 14, the School Board voted to award the contract for architectural services to a team comprised of Freeman, French, Freeman, Colin Lindberg & Associates, and Drummey Rosane Andersen. The vote followed strong recommendations from the Superintendent and the Proposal Review Committee. The goal is to work with this group present conceptual design and cost estimating to the school board in the Spring of 2022. This conceptual cost design and estimate will likely be the first time we get a good ballpark number we can expect our new building to cost. The final schematic design and cost estimate is likely to be approved by August of 2022 and we plan to place a bond question on the November 2022 ballot.
What's Next?
Join us for the BHS/BTC 2025 Kickoff Event on February 17! Zoom details coming soon.
How will we pay for it?
In November 2022, voters will be asked to support a bond for the cost of new high school and technical center. We are working hard to keep the tax impact of this as low as possible. We have successfully set aside $11.5 million for the project (including $10m from ESSER funds and an additional $1.5m in surplus money), have begun conversations with partners to support fundraising, and will be requesting State and Federal Aid whenever possible.
How can I provide feedback?
Do you have questions, concerns, suggestions about the project? Please use this feedback form.
You can also sign-up for updates, volunteer to support the project, or join the fundraising effort for updates below.
How can I stay involved?
Fill out the form below to sign up for updates, offer to volunteer, and/or offer to help with fundraising!