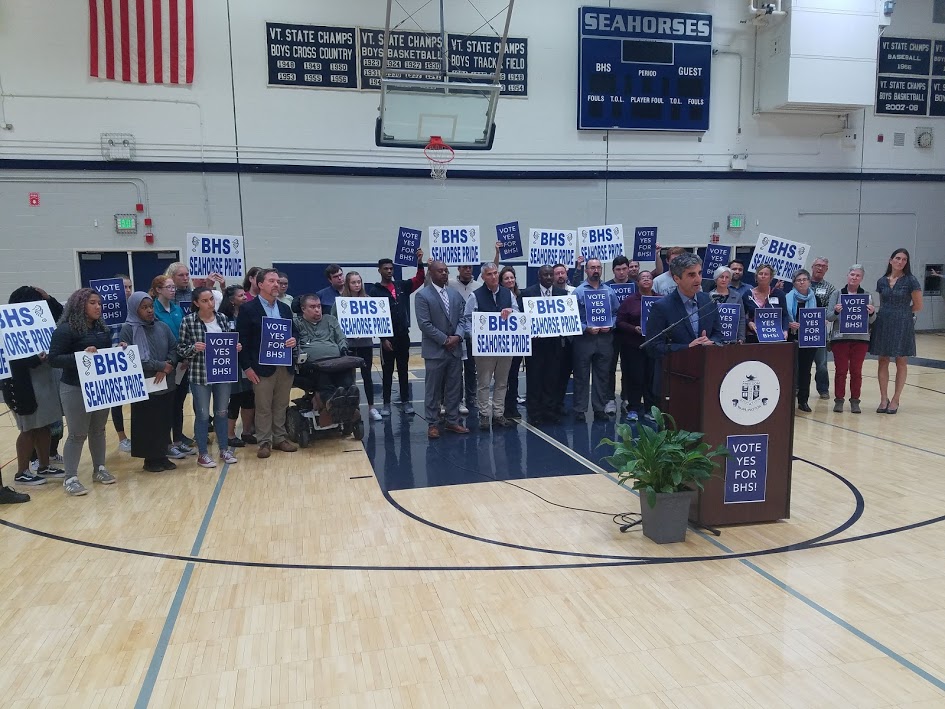 On October 4, Burlington High School's ReEnvisioning Committee held a press conference to announce a new public education committee dedicated to helping voters understand the $70 million plan to rejuvenate BHS. More than 40 community members attended the announcement which also featured prominent community members voicing support for the plan and encouraging the community to tour the facility before Election Day on Nov 6th. The tours are set for October 17, October 23, and November 3; registration is available at www.bsdvt.org/bhs-renovations
BSD Board Chair Clair Wool and Board Commissioner Liz Curry led the press conference by commenting on the previous engagement efforts and announcing the new committee. Participants in the press conference also included PTO members, ADA representatives, business owners, the teachers' union, parents and students, as well as City Councilors and Mayor Weinberger.
"This is clearly one the most important investments that we can make for our children, and really the future of Burlington," said Mayor Miro Weinberger. "We can't be a great 21st Century City with a crumbling, outdated high school that has seen little care for more than a half a century." Mayor Weinberger expressed confidence in the plan to deliver a great, 21st Century School and stressed that Burlingtonians "can make this investment and do so within responsible borrowing and debt guidelines" set forth by the City's new debt policy.
Andrew Styles, president of the Burlington Education Association, expressed support from the District's teachers and para educators. "We need to have a facility designed around modern needs and modern technology. This is a chance for us to make our school more accessible for all of our students, telling all of our students that 'All are Welcome.'"
"I am delighted that our journey for the ReEnvisioning of Burlington High School has gotten to the point of putting bond language on the November ballot," said Kate Stein, a parent in the district who served as Chair of the ReEnvisioning committee. "This action shows that we care about our students, parents, staff, and community.  A ReEnvisioned high school will enable us to update aging and outdated learning spaces, mitigate over $30 million in deferred maintenance, and create accessibility for those with mobility challenges."
Executive Director of Vermont Center for Independent Living Sarah Launderville said, "Individuals with disabilities have the right to live with dignity, fully participate in their communities and to control and make decisions about their lives. We are encouraged about the recommended changes to the Burlington High School and commend the district on these proposals. The accessibility changes are positive and include fully consolidated classrooms. We believe that these changes will impact and make opportunities for a truly inclusive environment."
"When I see students having to wear their winter coats all day long because the building is so cold, that's not SeaHorse Pride. We have do to do better," said City Councilor David Harnett. Councilor Brian Pine added, "Research shows that high-quality school facilities improve student educational outcomes, and that is for students of all abilities. It levels the playing field. It reduces truancies, suspensions, and expulsions, increases staff satisfaction and retention, and raises our property values."
Seven current BHS students also shared their thoughts on the proposal. School Board Student Representative Issac Jenemann said, "we understand that $70 million is a big ask of the Burlington community. But we also understand that an eventual building and renovation of the High School is inevitable and if it doesn't happen this year it will have to happen in years to come. Every year we push this project back it costs the people of Burlington more money."
Edmunds and Hunt Middle School PTO Leaders Sage Lopez and Helen Rock also publicly stated support for the plan. "No one wants to live or work in a city with struggling schools," said Lopez. "Burlington High School is the place all of our children come together," added Rock. "The BHS plans are the result of thoughtful and deliberate community input."
Brian Boardman of Hickok and Boardman Real Estate added a different perspective. "There is a direct correlation between the value of Burlington homes and the quality of our Burlington public schools. I have seen firsthand parents who have chosen to live in other surrounding communities after touring this high school. An investment in BHS is an investment in your home and Burlington's future."
At the end of the press conference, BSD Superintendent Yaw Obeng noted that he was overwhelmed by the support for the project and pledged to support information sharing efforts. "We are committed to providing as much information as we can to the community so that they can make an educated decision on voting day," Obeng said. "With that mind, I am pleased to announce that our staff will once again be offering tours of Burlington High School." Obeng also announced a Save the Date for a Community Town Hall on Oct 23rd. He encouraged the community to stay engaged and ask questions. "As it says in our vision statement," he concluded, "'Join the Journey.'"
Tour registration and complete information regarding the BHS ReEnvisioning proposal can be found at www.bsdvt.org/bhs-renovations.