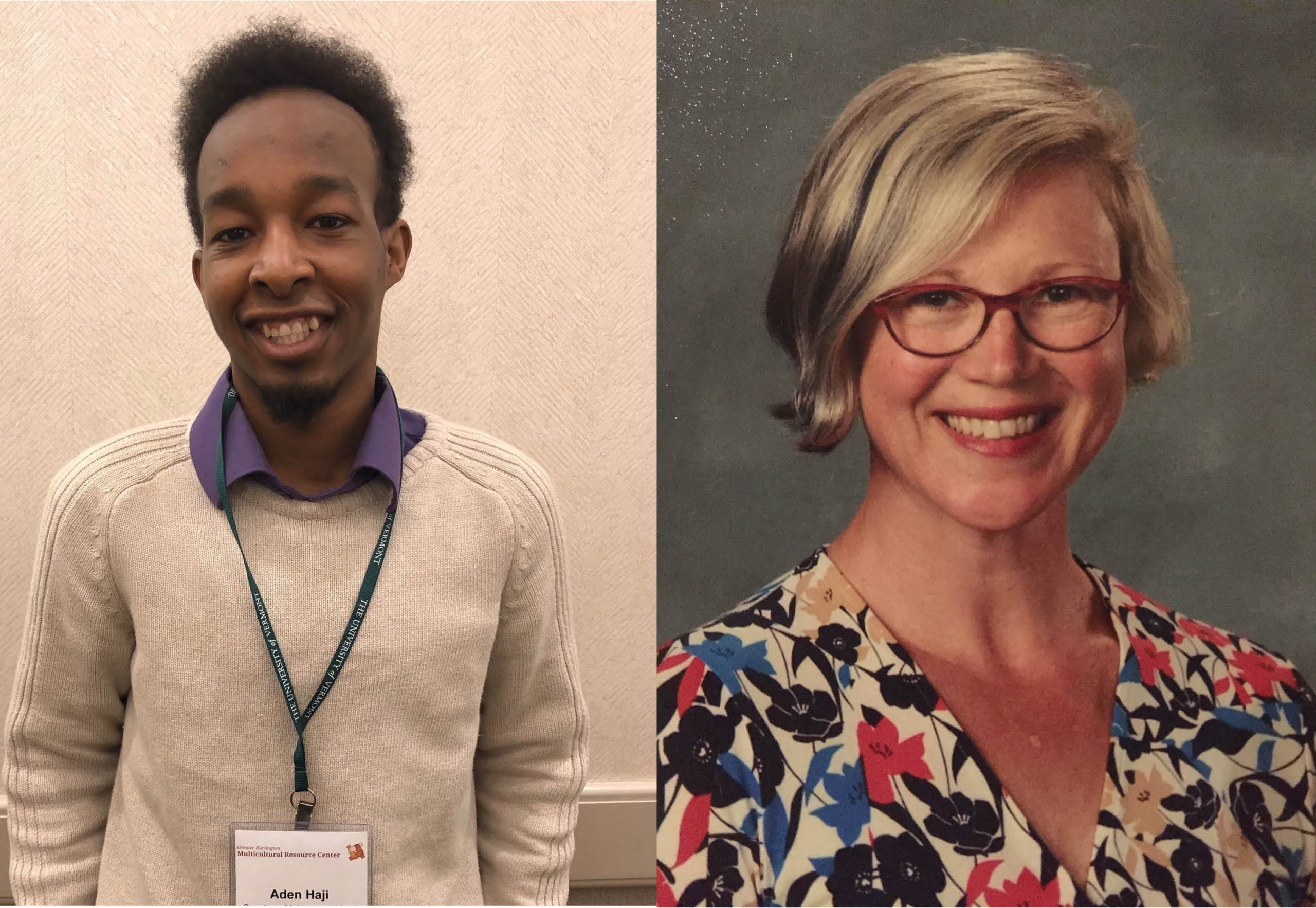 New and Returning Members Sworn in During Virtual Board Meeting
On Tuesday, April 7, two new members joined the Burlington School District (BSD) Board of School Commissioners. Aden Haji, Ward 8, and Polly Vanderputten, Ward 3, both pictured here, were sworn in last week, along with six returning board members. The meeting and swearing-in happened live via a Zoom Videoconference, a first for the District.
Polly Vanderputten is a full-time public high school teacher at South Burlington High School. She's lived in Ward 3 since 2006 and has a daughter who attends one of the elementary schools. "I am excited to join the BSD Board of School Commissioners," said Vanderputten. "I see all my neighbors as stakeholders in the public schools in Burlington, whether they are raising children now, have children who are grown, or have never had children in the District. I'm honored to serve my dynamic, vibrant community as a School Commissioner."
Aden Haji is a long term Burlington resident who went through the Burlington School District and graduated from Burlington High School in 2014. He recently graduated from the University of Vermont and brings a unique perspective on student issues and concerns. "As someone who has been actively involved in the Burlington community I was in high school, I'm honored to continue my service," said Haji. "I strongly believe in the power of student leadership and understanding the exponential potential that each student poses, and I am proud to represent Ward 8 community members as we collectively move the school district forward."
"I am always happy to see educators and former students engaged in guiding the public school system," said Superintendent Yaw Obeng. "Even though Burlington schools are closed as the world grapples with the coronavirus epidemic, administrators and board members are working hard to ensure students' social-emotional needs are being met and their education can continue. I look forward to helping Aden and Polly get acquainted with this undertaking as well as the other work the District has been engaged in towards closing the achievement gap and raising the bar for all students. "
Vanderputten and Haji joined returning Commissioners Clare Wool, Mike Fisher, Stephen Carey, Martine Larocque Gulick, Monika Ivancic, Eric Gorman, in being sworn in during the meeting, allowing them to serve on the board for a term of two years. The ceremony can be viewed below and more information about all board members can be found on the District website.
###
Burlington School District (BSD) is a pre-k-12 public school system of about 4,000 students in Burlington, VT. BSD's mission is to graduate students who: value different cultures, engage with the community, communicate effectively, think creatively, skillfully solve problems, and achieve at their highest academic, intellectual, and personal potential. Join the Journey! www.bsdvt.org