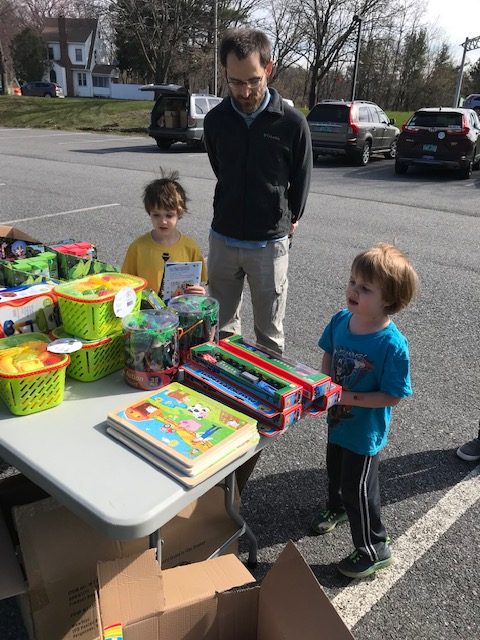 WowToyz Partners with BSD and King Street Center to Donate Thousands of Toys to Burlington Children
Burlington, VT As part of Burlington School District's (BSD) effort to provide for essential needs during the coronavirus pandemic, the Burlington School Food Project serves about 1,600 meals a day to children at 11 different food pickup sites throughout the city. Now, thanks to the generosity of WowToyz in Vergennes and a strong partnership with Burlington's King Street Center, those sites are also being utilized to distribute free toys for children.
"This is an amazing gift," noted Superintendent Obeng. "We know that many members of our community have had their lives turned upside down over the past months. These toys are a welcome distraction for children and I am grateful to all who made it happen."
"Everyone is going through a lot right now," said WowToyz President Frank Berk. "Everyone is sacrificing, and living life differently, including children. We just want to do our part to bring a smile to children during this time."
WowToyz has been a long-time supporter of King Street Center and reached out to the center to see if toys for children was a need they could help fulfill.
"This has been an incredible experience and we are thrilled to be involved," said Vicky Smith, Executive Director of King Street. "When WowToyz reached out, we didn't know how we were going to be able to receive such a large donation in such a short time period, but we knew we had to say yes and make it happen. So we made a call to our partners at the School District and a plan quickly fell into place."
Obeng said the District's staff and property services team worked with WowToyz to use the Edmunds campus as a place to drop off, sort, and store the toys. Staff and volunteers from BSD and King Street began organizing the thousands of toys immediately with a schedule now in place.
In addition to toys, Obeng noted Courtyard Burlington Harbor recently donated hundreds of bars of soap as well as shampoo, conditioner, and razors. Those items are also handed out at the meals sites. Last week Fletcher Free Library began providing children's books at the sites as well.
"Vermont is a special place," said Superintendent Obeng. "I continue to be impressed, but not surprised, by how this community comes together in times good and bad."
Upcoming Toy Distribution Days (Weather Depending)
Monday (5/4)
o    Riverside Apartments 9:30-10:30 am
o    Franklin Square 9:30-10:30 am
Tuesday (5/5)
o    Edmunds (Main St. entrance) 9:00-10:00 am
o    Champlain Elementary Parking Lot 10:30-11:30 am
Wednesday (5/6)
o    Bobbin Mill 9:30-10:30 am
o    South Meadow 9:30-10:30 am
o    Northgate 9:30-10:30 am
Thursday (5/7)
o    Edmunds (Main St. entrance) 9:00-10:00 am
o    Champlain Elementary Parking Lot 10:30-11:30 am
Friday (5/8)
o    Salmon Run 9:30-10:30 am
o    Boys & Girls Club 9:30-11:00 am
###
Burlington School District (BSD) is a pre-k-12 public school system of about 4,000 students in Burlington, VT. BSD's mission is to graduate students who: value different cultures, engage with the community, communicate effectively, think creatively, skillfully solve problems, and achieve at their highest academic, intellectual, and personal potential.  Join the Journey! www.bsdvt.org
WowToyz was established in 1992 and is a nationally acclaimed toy manufacturer headquartered in Vergennes, VT. We produce a variety of high quality, educational toys and models within our brands, InAir®, WowToyz®, and Li'l Chugs® Wooden Trains. We pride ourselves on producing toys of superior quality, great value with beautiful packaging that have been a huge success in thousands of locations nationwide. www.wowtoyz.com
King Street Center is a community organization located in Burlington, VT, providing children and families life-building skills necessary for a healthy and productive future. https://kingstreetcenter.org/about-king-street-center/