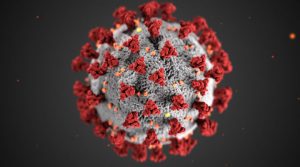 UPDATE: On Sunday, March 15, Governor Scott declared that starting no later than Wednesday, March 18, all schools will be closed in Vermont through at least April 6th, if not longer. BSD has been preparing for this; please see below for more information and resources. 
Curriculum Resources and Planning
The following curriculum resources have been developed by district staff to support students and families during the Covid 19 shutdown. Families should select resources on a daily basis that allow students to continue their learning.
PreK Resources from AOE Early Education Team
BTC: Program Learning Resources will be communicated with students via email directly from the BTC instructor.
BHS: Resources will be communicated with students via email and through the learning management system.
Access to Food
FREE Meals to all Children 18 and Under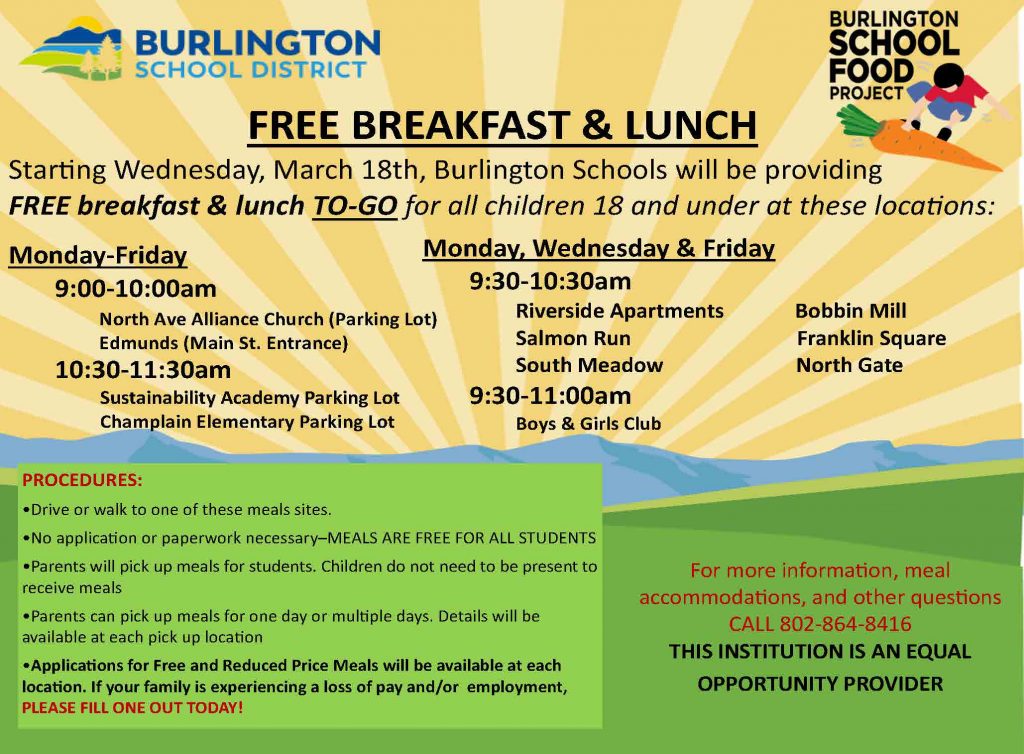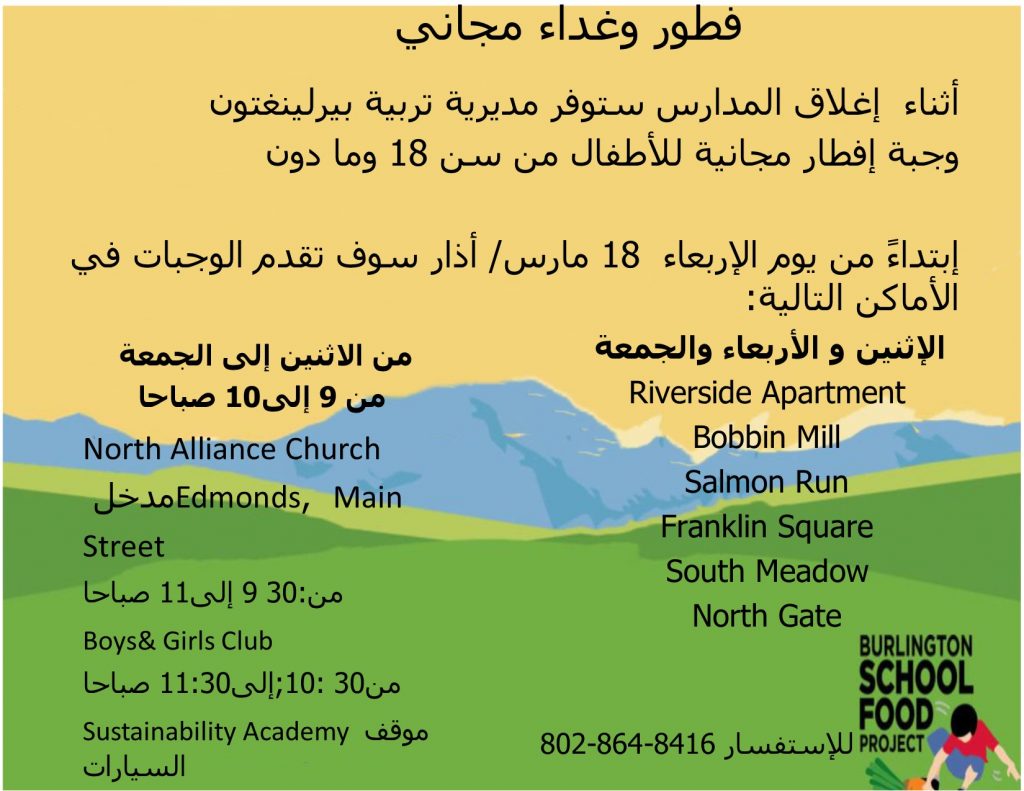 Resources for Child Care During Closure
PreK-5th Grade
BSD is offering child care for children PreK to 5th grade for essential employees as outlined by the Governor. If you need child care for this age range, please complete this survey.
Birth to 3
The State, with the help of Let's Grow Kids, has developed a web form to more easily collect information to connect the families of essential workers with childcare in schools and licensed childcare programs that are operating to provide services now through April 6, 2020, while school dismissal and general childcare service closures are in effect. If you have a child from birth to 3, please complete this survey.
Internet Safety Tips
Internet Safety Tips for Children and Teens From the New York Public Library:
Personal Information. Don't give out personal information without your parents' permission. This means you should not share your last name, home address, school name, or telephone number. 
Screen Name. When creating your screen name, do not include personal information like your last name or date of birth.
Passwords. Don't share your password with anyone but your parents. 
Photos. Don't post photos or videos online without getting your parents' permission.
Online Friends. Don't agree to meet an online friend unless you have your parents' permission. 
Online Ads. Don't buy anything online without talking to your parents first.
Downloading. Talk to your parents before you open an email attachment or download software. 
Bullying. Don't send or respond to mean or insulting messages. Tell your parents if you receive one. If something happens online that makes you feel uncomfortable, talk to your parents or to a teacher.
Social Networking. Many social networking websites (e.g., Facebook, Twitter, Second Life and MySpace) and blog hosting websites have minimum age requirements to signup. These are there to protect you.
Research. Talk to your librarian, teacher, or parent about safe and accurate websites for research. 
For information on Internet safety and excellent resources to develop digital citizenship, you may like to check out the parent resources on Common Sense Media.
Health Best Practices
The AOE and Department of Health have repeatedly provided the following suggestions and guidance:
 "Many of the precautions that help prevent other respiratory diseases, like colds and the flu, can also help keep an illness like COVID-19 from spreading:
 ✔ Frequent handwashing with soap and water for at least 20 seconds. If soap and water are not available, use an alcohol-based hand sanitizer. (Don't forget thumbs and in between your fingers.)
✔ Avoid touching your eyes, nose, and mouth with unwashed hands.
✔ Avoid close contact with people who are sick.
✔ Cover your cough or sneeze with your sleeve or a tissue. Throw the tissue in the trash.
✔ Clean and disinfect frequently touched objects and surfaces.
✔ Stay home when you are sick."
CDC, AOE, and Department of Health