Overview
On Town Meeting Day in 2017, Burlington residents approved a $19 million infrastructure improvement bond ballot, passing the item by 76.48% of the vote.
The District plans to combine the bond money with money set aside for property maintenance in the budget each year. Those resources will allow for the implementation of a long-term, strategic plan for the property and facilities needs in the District.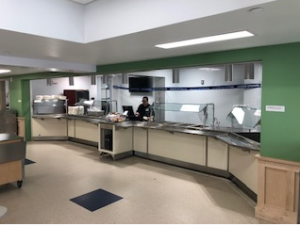 The planning of a large capital program has been happening since the spring of 2016 when the District began presenting property needs, assessments and long-term plans to constituents. Implementation of the capital program is underway, and we need your help! Please see below for updates and presentations, as well as ways to learn more and provide input in this ever-evolving process.
Check out the entire plan, timeline, and justification, or see below for our current progress as well as the history of the Capital Plan. Note: Looking for information on BHS? Visit our BHS/BTC ReEnvisioning webpage. 
Progress to Date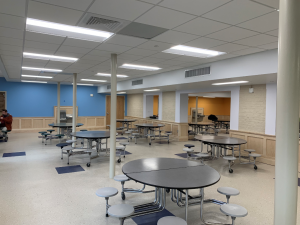 As part of the District's ongoing capital improvements
plan, we completed $4.8M of a renovation in Phase I
and $2.4M of a renovation in Phase II to the Edmunds
Campus. Phase I work included building a new
dedicated kitchen and cafeteria with 180 seats in the
basement of "C" Building. Previously, we used one
shared cafeteria/elementary gym space, resulting in
difficulties with scheduling physical education. We
also created better hallways and corridors linking the
buildings, and made substantial HVAC, lighting, and
energy efficiency improvements. Phase II improvements
included creating a single, secure, Americans with
Disabilities Act (ADA) compliant entry point for the
campus, used by visitors for both schools. We also
constructed a new wellness area for school nurses,
installed new sidewalks, and made landscaping and
stormwater improvements.
The 2018-19 school year also brought substantial upgrades to Hunt Middle School. With a $600k budget, the entire parking lot was repaved, major accessibility upgrades were added to the sidewalks and stormwater improvements were installed. All restrooms in the building were renovated with new fixtures, partitions, flooring and lighting, which included improvements for ADA requirements and gender neutral standards, a project totaling $500k. We also replaced the nearly 25 year-old lockers building-wide, totaling $50k.
As part of the District's ongoing capital improvements plan we put the finishing touches on Phase II of renovations at the Edmunds Complex. We
held an open house and "cut the ribbon" for families and staff to tour the millions of dollars of renovations.
In SY20, we also continued work upgrading Hunt Middle School. We installed new bleachers ($32,000), replacing the previous set that had been original to the gymnasium wing built in 1957. With a $400,000 budget, we made major renovations in the kitchen which resulted in new plumbing, new flooring, and a new serving line. We also completely renovated the locker rooms, including the creation of a new ADA-compliant bathroom and shower.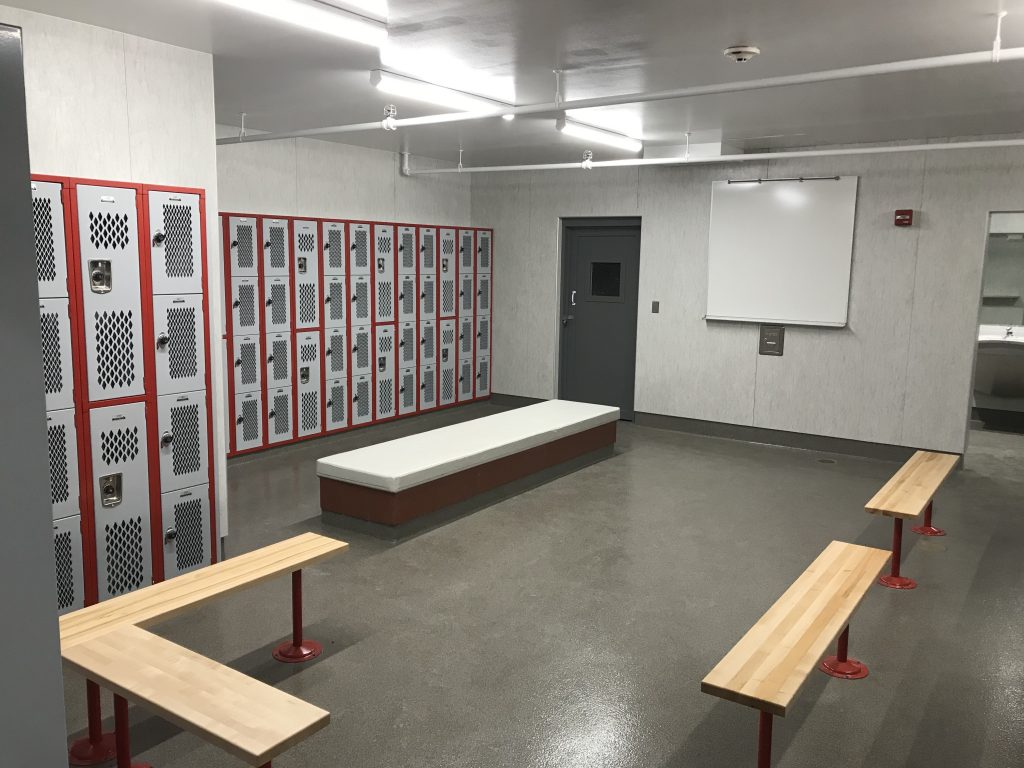 Smith Elementary received a new gymnasium folding partition wall ($75,000), allowing the school to have multiple gym classes at the same time, or to serve meals on one side of the gym while holding programs on the other. The previous partition was sagging and ineffective, and couldn't open or close during winter months due to the weight of snow on the roof!
We also replaced the original bleachers installed in BHS in 1964 ($225,000) and repaved the BHS Student Parking Lot ($243,500). We had originally planned to pay for the parking lot out of the BHS/BTC ReEnvisioning bond, but we were able to use capital plan funds for the project instead, freeing up additional money for the BHS/BTC project.
History
August 18, 2018: Capital Project Update

JUNE UPDATE: In June 2018, the Board of School Commissioners resolved to halt work on any Capital Plans related to the construction of new preschool centers in the district. The Superintendent was asked to bring back another path forward to address space constraints and deferred maintenance; that plan will be presented summer of 2018.
Note: Because of the amount of work needed to be done on BHS, when the 10-year Capital Plan was in development, Burlington High School was purposely left out of the 10-year plan, and a community-driven team was charged with creating a separate plan for that facility. Please visit our BHS Renovations page to see the most recent update.
Overview: On April 10, 2018, our facilities team presented the latest ideas for a plan forward in year two of the District's 10 Year Capital Plan. The board was presented with an exciting plan that includes upgrades at Hunt and Edmunds. Additionally, BSD's facilities team put forth their recommendation to move forward with the construction of two new early education centers, one of two options presented to the board in November of 2017.
Snapshot: Substantial overhaul of Building C with new gymnasium, cafeteria, and nurses station, improved accessibility and student drop-off options, and the completion of the long-awaited MakerSpace.
Please note, we're reading every response. While we may not be able to respond to each and every note, we are doing our best to make sure the community feels heard in this process. Thank you!