Why Do We Need a Better High School?
Aging and outdated learning spaces:
• Does not meet "Collaborative High-Performance School Standards"
• 1960's classrooms
• Science labs insufficient for larger class sizes
• STEM equipment in need of replacement
$30+ million already needed for deferred maintenance:
• Crumbling infrastructure
• Outdated plumbing, electrical, heating, and ventilation systems
• Insufficient insulation and windows
• Outdated tech infrastructure
Does not meet current accessibility standards:
• Comprised of six academic buildings with unheated, outdoor walkways
• Seven stories from top to bottom
• Elevators outdated and in undesirable locations
What Does the 2018 Proposed Plan Look Like?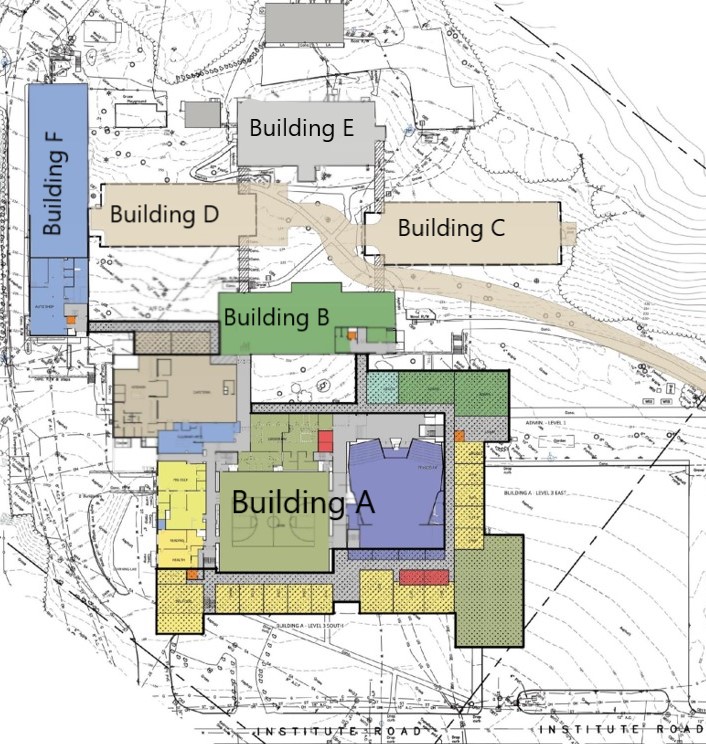 *Renovate A and B buildings and build four stories of new construction around those buildings
*Demolish C and D buildings
*Repurpose or demolish E building
*Improve accessibility
*21st Century Learning Spaces
*Flexible layout for Personalized Learning Programming
*Reduce travel distance and time between classes
*Improve safety and security
*Community multi-use athletic facilities
*Better technology integration
*Infused electromagnetic spectrum of colors and light for learning stimulation
*Adaptive, inclusive classrooms
*Welcoming exterior facade
*Upgrade buildings' thermal envelope
*Improve energy/environmental efficiency with new mechanical, electrical, and plumbing systems
*Meet "Collaborative High Performance School" standards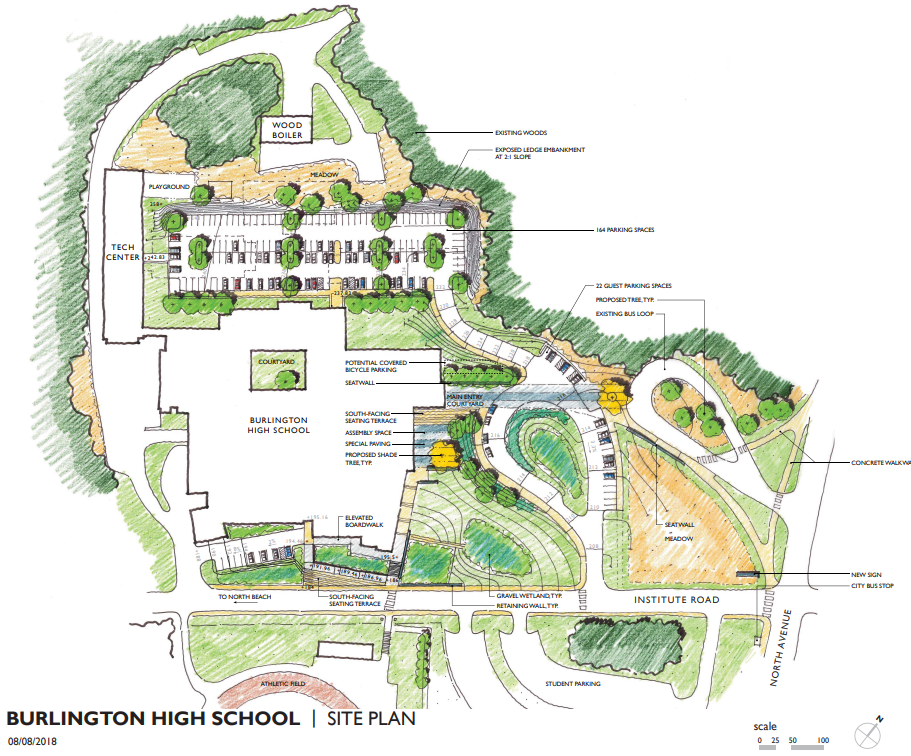 How Much will this Plan Cost?
The board voted on August 21st to support a $70 million which supports the $68.5 million plan with additional funds for building contingencies and air conditioning. Here is the Complete Budget Cost Breakdown.
More Information and Other Frequently Asked Questions
Historical Information (2008 on): Infrastructure Planning History and Burlington High School Process
Recent Information: In 2013-2015 a committee of teachers, administrators, parents, and community members assessed the needs of the BHS community with activities including:
• Visioning and information gathering from community
• Accessibility walk-through
• Workshops with teachers and staff
In May 2017 Superintendent Obeng formed an ad hoc "ReEnvisioning" committee comprised of community members who:
1) Held outreach to the community:
• Three community input sessions
• Presentations at all NPAs
• Presentations at principal/parent coffees, PTO meetings, student community sessions
2) Created a video showcasing some of the shortcomings of BHS
3) Analyzed community input data and three options emerged:
• Total demolition and new building $100 million
• Partial demolition with renovation and expansion $60 – 70 million
• Address deferred maintenance with no accessibility upgrades $30+ million
Through community engagement, the ReEnvisioning Committee received overwhelming support of the partial demolition, renovation, and expansion plan. In April 2018, the School Board accepted the ReEnvisioning Committee's recommendation to the superintendent of expansion and renovation with partial demolition.
If a bond were to pass in November, there would then be another year and half of detailed planning and engineering work. Staff and community members would again be engaged in these conversations as we work to refine plans. Though there are initial plans now, more specific and detailed plans cannot be drawn up without the funding that comes through the passage of the bond.
We would hope to break ground in April or May of 2020. Construction would be in phases, but be totally complete in 2022. The timelines are attached. (You'll need to zoom in to see pdf timeline).
BUHS Detailed Timeline (Draft 2018 July)
BUHS Simplified Draft Timeline (2018 July)
A qualified Construction Manager (CM) will be brought in as the project moves into Design Development. CM selection will include a pre-qualification process to assure only qualified firms submit proposals. The CM will work with the architectural and engineering team to refine the project phasing plan. Once construction begins, the budget includes the services of a full-time Clerk of the Works to represent the Owner on site during the entire construction process. In addition, we have hired a Commissioning Agent who will assure that what was built is what the public paid for. Please click here for a current list of Project Partners, as well as the post-bond consultant positions we are expecting to hire.
In addition, our Board's Finance and Facilities Committee, which meets regularly, will monitor project details and our director of finance will provide financial reports at our monthly school board meetings.
One of the key benefits to this plan is that we should be able to complete construction with minimal student disruption and no student displacement. This is because the bulk of new construction would take place on the outside of the current building, wrapping the old building in new construction. Once the new spaces are built, students can move into those classrooms from the existing C, D and E buildings. After they move into the new space, those buildings can then be demolished.
In March 2019, the District will have its general education fund request on the ballot. If we did not increase our budget at all next fiscal year, our baseline tax increase for District's general ed spending would still likely go up because the City's CLA is projected to go down. That said, it would be reasonable to predict school spending will likely go up by at least 2% due to just to health care increases and teachers' contract negotiations.
The District will obviously do our best to bring that number down as we have done in the past. Still, having a $70M bond request compete with the school district's general fund budget request might cause voters to feel they have to choose between a high-quality learning environment and educational programming needs.
One thing that we know and are trying to prepare for is that on their own, school bonds often fail. We are lucky to have citizens who have been highly supportive of the District's needs in the past 4 years, but that hasn't always been the case and we need to prepare for any scenario. In addition, we understand that the City is planning to place other money items on the ballot in March. There is also reason to believe the citywide property re-appraisal process will be underway in 2019, which could result in voters being less inclined in March to support large bond issues since their property values (and tax bills) may be about to increase. With these factors in mind, it is our opinion that a March ballot is not the time to request the District's/City's largest capital bond.
If this project were delayed to a March ballot and the combined factors above led to a failed vote, we would not be simply looking at four months of lost time, but 16+ months of lost time as there will be no November 2019 ballot.
For every year the project gets delayed, construction/development costs inflate by at least 4%. If it gets rejected in March 2019, we have to wait a full year to request the bond again in 2020, which means an inflator of 4% plus 50% again as much, for a 6% inflator of the entire project cost. This will put us over the $70M ceiling and could require that we scale the project back to the lower quality version, or ask for a higher amount for the current plan.
Finally, we are looking forward to engaging the community in the detailed portion of this work which can only happen once a bond has passed. If we waited for a March vote but still planned to break ground with the same timeline, an unintended consequence of that action would be that it would actually allow us LESS time for engagement with various stakeholders -and LESS time for comprehensive planning- than we would have if a bond passed in November.
Collaborative and Welcoming Environment
The overarching value of the proposed redevelopment is the creation of an educational environment that aligns with the District's commitment to equitable resources and learning opportunities for all students – an environment that says "all children can learn and all of our children matter."
The current campus design was modeled after college campuses and is not suitable for current or future secondary school learners. The BHS campus has five segregated structures in which specific educational content is delivered in different wings. For example, all science instruction, labs, and science teacher offices are in the E building, and all world language subject matter and teacher offices are in B building. And, unfortunately, all English language learners are building their language skills in an area separate from all of these classes.
Segregated learning reinforces the concept that teachers teach content, rather than the holistic concept that teachers teach students. Most importantly, recent educational standards and regulations have transitioned to a personalized learning approach that develops and evaluates student proficiencies based on their ability, rather than a traditional, rigid schedule. We are preparing students for a new world; the education "factory model" of doing 45 minutes of math, closing your book and then going to another room to do 45 minutes of social studies is obsolete.
Vermont's Act 77 requires school districts to transition to Proficiency-Based Learning (PBL) on a timeline that is unrealistic for Burlington given the high school building's substandard design. PBL requires extensive teacher planning and collaboration time and interaction, which is severely hindered by our current physical environment. Moreover, PBL requires that students have access to multiple, non-traditional learning approaches that require flexible space and ease of building access as upper-grade students will likely participate in more community-based learning opportunities in the future.
To reinforce our belief that "all children can learn and all children matter," we need a building that eases the transition for middle school students into high school. Leaving their learning environments where they have been comfortable and supported and coming to a campus with triple the number of students is intimidating. Students can easily feel lost as they travel from wing to wing, to the basement for music instruction, and back up to a class in a wing with the highest elevation (the equivalent of 7 stories of elevation change and much distance).
Our freshmen have up to seven different teachers who often do not have the opportunity to even set eyes on each other in the course of a work week. The proposed renovations dedicate instructional space for ninth-grade academies where teachers will deliver content and educational support across all subjects. In the new space, world language, mathematics, science, English and social studies teachers can meet as teams to support students on a daily basis. This conforms with VT Department of Educational Standards around PBL, which requires personalized learning plans to be developed collaboratively between students and all of their teachers.
Collaboration, communication, and teamwork are required to develop the creative, courageous and caring people that Burlington wants to be recognized for.
The newly renovated high school will:
Feature updated science labs dispersed throughout the campus
Be better able to incorporate future technology advancements
Include flexible learning spaces throughout to accommodate learning in small, medium and large groups
Offer a centralized layout that fosters transdisciplinary collaborations between teachers and students
Meet the ever-changing needs of technology and learning styles and abilities
Provide for true inclusion for differently-abled students who are often scheduled into courses based on physical limitations instead of desired subject matter
Be the first certified Collaborative for High-Performance Schools (CHPS) school in Vermont, recognizing that kids and adults have better cognitive functionality "in schools with good lighting, clean air, and comfortable classrooms"
Offer natural light and usable outdoor classroom space
Provide shared workspace among professional faculty to work together, to share ideas and engage in ongoing professional conversation required to comply with Act 77 and reinforce the message that all of our children matter
In short, the newly renovated high school will help the achievement of students through the creation of a collaborative and welcoming learning environment
Safety and Security
A 2015 Safety and Security Program Assessment from Margolis Healy shows that BHS' security puts students and staff at risk (Attachment D).
Our current structure:
Features multiple access points
Encourages students to walk OUTSIDE to get to classes quicker
Includes vulnerable areas (breezeways and outdoor gathering spaces) where our students and staff are easily seen from the front lawn
As one retired Burlington Police Officer notes:
"In terms of school safety and security, the physical layout of the BHS campus made it very difficult to patrol the exterior of the buildings for potential breaking and enterings during non school hours. There were way too many points of entry (exterior doors) potentially allowing entry by unauthorized persons during the school day. The wooded areas in close proximity to the building (s) also presented an area of concern of affording potential school shooters a place to hide from view." -Bill Laware
The proposed design facilitates safety and security by:
Creating centralized access for both High School and BTC students
Offering outdoor learning and gathering spaces in a protected and enclosed courtyard setting
Consolidating learning spaces and eliminating the need to travel outside between classes
Bringing the building up to date with safety protocols (such as lockdowns and hold and secure) and emergency procedures.
In addition to creating a collaborative and welcoming learning environment and addressing our substantial accessibility concerns, the proposed design of this school is a major improvement in the safety and security of our students.
"How May I See These Issues You're Talking About?"
Check out this Video
Media and Supporting Documents Archive
11/4/18 Burlington Voters Considering Bonds To Renovate High School, Wastewater Infrastructure (VPR)
11/3/18 Burlington High School $70 million bond vote: What you need to know (Free Press)
10/31/18 Obeng discusses Burlington school bond, teacher strike, Macias (WCAX)
10/26/18 BHS Needs an Infusion of Old School Pride (Howard Smith: Editorial)
10/23/18 Burlington High School Holds Q&A over proposed $70 million renovations (ABC22/Fox44)
10/23/18 Parents, voters weigh in on $70M high school renovation plan before Election Day (WPTZ)
10/17/18 Bond for BHS (Amy Mellencamp: Letter to the Editor, Seven Days)
10/3/18 Superintendent Letter to the Editor (SevenDays)
9/25/18 BTV residents will decide in November whether to invest in a $70 million high school renovation bond (Free Press)
9/24/18 Burlington Voters Will Consider $100 Million in School, Wastewater Bonds (SevenDays)
9/23/18 What to know: Burlington High School's big makeover (ABC22/Fox44)
9/23/18 Burlington school board supports $70 million high school renovations (Vermont Business Magazine)
Burlington hopes school tours convince voters to pay for upgrades (WCAX, Evening News)
Burlington hopes school tours convince voters to pay for upgrades (WCAX, Noon News)
Public invited to tour Burlington HS before considering improvement bond (WPTZ)
Burlington mulling multi-million dollar high school renovation (VTDigger)
Burlington Considers Upgrading Its High School – for $70 Million (Seven Days)
Superintendent's Message August 2018 (North Ave News)
Burlington High School seeks to add $70 million renovation bond on November ballot (WPTZ)
Major renovation bond proposed for Burlington High (VTDigger)Supporting DocumentsHow did this plan get approved and voted on?April 2018The School Board accepted the ReEnvisioning Committee's recommendation to the superintendent of expansion and renovation with partial demolition. This recommendation took more than a year to present to the board as the ReEnvisioning Committee, formed in 2017, read of all the previous stakeholder input reports and held additional sessions to gather more feedback.August 14, 2018Burlington School District employees presented the board with what they viewed as the three best options to complete this work based on cost-effectiveness and the least amount of disruption to students.
Options Presented at August 14 Board Meeting
How did this plan get approved and voted on?
April 2018
The School Board accepted the ReEnvisioning Committee's recommendation to the superintendent of expansion and renovation with partial demolition. This recommendation took more than a year to present to the board as the ReEnvisioning Committee, formed in 2017, read of all the previous stakeholder input reports and held additional sessions to gather more feedback.
August 14, 2018
Burlington School District employees presented the board with what they viewed as the three best options to complete this work based on cost-effectiveness and the least amount of disruption to students.
Option 1: $60 Million. Option includes using least expensive building materials available, minimal work to heating and insulation systems, and limited amount of renovations at BTC. Modeled on CHPS standards but does not include certification. Fit-up budget only for new spaces.
Option 2: $65 Million. Option includes using more durable, longer- lasting materials. Renovations to BTC are still limited. Project meets basic CHPS requirements for certification and allows for better heating and insulation.
Option 3: $68.5 Million. Option includes using highest quality materials with complete renovations to BTC building. Also allows for some salvaging of demolished buildings, significant heating, and cooling upgrades, and results in a higher CHPS certification. The District also shared a survey with the board which showed that of the 401 people who took the survey, more than 70% of respondents would support a bond on the November ballot of $68.5 million or more.
Abbreviated presentation: Click here for a consolidated version of the presentation, focusing only on tax implications
Additional debt info: Click here for additional information showing BHS Debt combined with other BSD Debt[/toggle]
August 21st
The District presented a BHS Renovation Q&A to the Burlington Board of School Commissioners, after which they approved the following resolution:
Be it resolved by the Burlington Board of School Commissioners as follows; That the Burlington City Council be respectfully requested pursuant to Section 63 of the City Charter to place the following question on the ballot of a Special City Meeting to be held on November 6, 2018:
"Shall the legal voters of the city authorize the city council to pledge its full faith and credit by the issuance of its general obligation orders, warrants, notes or bonds in an amount not to exceed $70 Million for the purpose of making capital improvements to the public schools of the city, including the construction of a new or rehabilitated high school."
The $70 million resolution represents board support for a $68.5 million plan presented by the School District and adds an additional $1.5 million into the project for air conditioning and contingencies.
Monday, August 27
BSD presented the proposal to City Council. As part of the presentation, BSD took the opportunity to answer some of the questions posed by Mayor Weinberger in a letter the Superintendent and Chair sent on August 21st. You can see the presentation, Mayor's letter, and the District's response below.
Final Presentation for City Council 20180827
This presentation shows the tax impact of $70 million bond, as well as the factors that led up to the vote, total projected debt load, our bond survey results, and preliminary plans to continue to engage the public.
September 24th
City Council voted 11-1 to allow Burlington School District to place on bond for BHS on the November ballot!
October 4th
Burlington High School's ReEnvisioning Committee held a press conference to announce a new public education committee dedicated to helping voters understand the $70 million plan to rejuvenate BHS. More than 40 community members attended the announcement which also featured prominent community members voicing support for the plan including Mayor Miro Weinberger, president of the Burlington Education Association Andrew Styles, Executive Director of Vermont Center for Independent Living Sarah Launderville, city councilors and many others.
October 23rd
On October 23rd, more than 70 community members attended our BHS ReEnvisioning Town Hall. Staff, board members, and the project architect led a presentation and spent an hour answering questions from the attendees.
Check out the presentation here: BHS Town Meeting Presentation
Watch Town Hall here, thanks to the high-quality recording from our friends at RETN: https://www.retn.org/show/burlington-school-board-reenvisioning-town-hall-october-23-2018
November 6, 2018
On Election Day, Burlington voters approved a $70 million bond to completely reshape the educational experience delivered at Burlington High School. The bond passed with more than 73% voting in favor of the project! Now that the bond has passed, Burlington School District will begin work on putting together a plan to start the detailed design process, as well as site, traffic, and engineering studies. Community and staff members will continue to be invited to participate in the work that will be done for the next 18 months in order to break ground in Spring of 2020. Stay tuned for updates, or scroll down to learn more about the project.