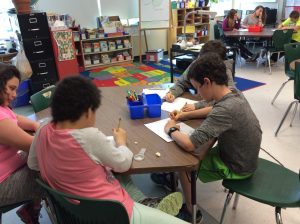 We need your help! BSD continues to work towards building a stronger relationship with all parents/guardians, students, staff and teachers throughout our school community. As part of this work, we are conducting two district-wide climate surveys: A school-focused NCSS Climate Survey as well as District-Administration and Central Office Climate Survey.  These surveys are a direct response to the district Strategic Plan forums and the focus on some of the goals which came out of that process regarding Equitable Culture and Climate and Inclusive Teaching and Learning.
We hope you will take a little bit of time to join us in this critical effort! Please see below for more information on the surveys and directions on how to participate in each.
Thank you for taking the time to "Join the Journey" and participate in this critical exercise.  Questions? Check out this Climate Survey FAQ and Fact Sheet, read the "Helpful Tips" below, or feel free to send us an email.
THE SURVEYS
(Please TAKE BOTH surveys!)
District Administration and Central Office Climate
How to participate: Parents and staff are encouraged to take District Administration and Central Office Climate Survey via the following links. Once you click on the appropriate link, it will bring you to a homepage that describes the content and goals of the survey.
NCSS District-wide Climate Survey
How to participate: Parents and staff of Early Education will navigate to the Early Education tab below, regardless of which of the four buildings your classroom is housed in. Property Services and Central Office are also grouped together. All other parents, employees and students should find your specific school or building below. Open the tab, find your specific survey, click on the link, and you're ready to begin. *Please note that surveys take about 20 minutes and must be completed in one sitting; you cannot save your progress and return at a later point, so please plan accordingly.
UPDATE: Community Events!

Need access to the survey or help filling it out? Join us on Thursday, May 24th from 5:30 – 7:30 PM in our school libraries. We will have open computers, and volunteers and translators will be present to help. Children are welcome and all attendees will be entered into a raffle!
What: Climate Survey Community Gathering
When: Thursday, May 24th from 5:30 -7:30 PM
Where: The libraries at CP Smith, Edmunds Elementary, Champlain Elementary, Sustainability Academy, the Integrated Arts Academy, Flynn Elementary, Hunt Middle School, Edmunds Middle School and Burlington High School.
Questions about the Community Gatherings? Contact us today.