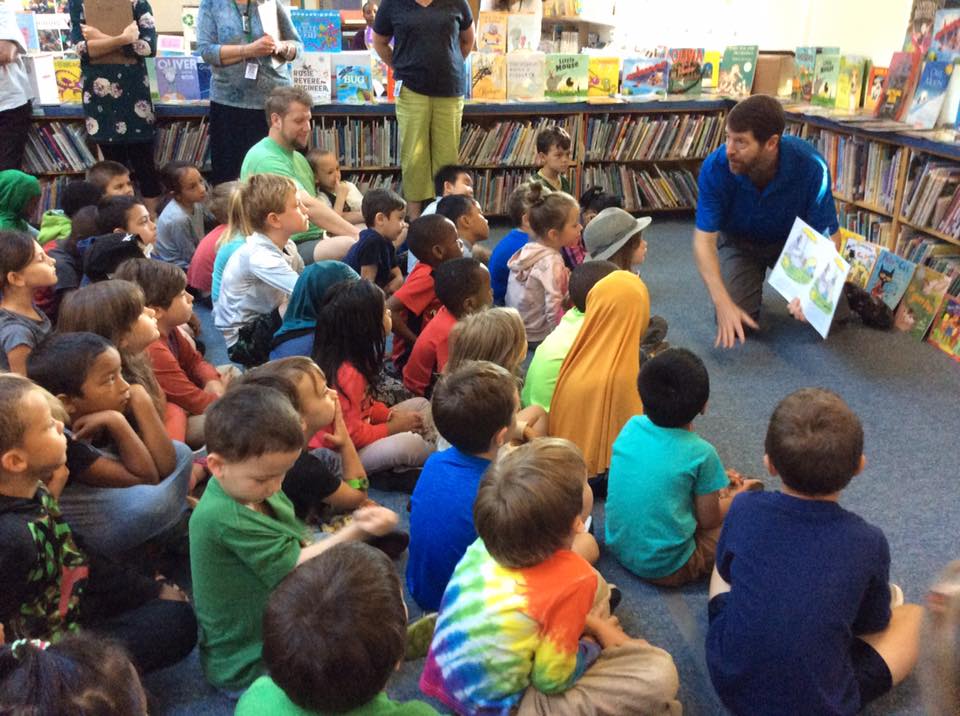 Duncan McDougall, founder of the Children's Literacy Foundation (CLiF), kicked off SA's Year of the Book celebration on Thursday, September 28th with two amazing book presentations. Duncan shared Sylvester and the Magic Pebble by William Steig to K-2 students and Coral Reefs by Jason Chin to Grades 3-5. Thank you, Duncan and CLiF.
Behind the leadership of Principal Sells and the collaboration of the SA staff, PTO and parents, and Fletcher Free Children's Library Rebecca Goldberg, SA was awarded a $25,000 Year of the Book literacy grant from CLiF. The grant will enable each student to select 10 books throughout the year to add to their reading libraries at home. Each SA student selected and brought home their first free book at the kick off event. We are so excited to hear that students and parents are reading and sharing their books at home! Keep up the great work.
Also through the grant, the SA library will receive $4,500 worth of multicultural books and Fletcher Free Library will receive $1,000 worth of new books. Children will be writing thank you notes to our sponsors: Shelley Family Foundation and an anonymous donor. The grant enables story presentations, like Duncan's, to take place at school throughout the year as well.
Local television station WCAX covered the event, check out the story: http://www.wcax.com/content/news/Grant-funds-books-for-local-students-448497133.html